printer friendly version
New integrated power semiconductor family launched at show
5 June 2002
Power Electronics / Power Management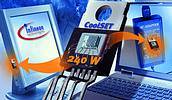 Infineon Technologies announced further members of its CoolSET F2 family at the recent PCIM 2002 show. The new products in TO220 package are designed for output power ratings up to 240 W, enabling switched-mode power supply (SMPS) manufacturers to rapidly develop efficient, low-cost and high-quality power supplies conforming to the new EU minimum heat generation guidelines. The CoolSET F2 family boasts the lowest drain-source on-state resistance in the industry, around 40% less than that of current products on the market, according to the manufacturer.
Typical applications include primarily adapter power supplies, as well as integrated power supply solutions featuring high power density eg for flat-panel LCD monitors, set-top boxes or compact, general-purpose auxiliary power supply units.
The CoolSET F2 products combine a power MOSFET implemented in the company's CoolMOS (metal oxide semiconductor) technology with a fixed-frequency PWM (pulse width modulation) control IC. The very low switching and conduction losses lead to a marked reduction in heat generation. The new 240 W products in insulated TO220 package provide optimum heat dissipation, with thermal resistance (Rth = 2,5 K/W) improved by more than 50% compared with Fullpack versions. Heatsinking has been reduced to an absolute minimum.
Both TO220 versions, the CoolSET ICE2A765P and the ICE2B765P, integrate a CoolMOS with a drain-source on-state resistance (RDSon) of only 0,5[ohm] and a drain-source breakdown voltage (Vds) of 650 V. Conventional industry-standard TO220 power ICs exhibit on-state resistances of around 0,8[ohm] and above. If necessary, Infineon can integrate a CoolMOS with an RDSon of max. 0,35[ohm] and Vds of 650 V in a TO220 CoolSET.
Monitoring, protection and energy-saving
The new CoolSET F2 versions feature an array of built-in monitoring, protection and energy-saving functions. They minimise the amount of external wiring needed and allow a more compact SMPS design at a lower overall cost. Highlights include the current mode control function with integrated overshoot minimisation, MOSFET temperature sensing for instantaneous shutdown, as well as an under voltage lockout (UVL) function to prevent destruction of the CoolMOS as a result of incorrect drive voltage levels.
A user-defined softstart function increases the life of vital SMPS components; an extended pulse duty factor of the CoolMOS drive signal permits operation in either discontinuous or continuous current mode. The CoolSET's leading-edge blanking function ensures safe turn-on behaviour, both in standard situations and at auto restart.
Overcurrent, overvoltage and open-loop protection functions are also integrated. Under no-load, ie at 0 W output power, the standby power is stepped back to less than 500 mW (in 80 W applications). This energy-saving concept has been implemented without an additional connection pin, and with no external wiring.
Infineon has available a CoolSET F2 evaluation package, which includes samples, application notes, data sheet, demo board and demo board description, Excel-based PC calculation software, and PSpice models.
Credit(s)
Further reading:
Maintaining backup battery systems for maximum usage and reliability
30 September 2020, Comtest , Power Electronics / Power Management
Standby battery backup systems play a critical role in keeping essential operations functional in the event of a utility outage. Facilities like data centres, hospitals, airports, utilities, oil and gas 
...
Read more...
---
Double the power output from new Tadiran battery
30 September 2020, Altron Arrow , Power Electronics / Power Management
Tadiran has developed the latest in its PulsesPlus HLC battery range, doubling the power output of its previous offering. Recently the company launched the C-type HLC which represented a huge improvement 
...
Read more...
---
SABS addresses dangers of power adaptors to consumers
28 October 2020 , Power Electronics / Power Management
The increased use of devices and appliances has resulted in the increased use of adaptors as well as adaptors-on-adaptors in South Africa. This creates a risk of fires, short circuiting and damage or 
...
Read more...
---
Just Batteries develops Li-ion battery pack for drones
28 October 2020, Just Batteries , Power Electronics / Power Management
The commercial market for drones is ever growing, ranging from delivering your pizza or shoes to supplying medical equipment to rural and inaccessible areas. Just Batteries' design, development and 
...
Read more...
---
1200 V SiC MOSFETs
28 October 2020, RS Components (SA) , Power Electronics / Power Management
RS Components now stocks ON Semiconductor's latest 1200 V-rated MOSFETs. Based on silicon-carbide (SiC) technology, these power discretes are able to push the performance envelope. The new N-channel 
...
Read more...
---
LTO batteries in mining applications
28 October 2020 , Power Electronics / Power Management
The mining industry in Africa provides numerous jobs and essential raw materials for the Fourth Industrial Revolution, critical to rebuilding economies and industry after the Covid-19 epidemic. However, 
...
Read more...
---
AEC-Q200 compliant line filters
28 October 2020, Electrocomp , Circuit & System Protection
Bourns Magnetics Product Line is introducing the Model DR334A line filter series. These filters are constructed with a ferrite toroid core delivering compact size and high impedance over a broad frequency 
...
Read more...
---
Bidirectional DC power supply for lab testing
30 September 2020, Conical Technologies , Power Electronics / Power Management
The new IT-M3400 bidirectional DC power supply from ITECH integrates the features of a bidirectional power supply and a regenerative load. It inherits the advantages of high power density and modular 
...
Read more...
---
Global analysis of the solid-state battery market
30 September 2020 , Power Electronics / Power Management
The rapid growth of the electric vehicle market has driven the development, manufacture and sales of batteries, especially lithium-ion batteries. In the meantime, market research firm IDTechEx has identified 
...
Read more...
---
Solar lithium storage system
30 September 2020, Vepac Electronics , Power Electronics / Power Management
The US2000 Plus is a latest-generation lithium storage unit. Combining enhanced safety with a long service life – even when at low levels of charge on a regular basis – it meets the demanding requirements 
...
Read more...
---