printer friendly version
High temperature auto-insertable film capacitors
16 Feb 2000
Passive Components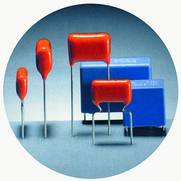 BC Components offers a series of small, high performance, high temperature auto-insertable film capacitors ideal for use in lighting ballasts and HID lighting. With the addition of the MMKP 383 Series film capacitors, the company offers a full range of AC and pulse film capacitors for uses such as lighting, power supplies, TVs and monitors as well as in automotives. Market trends to wards miniaturisation and high frequency and high pulse load applications are addressed through the double metallised electrode design, boxed layout and the use of polypropylene material. The 383's temperature tolerance is 105°C. The boxed layout means that 383 Series has a low profile for lighting ballast design. The polypropylene construction allows for high frequency use in, for example, resonance circuits, while the multisection construction enables high voltage use (up to 2500 V d.c. or 900 V a.c.). The 383 Series offers a highly reliable and all round cost-effective solution with the required pulse load performance, small case size and a bent-back pitch on tape, so that body sizes up to 17,5 mm can be automatically inserted, achieving significant cost savings for manufacturers.
Credit(s)
Further reading:
Braid tail swept elbow backshells
Electrocomp Interconnection
TE Connectivity is complementing its series of banding (BT) and Tinel ring (TXR) backshells with a braid tail backshell. The new 70 Series swept elbow backshells include a pre-terminated screenbraid sock 
...
Read more...
---
Field-installable mini industrial I/O connector
Electrocomp Interconnection
The Industrial Mini I/O connector system made by TE Connectivity is a compact, wire-to-wire and wire-to-board solution for reliable serial, bus and Ethernet connections in industrial applications. At 
...
Read more...
---
Digital humidity sensor withstands harsh conditions
Electrocomp Analogue, Mixed Signal, LSI
Sensirion is expanding its series of fourth-generation humidity sensors to include the SHT4xI-Digital sensor platform, which has been designed specifically for challenging industrial applications. The 
...
Read more...
---
Digital flow sensor for respiratory devices
Electrocomp Analogue, Mixed Signal, LSI
The compact SFM3119 digital flow meter is the successor to Sensirion's SFM3100 mass flow meter. Compared to its predecessor, the SFM3119 comes with a digital I
2
C output as well as improved specifications.  
...
Read more...
---
Liquid flow sensor in small planar package
Electrocomp Analogue, Mixed Signal, LSI
With a tiny footprint of only
10 x 10 mm
, Sensirion's LPG10-1000 liquid flow sensor provides optimal performance and speed in measuring liquid flow in a planar microfluidic glass substrate, with down-mount 
...
Read more...
---
Optional inner panels for IP68/66 plastic enclosures
Electrocomp Enclosures, Racks, Cabinets & Panel Products
Hammond Manufacturing's 1557 family has proved to be very popular since it was launched some two years ago and is increasingly being used as a housing for electromechanical components as well as PCB-mounted 
...
Read more...
---
Common-mode choke for 35 A commercial applications
Altron Arrow Passive Components
Vishay has introduced a new IHCM common-mode choke for high-current commercial applications up to 35 A. Available with a low-profile SMT construction, the IHCM-2321AA-10 is more robust than bulky toroid-based 
...
Read more...
---
High-voltage semiconductor-based capacitors
RFiber Solutions Passive Components
MACOM Technology Solutions' KV CAPS are high density, high working voltage silicon capacitors which employ a novel topology that essentially folds the parallel plates of the capacitors into three-dimensional 
...
Read more...
---
Very compact X2 capacitors
Electrocomp Passive Components
A recent introduction by TDK is a new series of very compact EPCOS X2 capacitors for noise suppression. They are rated for
275 V a.c.
and cover a capacitance spectrum from
33 nF to 1 µF.
Depending on 
...
Read more...
---
Evaluation kit for formaldehyde sensor
Electrocomp Design Automation
The SEK-SFA30 evaluation kit has been designed for easy evaluation of Sensirion's SFA30 formaldehyde sensor. The SFA30 is designed for easy integration into air purifiers, demand-controlled ventilation 
...
Read more...
---