printer friendly version
High temperature auto-insertable film capacitors
16 Feb 2000
Passive Components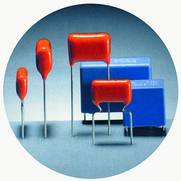 BC Components offers a series of small, high performance, high temperature auto-insertable film capacitors ideal for use in lighting ballasts and HID lighting. With the addition of the MMKP 383 Series film capacitors, the company offers a full range of AC and pulse film capacitors for uses such as lighting, power supplies, TVs and monitors as well as in automotives. Market trends to wards miniaturisation and high frequency and high pulse load applications are addressed through the double metallised electrode design, boxed layout and the use of polypropylene material. The 383's temperature tolerance is 105°C. The boxed layout means that 383 Series has a low profile for lighting ballast design. The polypropylene construction allows for high frequency use in, for example, resonance circuits, while the multisection construction enables high voltage use (up to 2500 V d.c. or 900 V a.c.). The 383 Series offers a highly reliable and all round cost-effective solution with the required pulse load performance, small case size and a bent-back pitch on tape, so that body sizes up to 17,5 mm can be automatically inserted, achieving significant cost savings for manufacturers.
Credit(s)
Further reading:
Miniature rotary switch series
Electrocomp Switches, Relays & Keypads
The high-quality miniature rotary switch series (MRSS) by TE Connectivity has a compact design which offers 50% lower profile than standard DIP switches.
Read more...
---
TDK announces robust varistors with 14 mm disk diameter
Electrocomp Passive Components
The new AdvanceD series of varistors have a wide operating voltage range up to 625 V and offer a surge current capability of 3000 A.
Read more...
---
Angle sensor for safety-critical applications
Altron Arrow Passive Components
TDK's TAS4240 TMR-based angle-sensor enables precise angle measurements in applications where high performance is needed and space is limited.
Read more...
---
Compact varistors offer surge capability of 6000 A
Electrocomp Circuit & System Protection
TDK has released the new EPCOS B72314S2* series of leaded disk varistors which cover a wide operating voltage range of 175 V
RMS
to 625 V
RMS
.
Read more...
---
New high current through-hole inductors
EBV Electrolink Passive Components
Vishay has released a high current, through-hole inductor for use in high current and high temperature applications, DC/DC converters, high current differential chokes and inverters.
Read more...
---
Short body USB-A with no compromise on performance
Electrocomp Interconnection
The all-new USB1125 connector from GCT with a minimal PCB footprint of just 13mm2 is 25% smaller than full-size equivalents.
Read more...
---
Bourns releases new series of power inductors
Electrocomp Power Electronics / Power Management
Constructed with a magnetic-silica coating to the perimeter of the inductor winding to provide effective shielding, these inductors release lower magnetic field radiation compared to non-shielded inductors.
Read more...
---
IP68 sealed enclosures from Hammond Manufacturing
Electrocomp Enclosures, Racks, Cabinets & Panel Products
Hammond Manufacturing has introduced the 1551W series, IP68 sealed versions of its popular 1551 miniature enclosure family, in five initial sizes.
Read more...
---
High performance power inductor in a tiny package
RF Design Passive Components
The LPS4010 series inductors from Coilcraft are low-profile power inductors in a shielded package that offer high energy storage and low DC resistance.
Read more...
---
New series of power ribbon wire-wound resistors
Electrocomp Power Electronics / Power Management
This QL/QRZG series of high-power resistors have a high-power load up to 2500 W and are suitable for applications such as industrial braking, EV battery packs and charging stations.
Read more...
---