printer friendly version
Quick-locking connector family gets new member
14 August 2002
Interconnection

Last year, Huber+Suhner released its new QMA interface. The concept of the QuickLock interface was very widely accepted in the market and sparked demand for a QMA-based N connector. Huber+Suhner thus developed the QN connector.
The N connector is one of the best-known and most popular interfaces in the RF industry. This interface is used in a wide variety of applications, primarily where high power has to be transmitted with low loss. Rugged, water-tight, good intermodulation characteristics and RF screening effectiveness are other advantages distinguishing the N connector. The new QN interface combines these qualities with the simple QuickLock coupling mechanism.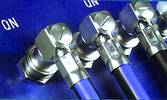 Simple mating and demating
As known from QMA, the snap mechanism of the QN works very simply. When a mating force of about 50N is applied, the locking mechanism snaps closed in a single step. To demate, one must pull back the decoupling sleeve. This opens the snap ring of the mating mechanism and allows demating with a force of merely 50N. If the decoupling sleeve is not actuated, the QN connector will never become disconnected.
This straightforward connecting and disconnecting procedure reduces the time needed to mate and demate a connection to about one tenth of the time required for a threaded interface. Also, neither an open-end spanner nor a torque spanner is required. This produces a number of benefits, for example: higher packing density, since no space is needed to tighten the nut with a spanner; no purchase, storage, calibration and maintenance of a torque spanner; no possibility of incorrect tightening torque; no scratched front panels.
No loose connections
Practice has shown that screw-on interfaces often produce loose connections leading to failures - some causes of failure of a screw-connected interface may be: insufficient torque applied during tightening; vibration during transport or service; twisting of the (right angle) connectors during wiring or as a result of other stresses on the cable, etc. This is all eliminated with the QN connector, thanks to its reliable snap-on mechanism making a reproducible connection.
Excellent characteristics
A special contact spring element guarantees a steady outer conductor contact, which always extends all the way around the face of the bush contact. With this solution, excellent intermodulation values and RF screening effectiveness are achieved. The QN has an operating frequency up to 11 GHz, and its return loss has been optimised for the range up to 6 GHz. As with the N connector, a seal in the interface guarantees the necessary protection against moisture in outdoor applications.
The superior technical characteristics of the QN connector allow the new interface to be used in a wide variety of applications. Its good intermodulation characteristics and high power handling capacity make it an ideal choice for service in the transmitting path of mobile radio base stations. On the other hand, thanks to the waterproof-ness of the QN interface, it is also ideally suited for time-saving complete jumper and feeder cabling up to the antenna. The QN is also an excellent solution in many other indoor and outdoor applications in the fields of electronics and RF engineering. This applies particularly when high screening effectiveness, high power handling capacity and a rugged connection with quick and easy decoupling is demanded.
Further reading:
THT-configurable male connectors
30 June 2020, Würth Elektronik eiSos , Interconnection
WR-FAST Fast Connection is the name of a series of THT-configurable male connectors for accommodating single wires with blade receptacles – for example in household appliances. The new connectors are 
...
Read more...
---
Hybrid and pneumatic modules for modular connectors
30 June 2020, RF Design , Interconnection
Smiths Interconnect has extended its L modular connector series with the addition of two new module types that complete the company's wide offering of modular solutions. The L Series of modular connectors 
...
Read more...
---
High-speed backplane interconnect solutions
30 June 2020, IPD Electronics , Interconnection
TE Connectivity's high-speed backplane connectors offer the flexibility and performance needed for a range of datacom applications, including servers, switches, routers, and optical transport. The company's 
...
Read more...
---
High-density multicoax cable assemblies
30 June 2020, RFiber Solutions , Interconnection
Withwave's high-speed and high-density multicoax cable assemblies (WMX Series) provide a wide range of multiple coax connectors and flexible cable assemblies with a choice of 20, 40, 50 and 67 GHz configurations 
...
Read more...
---
Circular connectors for power, signals and data
30 June 2020, TRX Electronics , Interconnection
Standardised circular connectors have become the industry standard across a wide range of applications. Customers can find the right option for their most innovative designs with Phoenix Contact's PLUSCON 
...
Read more...
---
Rugged fibre connectors
29 July 2020, TRX Electronics , Interconnection
TE Connectivity's ruggedised fibre optics bring the benefits of optical technology to challenging environments, providing more bandwidth, more distance and more performance. TE's offering includes 
...
Read more...
---
EMI/RFI shielding cable ties
29 May 2020, Actum Electronics , Interconnection
BAND-IT EMI cable ties have been designed and manufactured to excel in mission-critical applications, such as Mil/Aero EMI/RFI (electromagnetic interference/RF interference), for the past 30 years.  
...
Read more...
---
How are end-launch PCB connectors useful?
29 April 2020, RF Design , Interconnection
There has been an increasing use of RF coaxial connectors, especially microwave and millimetre-wave coaxial connectors, for high-speed digital and precision sensing applications, There is also a growing 
...
Read more...
---
IP68 circular connectors
29 April 2020, IPD Electronics , Interconnection
Sure-Seal 7/8" IP68 connectors are designed for both signal and high-current applications. They are compatible with industrial mini-change connectors and are sealed to an IP68 rating. These 7/8" IP68 
...
Read more...
---
Micro-miniature circular connectors
29 April 2020, IPD Electronics , Interconnection
Available from local distributor IPD Electronics via its agreement with PEI-Genesis, Amphenol 2M series micro-miniature connectors are fully guaranteed to be intermateable with Glenair Mighty Mouse connectors. The 
...
Read more...
---