printer friendly version
Connectors ensure close board stacking
14 August 2002
Interconnection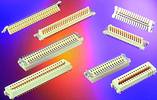 FCI has expanded its Conan range of PCB stacking connectors to cover six different parallel board spacings up to 7 mm. The microminiature surface mount headers and receptacles provide up to 69 contact positions for space limited board-to-board interconnection.
By combining a standard 3,28 mm deep receptacle with one of the series of six low profile headers, mated Conan connector heights of 4,15, 4,5, 5,0, 5,5, 6,0 and 7,0 mm can be achieved to support a variety of off-board component heights. With dual contact rows and a pitch of 1 mm, the connector system offers a high circuit density of 20 contacts per cm.
Conan's angled contact and passive latch guards against accidental separation due to shock or vibration. Polarised housings prevent mismating of the connector, while an audible click during mating signals correct engagement.
Supplied on tape-and-reel, Conan headers and receptacles are compatible with all automated surface-mount board assembly processes. Integrated PCB retaining strips help increase the mechanical strength of the connector assembly after soldering. The connector's 'blade-on-beam' contacts guard against the possibility of 'peeling' damage.
Further reading:
Ultra-miniature Pico-D connector
25 November 2020, Hiconnex , Interconnection
Following the trend for miniaturisation, Axon has developed an ultra-miniature connector called Pico-D (with 0,15 mm pitch) based on additive manufacturing technology. As shown in the accompanying image, 
...
Read more...
---
Connectors for EV and hybrid applications
25 November 2020, RS Components (SA) , Interconnection
The compact, metal-shell PowerLok Series from Amphenol provides interconnect solutions and signal connections for EV (electric vehicle) and hybrid transportation applications. Accommodating up to 
...
Read more...
---
Assembled PCB connectors
25 November 2020, Phoenix Contact , Interconnection
Various PCB connectors with crimp connection are now available from Phoenix Contact as a convenient assembled connection solution. With freely selectable cable lengths from 10 to 300 centimetres and cross 
...
Read more...
---
Data connector for vehicle diagnostics and comms
25 November 2020, Startech Industrial , Interconnection
Amphenol Industrial Operations now offers industry-standard, on-vehicle data plug connectors that are designed for vehicle diagnostic and data communication. The AT circular connector (ATC) series is 
...
Read more...
---
Hybrid device connectors with knurled nut
25 November 2020, Phoenix Contact , Interconnection
M23 Hybrid series device connectors from Phoenix Contact are now also available with a knurled nut. This enables devices such as servo drives to be connected using either coupler or cable connectors. 
...
Read more...
---
Flexible 50 GHz and 67 GHz cable assemblies
25 November 2020, RFiber Solutions , Interconnection
The W2 Series is a complete line of high-performance, flexible microwave cable assemblies from Withwave. Specially, the W205 Series has a low-density PTFE structure to achieve velocity propagation of 
...
Read more...
---
Low board-to-board RF coax connectors
25 November 2020, Hiconnex , Interconnection
The IMP-LP product range is Radiall's lowest board-to-board distance solution with optimised RF performance. This small form factor system features a pressure contact design to provide a quick and reliable 
...
Read more...
---
Ultra-flexible Ku/Ka-band cable
28 October 2020, Hiconnex , Interconnection
As a leader in civil aircraft interconnection and RF cables, Radiall introduces a new cable in response to ARINC 791 and ARINC 792 requirements. This new ultra-flexible cable is ideally suited for Ku/Ka-band 
...
Read more...
---
Power and signal connectors with selective mate keying
25 November 2020, Vepac Electronics , Interconnection
The SB Smart range from Anderson Power Products is designed for applications where storage batteries intelligently interact with the system. Two primary power positions (up to 230 A each) are combined 
...
Read more...
---
What makes good connector design?
25 November 2020, IPD Electronics , Editor's Choice, Interconnection
It's important to remember that your connector may have physical design constraints like a minimum wire gauge or number of contacts, so it's vital to consult with your connector supplier early in the process.
Read more...
---