printer friendly version
New fibre for cost-effective multimode technology up to 10 Gbps
14 August 2002
Interconnection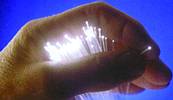 The coming standardisation of 10 Gbps Ethernet calls for fibres that have been designed to meet future requirements. The OM3 fibre with its 50 µm fibre core and its improved gradient profile is a powerful yet cost-effective solution for modern, high-performance building cabling systems.
Hardly two years have passed since the standardisation of 1 Gbps Ethernet building cabling systems, and now, standardisation of the much more powerful 10 Gbps cabling system is imminent. The first devices were announced at the Cebit 2002 in Hannover. They will mainly be applied in powerful computer centre applications.
High data rates using multimode
However, in 10 Gbps Ethernet systems the data rates are so high that the maximum length that can be achieved with conventional multimode fibres is a mere 84 m. This capacity is just sufficient for the reliable operation of 1 Gbps transmission lines. The logical solution of simply using singlemode fibres in buildings has certain drawbacks. For one thing, the production of singlemode cable assembly systems is very costly. In addition, singlemode fibres require suitable components, which are more expensive to purchase. To achieve the necessary data rates, operators must therefore decide what price-to-performance ratio they accept and what media they want to apply.
To solve the problem, the multimode fibre has been 'outwitted'. By excitation of part of the modes, it is possible to also use multimode fibres at high frequencies. Huber + Suhner's OM3 fibre has been developed. It eliminates the production-related DMD (Differential Mode Delay) problems that relate to multimode fibres. DMD refers to the nonideality of the refraction index in the centre of the fibre, which leads to massive propagation time differences.
The DMD problem is minimised in OM3 fibres by applying special production processes in the core region. This enables such cables to be used in 10 Gbps applications. Additional optimisation for 850 nm applications allows a transmission length of 300 m to be achieved. The OM3 fibre reduces costs substantially because it allows simpler and less expensive multimode terminal devices to be used. In addition, the cable assembly requirement is reduced during cable installation.
Since transmission rates exceeding 1 Gbps are only possible with optical fibres, the UGV standardisation system has created different fibre classes. Classes OM1 to OM3 define the possible transmission length besides the defined data transmission rate. As a result, the system prescribes which fibre must be used in a given application.
Further reading:
How are end-launch PCB connectors useful?
29 April 2020, RF Design , Interconnection
There has been an increasing use of RF coaxial connectors, especially microwave and millimetre-wave coaxial connectors, for high-speed digital and precision sensing applications, There is also a growing 
...
Read more...
---
IP68 circular connectors
29 April 2020, IPD Electronics , Interconnection
Sure-Seal 7/8" IP68 connectors are designed for both signal and high-current applications. They are compatible with industrial mini-change connectors and are sealed to an IP68 rating. These 7/8" IP68 
...
Read more...
---
Micro-miniature circular connectors
29 April 2020, IPD Electronics , Interconnection
Available from local distributor IPD Electronics via its agreement with PEI-Genesis, Amphenol 2M series micro-miniature connectors are fully guaranteed to be intermateable with Glenair Mighty Mouse connectors. The 
...
Read more...
---
RF/microwave connectors for wide frequency ranges
29 May 2020, RFiber Solutions , Interconnection
Withwave, a supplier of versatile RF and microwave test solutions, offers a range of SMPM connectors covering 26,5 to 67 GHz. The connectors cover wide frequency ranges from RF to microwave with excellent 
...
Read more...
---
High-density ZIF connectors
25 March 2020, IPD Electronics , Interconnection
Available from IPD Electronics through its distribution agreement with PEI-Genesis, ITT Cannon's DL connector family is a versatile, high-density zero insertion force (ZIF) connector series with up to 
...
Read more...
---
2 mm connectors for board signal transfers
29 April 2020, TRX Electronics , Interconnection
TE Connectivity is expanding its range of AMPMODU interconnection solutions with the introduction of 2 mm centreline board connectors. These new connectors occupy 38% less space than traditional 2,54 
...
Read more...
---
Tactile switches for demanding applications
29 April 2020, Brabek , Interconnection, Switches, Relays & Keypads
The Multimec switch from APEM has been designed with the intention to manufacture the best possible switch. The company's automatic production lines have 100% in-line testing, but before the parts get 
...
Read more...
---
RF connectors and cable assemblies
25 March 2020, IPD Electronics , Interconnection
Sure-Seal's RF connector series offers an excellent waterproof connector solution for harsh environment communication systems. Connectors and cable assemblies are available in a variety of permutations 
...
Read more...
---
High-temperature power connectors
29 April 2020, Otto Marketing , Interconnection
Hirose Electric has introduced the HVH-280 Series power connectors for automotive applications. They are low-profile connectors with a 3-point high-pressure female contact design that enables a high current 
...
Read more...
---
Temperature conditioned coaxial cable assemblies explained
29 April 2020, RF Design , Interconnection
There are many applications, some emerging, that require both phase and amplitude error to be minimised. These applications include synthetic aperture radar using antenna arrays, beamforming/MIMO antenna 
...
Read more...
---