printer friendly version
New fibre for cost-effective multimode technology up to 10 Gbps
14 August 2002
Interconnection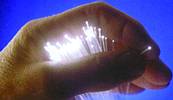 The coming standardisation of 10 Gbps Ethernet calls for fibres that have been designed to meet future requirements. The OM3 fibre with its 50 µm fibre core and its improved gradient profile is a powerful yet cost-effective solution for modern, high-performance building cabling systems.
Hardly two years have passed since the standardisation of 1 Gbps Ethernet building cabling systems, and now, standardisation of the much more powerful 10 Gbps cabling system is imminent. The first devices were announced at the Cebit 2002 in Hannover. They will mainly be applied in powerful computer centre applications.
High data rates using multimode
However, in 10 Gbps Ethernet systems the data rates are so high that the maximum length that can be achieved with conventional multimode fibres is a mere 84 m. This capacity is just sufficient for the reliable operation of 1 Gbps transmission lines. The logical solution of simply using singlemode fibres in buildings has certain drawbacks. For one thing, the production of singlemode cable assembly systems is very costly. In addition, singlemode fibres require suitable components, which are more expensive to purchase. To achieve the necessary data rates, operators must therefore decide what price-to-performance ratio they accept and what media they want to apply.
To solve the problem, the multimode fibre has been 'outwitted'. By excitation of part of the modes, it is possible to also use multimode fibres at high frequencies. Huber + Suhner's OM3 fibre has been developed. It eliminates the production-related DMD (Differential Mode Delay) problems that relate to multimode fibres. DMD refers to the nonideality of the refraction index in the centre of the fibre, which leads to massive propagation time differences.
The DMD problem is minimised in OM3 fibres by applying special production processes in the core region. This enables such cables to be used in 10 Gbps applications. Additional optimisation for 850 nm applications allows a transmission length of 300 m to be achieved. The OM3 fibre reduces costs substantially because it allows simpler and less expensive multimode terminal devices to be used. In addition, the cable assembly requirement is reduced during cable installation.
Since transmission rates exceeding 1 Gbps are only possible with optical fibres, the UGV standardisation system has created different fibre classes. Classes OM1 to OM3 define the possible transmission length besides the defined data transmission rate. As a result, the system prescribes which fibre must be used in a given application.
Further reading:
Ultra-flexible Ku/Ka-band cable
28 October 2020, Hiconnex , Interconnection
As a leader in civil aircraft interconnection and RF cables, Radiall introduces a new cable in response to ARINC 791 and ARINC 792 requirements. This new ultra-flexible cable is ideally suited for Ku/Ka-band 
...
Read more...
---
Power and signal connectors with selective mate keying
25 November 2020, Vepac Electronics , Interconnection
The SB Smart range from Anderson Power Products is designed for applications where storage batteries intelligently interact with the system. Two primary power positions (up to 230 A each) are combined 
...
Read more...
---
What makes good connector design?
25 November 2020, IPD Electronics , Editor's Choice, Interconnection
It's important to remember that your connector may have physical design constraints like a minimum wire gauge or number of contacts, so it's vital to consult with your connector supplier early in the process.
Read more...
---
Durable connectors for harsh conditions
25 November 2020, TRX Electronics , Interconnection
When the going gets tough, you need rugged, reliable and ready connections to see the job done right and through to completion. From industrial and heavy equipment to defence applications, only the best 
...
Read more...
---
Magnetic jack connectors and their benefits
25 November 2020, Vepac Electronics , Interconnection
EDAC's product offering includes the edacJAX range of magnetic and modular jacks, offering many features and benefits. These connectors are used in data, telecom, networking and home entertainment markets 
...
Read more...
---
Battle-tested power and data hubs
25 November 2020, Hiconnex , Interconnection
Ruggedised soldier-worn electronics have revolutionised mission effectiveness, but the ongoing evolution of Digitally Aided Close Air Support (DACAS) missions, including precision targeting, ground and 
...
Read more...
---
Compact, robust cable connectors with high mating reliability
25 November 2020, Actum Group , Interconnection
ERNI is expanding its robust and versatile range of MiniBridge (1,27 mm pitch) and MaxiBridge (2,54 mm) cable-to-board connector range with the MicroBridge family in a 1,27 mm pitch, which is currently 
...
Read more...
---
New precision RF products from Samtec
25 November 2020, Spectrum Concepts , Interconnection
In the build-up to this year's IMS Microwave Week in June, Samtec's Danny Boesing shared some of the new and upcoming products from the company's stable of precision RF and millimetre-wave products. (Note: 
...
Read more...
---
Power connector for heavy-duty EV applications
25 November 2020, Startech Industrial , Interconnection
Amphenol Industrial Operations now offers a medium amperage connection system that is rated up to 120 A of continuous current.    The ePower-Lite 5,7 mm has an operating voltage of 600 V a.c./800 V&nbspd;.c. 
...
Read more...
---
High-power grounding jumpers
25 November 2020, RS Components (SA) , Interconnection
Molex's Triton grounding jumpers provide for the safe management of high-power busbars. Unique to the industry, the range is UL certified to deliver quality, safety and reliability. The jumpers are 
...
Read more...
---