printer friendly version
Direct disk drive-to-board connectors
14 August 2002
Interconnection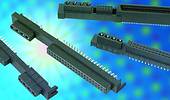 Samtec has announced a complete line of combination signal and power connectors that eliminate the need for the flat ribbon cables and power wire harnesses that are commonly used when connecting hard drives. The Storage Combo line is PCB mountable with straight through-hole, right-angle, reversed right-angle and edge-mount tail configurations. These interfaces mate to IDE/ATA hard drives (SCID Series) SCSI2 hard drives (SCS2 Series) and Wide SCSI hard drives (SCWS Series).
Storage Combo connectors offer a number of benefits:
* Cost reduction - with one Samtec connector effectively replaces a minimum of two IDC connectors, two wire harness connector assemblies, two mating headers, flat ribbon cable and individual wiring, as well as assembly labour.
* Improved electrical performance - especially in RAID and mass storage systems where a short signal path from the disk drives to the main board is essential.
* Space savings - through direct connection to the target board which eliminates the extra space normally required for bulky wire harness assemblies.
For more information: Bradley Richards, Spectrum Concepts, 011 395 3184.
Credit(s)
Further reading:
Ultra-flexible Ku/Ka-band cable
28 October 2020, Hiconnex , Interconnection
As a leader in civil aircraft interconnection and RF cables, Radiall introduces a new cable in response to ARINC 791 and ARINC 792 requirements. This new ultra-flexible cable is ideally suited for Ku/Ka-band 
...
Read more...
---
Power and signal connectors with selective mate keying
25 November 2020, Vepac Electronics , Interconnection
The SB Smart range from Anderson Power Products is designed for applications where storage batteries intelligently interact with the system. Two primary power positions (up to 230 A each) are combined 
...
Read more...
---
What makes good connector design?
25 November 2020, IPD Electronics , Editor's Choice, Interconnection
It's important to remember that your connector may have physical design constraints like a minimum wire gauge or number of contacts, so it's vital to consult with your connector supplier early in the process.
Read more...
---
Durable connectors for harsh conditions
25 November 2020, TRX Electronics , Interconnection
When the going gets tough, you need rugged, reliable and ready connections to see the job done right and through to completion. From industrial and heavy equipment to defence applications, only the best 
...
Read more...
---
Magnetic jack connectors and their benefits
25 November 2020, Vepac Electronics , Interconnection
EDAC's product offering includes the edacJAX range of magnetic and modular jacks, offering many features and benefits. These connectors are used in data, telecom, networking and home entertainment markets 
...
Read more...
---
Battle-tested power and data hubs
25 November 2020, Hiconnex , Interconnection
Ruggedised soldier-worn electronics have revolutionised mission effectiveness, but the ongoing evolution of Digitally Aided Close Air Support (DACAS) missions, including precision targeting, ground and 
...
Read more...
---
Compact, robust cable connectors with high mating reliability
25 November 2020, Actum Group , Interconnection
ERNI is expanding its robust and versatile range of MiniBridge (1,27 mm pitch) and MaxiBridge (2,54 mm) cable-to-board connector range with the MicroBridge family in a 1,27 mm pitch, which is currently 
...
Read more...
---
New precision RF products from Samtec
25 November 2020, Spectrum Concepts , Interconnection
In the build-up to this year's IMS Microwave Week in June, Samtec's Danny Boesing shared some of the new and upcoming products from the company's stable of precision RF and millimetre-wave products. (Note: 
...
Read more...
---
Power connector for heavy-duty EV applications
25 November 2020, Startech Industrial , Interconnection
Amphenol Industrial Operations now offers a medium amperage connection system that is rated up to 120 A of continuous current.    The ePower-Lite 5,7 mm has an operating voltage of 600 V a.c./800 V&nbspd;.c. 
...
Read more...
---
High-power grounding jumpers
25 November 2020, RS Components (SA) , Interconnection
Molex's Triton grounding jumpers provide for the safe management of high-power busbars. Unique to the industry, the range is UL certified to deliver quality, safety and reliability. The jumpers are 
...
Read more...
---