Nikolay Ostrovski, Spescom's Communications Test Specialist, recently attended a 3-day technical seminar held by principal, TEMIA, in Munich, Germany. He was one of only 10 delegates in this specialist telecommunications field to be invited to attend from around the world.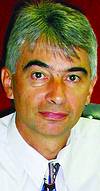 Nikolay Ostrovski
TEMIA, an acknowledged leader in the telecoms protocol analysers arena, boasts customers such as Ericsson, Motorola, and Nokia. It also counts telecoms service providers worldwide amongst their client base.
The technical seminar covered the latest in telecoms technology, including the convergence of data, voice and video as well as SS7, V5, ISDN, GSM, CDMA, GPRS, UMTS. Delegates were also introduced to the latest TEMIA telecoms protocol analysers, specifically the T980 monitor and the T966, monitor/simulator/emulator.
Ostrovski commented, "I was greatly impressed with the extremely professional manner in which this course was presented. It was truly 'hands-on' with all the equipment and experts on hand so that what you learn, you could immediately implement.
"Spescom is serious about keeping their product specialist, like myself, abreast of the latest technologies in the industry. It is a fast moving industry and one has to stay ahead of the pack! It is courses like this that give me the edge in the SA market", said Ostrovski.
Spescom MeasureGraph's Communications Test Division addresses all aspects of telecommunications testing, and is considered to be a leader in the high level testing systems arena.
For more information: Nik Ostrovski, Spescom MeasureGraph, 011 266 1500.