Grintek Antennas has long been a pioneer and a leading supplier of antennas and RF equipment to the South African GSM telecommunications industry. The company has designed a family of products specifically for RF indoor distribution.
These products range from the various antennas, a line of tap-off couplers, power splitters, 900/1800 MHz low loss combiners, attenuators and even amplifiers. The company has a highly skilled development team that is actively pursuing innovative products to enhance mobile networks' competitive advantages.
The application
With the increase in RF telecommunication system solutions and the demand for more capacity, the need to supply RF coverage inside buildings has also increased. Different methods of RF distribution exist, namely fibre-optic, leaky feeders or cable networks with an array of smaller antennas, to name a few. Of the indoor distribution network solutions, the cable and antenna arrays is still the most cost effective solution. This is also called 'DAS' (for distributed antenna system).
Current new developments such as WAP, GPRS, WIG and VPN are already pushing frequency usage to full capacity. The ability to contain RF inside a building is advantageous as it increases capacity, minimises cell interference and allows re-use of the frequency spectrum. An indoor distribution network can be designed in such a way that frequencies can be re-used not only inside the same building, but also in adjacent buildings. Power levels must then be optimised within buildings to make this possible.
A well-designed indoor distribution network in a building can be one of the most cost-effective ways to increase overall capacity and increase the client base for network providers and, at the same time maximise spectrum use.
Indoor distribution products
The Grintek antenna indoor distribution product range consists of a range of indoor antennas and a full range of couplers, packaged as single or multiport devices. In addition, indoor distribution network design software is also available as an aid to network designers and maintainers.
The antennas used in indoor distribution networks are of two types: a 2 dBi omni-directional antenna and a wall-mounted 7 dBi directional flat panel antenna. These antennas are tri-band antennas, covering the GSM900, GSM1800 and UMTS frequencies.
On the directional couplers, coupling levels in the range of -3 to -30 dB are available. The units can be supplied with one or two equal power output ports. All these components cover the personal communication bands from 824 MHz to 2170 MHz (see Figure 1).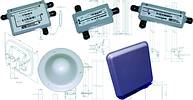 Figure 1. The illustration shows some single tap-off couplers, dual tap-off couplers, splitters and various indoor antennas
A software tool is available to assist in the design of an indoor distribution network. The inputs needed for this software are the antenna nodes, the relative power levels at each antenna, and the feeder cables lengths and types. The program then calculates the optimal network distribution solution, without using any attenuators. Power levels inside the building can then be optimised to facilitate frequency re-use.
This software tool is also very handy in maintenance or improvements to the indoor distribution network. Measured power levels can be compared to predicted power levels, making the program a valuable tool in fault-finding in the network.
Grintek Antennas has extensive experience in the manufacture of antennas and RF products and in addition to this, the company can offer customers support and advice regarding the implementation of antennas and RF products in their networks.
For more information: Grintek Antennas, 012 674 3500, antenna@grintek.com