SoftPlot for Microwave Office is a special version of P&H Technology Consultants' SoftPlot which has been developed to work directly with Microwave Office from Applied Wireless Research (AWR). AWR is an EDA company active in the wireless industry.
SoftPlot for Microwave Office provides direct access to popular test equipment for manufacturers such as: Anritsu Wiltron, Rhode & Schwarz, Marconi Instruments, Fluke, Philips, Tektronix, Boonton, LeCroy, Yokogawa, IFR, Wandel & Goltermann, Advantest, Hewlett-Packard and Agilent Technologies. Equipment types supported include, network analysers, spectrum analysers, modulation analysers and oscilloscopes.
SoftPlot for Microwave Office uses the advanced COM API capabilities of AWR's Microwave Office to become a virtual 'plug-in' application, providing the ability to quickly compare simulation and measurements and/or interactively combine the power of simulation with measurement. This capability gives users of Microwave Office a direct interface to all the measurement equipment and features normally supported by SoftPlot.
A Microwave Office tabbed page in the main program contains all the controls required for passing measurement data between SoftPlot and the currently opened Microwave Office design file. A GPIB card is required to make instrument transfers.
DS Communications, the local AWR distributor, can give a demonstration of SoftPlot for Microwave Office that will illustrate the simplicity of transferring measurements from an instrument into Microwave Office, as well as illustrate the other key benefits, some of which are listed below.

Figure 1. Network analysers, spectrum analysers, oscilloscopes or modulation analysers are simply hooked up to one's PC using a GPIB card or RS232, providing instant access to all the trace data needed
Key benefits
* SoftPlot for Microwave Office extracts S-parameter data from network analysers, which can be inserted into Microwave Office as a Data file.
* The data files can be used as building blocks within the simulation, or as optimisation targets to converge a simulation to a real-life circuit.
* S-Parameter matrices of 1, 2, 3, or 4 ports can be measured sequentially using a 2-port network analyser.
* SoftPlot works with a wide range of test equipment from all the major vendors.
* Data transfers need no programming or expert GPIB knowledge from the user. The test equipment is set up manually and a simple user interface controls the transfer of data into SoftPlot.
* A separate page is provided in SoftPlot to transfer and manage the data files in the currently open Microwave Office project. Freshly gathered data or stored SoftPlot files can be used as the source of data to be inserted into the Microwave Office project.
* SoftPlot can be used separately from Microwave Office to gather a wide variety of measurements, document them, and paste the graphics into reports and presentations.
* SoftPlot can be controlled as a software component by COM applications to do automated testing such as Agilent VEE, National Instruments' LabView, Matlab, Excel, Word, etc.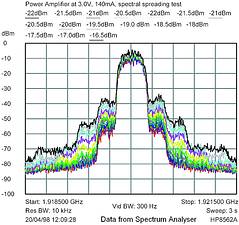 Figure 2. SoftPlot exports data as graphic files (ie, WMF, BMP, .JPG, etc) but more importantly, it embeds or links measurements using OLE (object linking and embedding). This retains access to the original measurement data as well as providing good graphics for documents
Summary
SoftPlot for Microwave Office is simple to use, works with all the popular test equipment and other test automation software. It will appeal to RF designers, technicians and project managers, because it manages all the issues of GPIB, data transfer between software packages, and measurement results documentation.