printer friendly version
Precision electronic probe
16 Feb 2000
Test & Measurement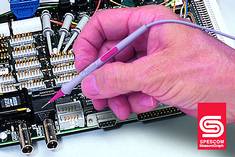 Pomona Electronics has introduced the precision electronic probe, featuring one of the smallest outlines currently available. The probe provides comfort, accessibility and accuracy for surface mount and densely populated circuit board applications in repair and test laboratory environments. The probe's thermoplastic elastomer outer layer provides a comfortable and secure grip and the precision electronic test socket is designed for use with a wide variety of tip points, ensuring accuracy for any testing configuration.
Users can replace tips on the precision electronic probe without tools for added convenience and versatility. Pomona Electronics offers a wide range of probe tips in a variety of styles, including the spring-loaded plunger tip, which provides a constant level of force on the probe tip. This 'pogo-pin' feature prevents the tip from slipping and damaging other components or circuit board traces. Stainless steel tips for penetrating surface contamination, multi-head tips, and extra long probe tips are also available.
The precision electronic probe is smaller than most probes currently available, yet it fits comfortably and securely in the hand. The small design, state-of-the-art materials and variety of tips make this probe a key tool for anyone performing tests on surface mount components or any densely populated device where precision is critical.
The precision electronic probe design is fully compliant with the latest international safety standard, IEC 1010 with Category III, 1000 V over voltage protection. It has a maximum current rating of 3 A. The probe is also available in specialty test lead kits designed for specific applications and can be used with digital multimeters from the major manufacturers.
Further reading:
Double pulse test software for Tektronix AFG
29 January 2020, Comtest , Test & Measurement
Comtest announced the availability of Tektronix' new software plugin for its AFG31000 arbitrary function generator (AFG), making it possible to perform crucial double pulse testing in less than a minute, 
...
Read more...
---
Battery charge/discharge test system
29 January 2020, Conical Technologies , Test & Measurement
The ITS5300 battery charge and discharge test system from ITECH is designed for a variety of power batteries including lead acid, nickel hydrogen, lithium batteries, supercapacitors, hydrogen fuel cells 
...
Read more...
---
DIN-rail programmable transmitter
23 October 2019, Instrotech , Test & Measurement
Calog Instrument's versatile DPM9000 series – a miniature DIN-rail mount programmable isolated transmitter range – boasts high reliability and a versatile, wide range of programmable inputs. With dimensions 
...
Read more...
---
Hands-on learning module
23 October 2019, Altron Arrow , Test & Measurement
The ADALM2000 (M2K) active learning module is an affordable, USB-powered, software-defined instrument that exceeds the capabilities of its predecessor ADALM1000 (M1K). With 12-bit ADCs (analog-to-digital 
...
Read more...
---
Digital multimeter with thermal imager
23 October 2019, RS Components (SA) , Test & Measurement
A digital multimeter (DMM) with a built-in thermal imager has been added to RS Components' RS PRO product range. The RS-9889 allows engineers to identify thermal overload issues in electrical equipment 
...
Read more...
---
Project-based learning for the modern engineer
23 October 2019 , Test & Measurement
Projects that inherently challenge students to use innovative design thinking often involve interacting with an unknown process or device. Students are encouraged to understand the unknown through theory, 
...
Read more...
---
Automotive Ethernet testing software
25 September 2019, Comtest , Test & Measurement
Tektronix has released two new software packages that greatly simplify Automotive Ethernet testing, debug and protocol decode for use with its 5 and 6 Series mixed-signal oscilloscopes (MSO). Using 
...
Read more...
---
4-channel PC-based oscilloscope
28 August 2019, Vepac Electronics , Test & Measurement
The newly developed Model 1330 from Peaktech is a 4-channel PC oscilloscope with 100 MHz bandwidth and 1 GSps sample rate, which is suitable for mobile use on a laptop, and permanent installation in control 
...
Read more...
---
Handheld PoE tester
26 June 2019, Coral-i Solutions , Test & Measurement
Ideal Networks has launched a new handheld tester that eliminates guesswork when installing, maintaining and troubleshooting PoE devices and data cabling. PoE Pro measures and reports PoE class, voltage/voltage 
...
Read more...
---
Debugging probe for STM32 MCUs
31 July 2019, Altron Arrow , Test & Measurement
The STLINK-V3MINI probe, new from STMicroelectronics, combines the features of the STLINK-V3SET with standalone simplicity for faster programming and ease of use. The compact, portable probe can be 
...
Read more...
---