Circuit designers are often faced with the problem of efficiently amplifying a signal that has occasional peaks that are much greater than the signal's RMS level. Until now, the only solution was to configure an amplifier with wide power supply rails, in excess of the maximum peak signal level. This resulted in an inefficient implementation that wasted power most of the time (except during the occasional peaks).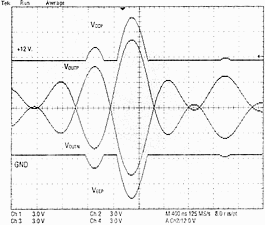 The AD8393 in single +12 V supply operation showing Adaptive Linear Power supplies and driver outputs. The internal supplies are brought outside the rails to accommodate peaks above 12 V and below GND
Analog Devices' AD8393 uses what it says is a breakthrough amplifier architecture called adaptive linear power, that dramatically improves power efficiency by responding to these signal peaks and instantaneously raising the internal supply voltage when peak power is needed. The AD8393 can deliver over 18 V of signal on a single 12 V supply (or ±6 V). This capability is particularly well suited as an ADSL-CO amplifier for driving DMT (discrete multitone) signals onto a twisted pair line with a peak-to-rms ratio range up to 6,4. Operation from a single 12 V supply further reduces power consumption and system complexity.
Audio and medical applications that require the efficient amplification of signals with occasional peaks will benefit from the device and the Adaptive Linear Power implementation. It is available in CSP and TSSOP packages.