printer friendly version
High-bandwidth 4+16 channel scope debuts
9 October 2002
Test & Measurement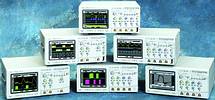 Agilent Technologies believes it has extended its leadership in the mixed-signal oscilloscope market with the release of a new family of mixed-signal oscilloscopes (MSOs).
The Agilent 54830 Series Infinium MSOs allow R&D engineers in the computer, communications, defence and semiconductor industries for the first time to easily view up to 20 time-aligned (four analog + 16 timing) signals on one instrument, thereby helping to simplify analysis and speed the development of new products.
The instruments' deep memory enables users to observe long serial data streams with high resolution or to find details buried in complex waveforms. The Infiniium MSOs also help reduce cost of test and time-to-market by incorporating 16 channel logic timing analyser capability in a single instrument. This enables engineers to design and test components, systems and processes more efficiently, according to the company.
The Infiniium MSOs' advanced MegaZoom deep-memory technology addresses user frustrations with previous deep-memory scopes by delivering fast responsiveness and high sample rate automatically, without requiring special manual configuration of the acquisition settings.
With acquisition memory depths of up to 16 MB and sampling rates up to 4 GSa/s, the Agilent Infiniium MSOs provide deep capture without the sluggish response associated with many deep-memory scopes. The new MSOs also include Infiniium's award-winning Windows-based graphical user interface that eases navigation and access to advanced features, and active probes that give users full system bandwidth up to 1 GHz.
Additional options that can be added to the Infiniium MSOs include:
* High-performance active probes.
* Universal Serial Bus (USB) 2,0 test option.
* Communication mask testing options.
* Voice control option.
* Wedge adapters and logic analyser adapters.
Credit(s)
Further reading:
Approval for industry-first 3GPP Release 16 protocol conformance test
Coral-i Solutions Test & Measurement
The Conformance Agreement Group (CAG) operated by the Global Certification Forum (GCF) approved the industry's first Release 16 Protocol Conformance tests for 5G New Radio (NR) at the CAG#68 meetings 
...
Read more...
---
Keysight delivers easily accessible e-learning content
Concilium Technologies Test & Measurement
Recently premiered by Keysight Technologies, Keysight University is an interactive online platform for engineers to learn about test and measurement fundamentals, engineering design tips and best practices 
...
Read more...
---
Modular, portable 5G RF spectrum analyser
Test & Measurement
EXFO recently introduced the 5GPro spectrum analyser, representing what it claims is the only modular, field-focused RF testing solution providing accurate visibility into 4G/LTE and 5G NR environments 
...
Read more...
---
RF receiver for spectrum regulators
Measuretest Test & Measurement
CRFS announced the launch of a new high-performance RF receiver, the RFeye Node 40-8, specifically designed to meet the needs of communications regulators. With a 40 MHz instantaneous bandwidth and 9 kHz 
...
Read more...
---
Single-instrument test solution for 5G IoT verification
Coral-i Solutions Test & Measurement
Anritsu has introduced the radio communication test station MT8000A 5G entry model, a single-instrument solution that supports multiple radio access technologies (RATs) of LTE through 5G NR. The 5G entry 
...
Read more...
---
Mixed-signal oscilloscopes with flexible resolutions
Comtest Test & Measurement
Pico Technology released the PicoScope 6000E Series FlexRes oscilloscopes, featuring eight channels with 500 MHz bandwidth, 16 digital channels and resolution of 8, 10 or 12 bits. The products work with 
...
Read more...
---
Critical airborne system testing from a single device
Measuretest Test & Measurement
New from Viavi Solutions is the AVX-10K flight line test set, enabling comprehensive performance verification testing of critical airborne systems from a simple-to-use device. The instrument helps avionics 
...
Read more...
---
PTP wander measurement for improved 5G network synchronisation
Coral-i Solutions Test & Measurement
Anritsu has added a function for PTP wander – a metric for evaluating frequency variations as low as 10 Hz with respect to the PTP (precision time protocol) network time synchronisation error – to the 
...
Read more...
---
IO Ninja adds flexibility with capabilities and subscriptions
RF Design Test & Measurement
The release of IO Ninja version 5.0 marks an opportune point for embedded designers to join the scores of professionals who have already adopted IO Ninja at Facebook, Siemens, Mitsubishi and many other 
...
Read more...
---
Using waveguide shorts and shims for RF testing
RF Design Test & Measurement
For many RF test applications in the higher frequencies, such as millimetre-waves, or for high-power use cases, rectangular waveguides are the interconnect solution of choice. In a similar vein to short-open-load-through 
...
Read more...
---