printer friendly version
Communication equipment assists fast rollout in Mozambique
23 October 2002
News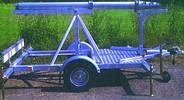 Webb Industries' communication equipment has permitted fast rollout of Mozambique's cellphone communication system which will keep holidaymakers in the country in touch. It has supplied several trailer mounted Hilomasts to MCell in Mozambique to give the country's seasonal markets cellphone communications.
During the summer, the country experiences increased demand for cellphone communications in the holiday areas which are often far from regular contact. The Hilomast range of pneumatic telescopic masts have been used as they are quick and easy to erect and once in place provide the necessary cellphone reception precisely where it is required. When no longer needed, the masts can be retracted and moved elsewhere to meet demand.
They are designed and robustly constructed from heat treated aluminium alloy to meet the needs of the African continent and are able to withstand the demands placed upon the masts under field conditions, extreme climatic variation and environmental changes. They can be extended up to 30 m by using low pressure air which is supplied either from a compressor or, in the case of smaller masts, from a foot pump. The masts can also be integrated into a vehicle and draw air from the vehicle's air supply.
A full-length keyway is machined in each of the tubes to prevent relative rotation allowing them to be used for supporting directional antennas or other applications.
According to Webb Industries, the Hilomasts have potential in other African countries which cannot afford to roll out a full communications system but require mobility which gives flexibility to the network and coverage where it is required. It is also quick to deploy and does not need a full site infrastructure as it is entirely mobile.
Webb Industries also recently supplied in excess of 40 Hilomasts for the mobile rollout of MTN in Nigeria, allowing the country to enjoy immediate cellphone communication through a flexible system.
Credit(s)
Further reading:
From the editor's desk: Making and sending things to space
29 May 2020, Technews Publishing , News
In this issue, one of the topics we are featuring is the aerospace and military/defence sector. The feature includes an analysis of what it takes to successfully design and manufacture products in this 
...
Read more...
---
Electronics news digest
29 May 2020, Technews Publishing , News
South Africa
• Acting minister of communications and digital technologies, Jackson Mthembu, joined the world in observing World Telecommunication and Information Society Day (WTISD). Proclaimed by the 
...
Read more...
---
Personality profile: David Power
29 May 2020, Cadshop , News
"Aspire to work for a company that you admire, and for a boss that you want to serve, that shares your passion and motivation."
Read more...
---
Designing for military and defence applications
29 May 2020, Omnigo, Kreon Technology , News
No business can stand on its own without strong partnerships and stakeholder relationships. In this regard the military and defence industry is no exception.
Read more...
---
Why 'new space' satellites demand a new approach to components
29 May 2020, Avnet South Africa , News
New space is opening up exciting opportunities for businesses, which can create completely new products, services and capabilities that were, until recently, impossible or impractical.
Read more...
---
Clearing the Static: Safe storage and transportation of components
29 May 2020, Altico Static Control Solutions , News
During product transportation or storage, humidity can lead to excessive moisture inside of packaging, which can potentially damage electronic components by causing corrosion and mould-attack. Apart from 
...
Read more...
---
Elmatica's SA seminars on PCB design a success
29 May 2020, Elmatica , News
During March, just weeks before COVID-19 resulted in South Africa going into lockdown, Elmatica held several seminars in the country, to get closer to and educate the local industry on printed circuit 
...
Read more...
---
Vepac launches new website
29 May 2020, Vepac Electronics , News
Vepac Electronics has recently launched its new and optimised website to enable its customers to navigate effortlessly, with a host of new products and related datasheets. Visitors to the site are also 
...
Read more...
---
Comtest trading for 15 years
29 May 2020, Comtest , News
Comtest, one of South Africa's leading providers of test, measurement and communications equipment, is proud to mark its 15-year trading milestone in 2020. CEO Barend Niemand says, "Comtest has representation 
...
Read more...
---
Locked down but not knocked out
25 March 2020, ExecuKit , News
As a business, we are facing extremely hard times with the current worldwide pandemic and isolation. We are all maintaining social distancing and must learn how to do business with an enforced lockdown 
...
Read more...
---