printer friendly version
UHF transceiver for 700 MHz to 1000 MHz
23 October 2002
Telecoms, Datacoms, Wireless, IoT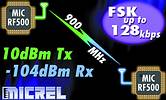 The MICRF500 from Micrel is a single chip UHF transmitter and receiver intended for ISM (industrial, scientific and medical) and SRD (short range device) frequency bands from 808 MHz to 915 MHz with FSK data rates up to 128 k baud. It can also be programmed for operation at other frequency bands in the 700 MHz to 1000 MHz range.
The transmitter consists of a PLL frequency synthesiser and a power amplifier. The frequency synthesiser consists of a voltage-controlled oscillator (VCO), a crystal oscillator, dual-modulus prescaler, programmable frequency dividers and a phase-detector. The loop filter is external for flexibility and can be a simple passive circuit. The VCO is a Colpitts oscillator which requires an external resonator and varactor. FSK modulation can be applied externally to the VCO. The synthesiser has two different N, M and A frequency dividers. FSK modulation can also be implemented by switching between these dividers (max. 2400 bps). The lengths of the N and M and A registers are 12, 10 and 6 bits respectively. The output power of the power amplifier can be programmed to eight levels. A lock detect circuit will detect when PLL is in lock.
In receive mode the PLL synthesiser generates the local oscillator (LO) signal. The N, M and A values that give the LO frequency are stored in three registers. The receiver is a zero IF (intermediate frequency) type in order to make channel filtering possible with low-power integrated low-pass filters. It consists of a low noise amplifier (LNA) that drives a quadrature mixer pair whose outputs feed two identical signal channels in phase quadrature. Each channel includes a preamplifier, a third order Sallen-Key RC low pass filter that protects the following gyrator filter from strong adjacent channel signals and finally, a limiter.
The main channel filter is a gyrator capacitor implementation of a seven-pole elliptic low pass filter. This filter minimises the total capacitance required for a given selectivity and dynamic range. The cut-off frequency of the RC filter can be programmed to four different frequencies: 10 kHz, 30 kHz, 60 kHz and 200 kHz. An external resistor adjusts the cut-off frequency of the gyrator filter. The demodulator demodulates the I and Q channel outputs and produces a digital data output. It detects the relative phase of the I and the Q channel signal. If the I channel signal lags the Q channel, the FSK tone frequency lies above the LO frequency (data '1'). If the I channel leads the Q channel, the FSK tone lies below the LO frequency (data '0'). There is an RSSI (receive signal strength indicator) circuit that indicates the received signal level. A two pin serial interface is used to program the circuit.
External components are necessary for RF input and output impedance matching and decoupling of power. Other external components are the VCO resonator circuit with varactor, crystal, feedback capacitors and components for FSK modulation with the VCO, loop filter, bias resistors for the power amplifier and gyrator filters. A T/R switch can be implemented with 2-pin diodes. This gives maximum input sensitivity and transmit output power.
The MICRF500's RF output power is 10 dBm, sensitivity is -104 dBm (19,2 k bauds, BER=10-3) and max data rate is 128 k bauds. Applications are found in: telemetry; remote metering; wireless controller; wireless data repeaters; remote control systems; wireless modem; wireless security system. MICRF500BLQ comes in 44-lead LQFP.
Credit(s)
Further reading:
Otto Wireless reveals RAD new product line
29 July 2020, Otto Wireless , Telecoms, Datacoms, Wireless, IoT
As a world leader in the telecommunications field with over 39 years of innovation, a significant worldwide presence in over 150 countries and an installed base of more than 16 million network elements, 
...
Read more...
---
New benchmark in low-cost LTE to be released soon
29 July 2020, Otto Wireless , Telecoms, Datacoms, Wireless, IoT
SIMCom, represented locally by Otto Wireless Solutions, has expanded its family of SIM7600, LTE Cat. 1 devices, and is due to unveil a new flagship product, which is expected to take the 4G market by 
...
Read more...
---
Multi-sensor IoT module
29 July 2020, Electrocomp , Telecoms, Datacoms, Wireless, IoT
TDK announced worldwide availability of the InvenSense SmartBug, a compact, wireless multi-sensor solution designed for a plethora of commercial and consumer IoT applications. The out-of-the-box solution 
...
Read more...
---
Bluetooth SiP for wearables and medical devices
30 June 2020, RF Design , Telecoms, Datacoms, Wireless, IoT
Nordic Semiconductor announced that Tangshan, China-based Tangshan Hongjia Electronic Technology has selected Nordic's nRF52840 Bluetooth 5.2/Bluetooth Low Energy (Bluetooth LE) advanced multiprotocol 
...
Read more...
---
Adhesive mount combo antenna
30 June 2020, RF Design , Telecoms, Datacoms, Wireless, IoT
The Taoglas MA256.A is a 3-in-1 adhesive mount combination antenna for use in cases requiring worldwide 4G coverage and GPS/GLONASS/BeiDou/Galileo for positioning. The MA256 has been designed to be mounted 
...
Read more...
---
Diodes for RF/microwave applications
30 June 2020, Hi-Q Electronics , Telecoms, Datacoms, Wireless, IoT
Skyworks' broad portfolio of PIN, limiter, Schottky, and varactor diodes are ideal for WLAN, infrastructure, handset, Satcom (LNB/DBS-CATV), automotive, aerospace and defence, test and measurement, metering, 
...
Read more...
---
Small form factor 5G/4G antenna
30 June 2020, RF Design , Telecoms, Datacoms, Wireless, IoT
The Taoglas Olympian II G45 is a low-profile, robust external 5G/4G antenna. The permanent mount antenna has a small form factor at only 48,5 mm tall and 50 mm in diameter. It is ideal for external use, 
...
Read more...
---
Dual-core wireless MCU
30 June 2020, Altron Arrow , Telecoms, Datacoms, Wireless, IoT
The STM32WBx0 is a dual-core wireless MCU based on an Arm Cortex-M4 core running at 64 MHz (application processor) and an Arm Cortex-M0+ core at 32 MHz (network processor). The STM32WBx0 Value Line 
...
Read more...
---
MIFARE DESFire EV3 IC
30 June 2020, EBV Electrolink , Telecoms, Datacoms, Wireless, IoT
NXP Semiconductors announced its new MIFARE DESFire EV3 IC that ushers in next-generation performance, advanced security and seamless integration of mobile services for a new era of security and connectivity 
...
Read more...
---
Cellular chipset for global low-power IoT
30 June 2020, RF Design , Telecoms, Datacoms, Wireless, IoT
The UBX-R5 Series from u-blox is a global multi-band cellular chipset that supports LPWA, LTE-M and NB-IoT technologies. It is optimised for IoT applications such as smart metering, telematics, tracking, 
...
Read more...
---