printer friendly version
Electronics news digest
9 March 2005 News Electronic News Digest
Southern Africa
The Communications Users Association of South Africa's Ray Webber welcomed Telkom's announcement that they will be reducing the cost of their broadband products but suggests that the announcement has more to do with competition in the sector than a genuine interest in reducing costs. "Obviously, any kind of price reduction in South Africa's infamously expensive broadband arena is welcome news to South African businesses and consumers. However, Telkom's latest announcement surely has more to do with competitive wireless options than assisting their home and corporate users. But it proves our claims that competition in the local telecoms market is starting to reduce costs for users," he states. "It is simply depressing to compare Telkom's offerings and prices with those in many developed countries, but at least we are heading in the right direction."
Avitronics has been awarded an export contract in excess of R60m from the United Arab Emirates (UAE) armed forces. This is the second major contract awarded to Avitronics in the UAE in recent years.
Siemens' Logistics and Assembly Systems has received a R50m order from the South African Post Office (SAPO) for the supply of 10 new high speed mail sorting machines to replace older units in the cities of Cape Town, Johannesburg and Durban.
Grintek Antennas has signed a reseller agreement with Sweden's Powerwave Technologies, a supplier of wireless solutions. Grintek will resell Powerwave's innovative antenna and amplifier products to key markets in sub-Saharan Africa. Both parties are now offering a wide range of GSM cell enhancement and cellular base station antenna equipment to the telecoms market in South Africa and the rest of sub-Saharan Africa.
Avnet Kopp now represents FCI, ITP Systems and Mitsubishi Electric (semiconductors).
Components & System Design has signed an exclusive distributor agreement with Saifun Semiconductors, a supplier of a diversified range of non-volatile memory solutions.
Electrocomp has been appointed as a distributor for Samtec.
Shorrock Automation has acquired the sole eWON agency. Based in Belgium, the eWON range of programmable industrial routers is designed and manufactured by ACT'L to manage remote technical data.
Overseas
Business
Arrow Electronics reported Q4 2004 net income of $47,7m on sales of $2,72 bn, compared with net income of $26m on sales of $2,43 bn for Q4 of 2003. The company's results for the fourth quarters of 2004 and 2003 include a number of items related to restructuring and other charges that impact their comparability. Excluding those items, Arrow said net income for the quarter would have been $59,9m and net income for the prior year quarter would have been $32,6m. Worldwide components sales advanced 12% to $2,0 bn when compared with sales of $1,8 bn in last year's fourth quarter with operating income as a percentage of sales of 4,6%. Component sales advanced by 2% in North America, 12% in Europe in local currencies, and 26% in Asia/Pacific.
Despite losses in the automatic test equipment (ATE) business, Agilent Technologies reported sales of $1,66 bn in its first fiscal quarter, up 1% ahead of last year. Q1 net earnings were $103m, compared with $71m for Q1 last year. First quarter automated test orders were down 20% from one year ago, but up 17% sequentially. The segment had an operating loss of $34m during the quarter, compared with profits of $21m a year ago. Semiconductor products orders were $435m during Q1, down 26% from one year ago but up 7% sequentially. Q1 revenues of $450m were 5% less than the period a year ago and down 9% sequentially. Segment profits of $27m were $33m below last year on a $24m drop in revenues. Sequentially, profits were $19m higher.
Cambridge Silicon Radio announced pre-tax profits for the year of $59,3m, and a revenue increase of 274% over the period to $253,1m. Revenue for fourth quarter 2004 amounted to $79,8m, representing a 3% increase from $77,7m in Q3 2004, and a 199% increase over Q4 2003. CSR said its quarterly performance reflected continued strength in the mobile phone and headset segments.
Companies
Chipcon, a provider of low power, low data rate RF ICs has acquired Figure 8 Wireless, a provider of ZigBee ready software and firmware, in an all stock transaction. The companies said the merger will provide a comprehensive end-to-end ZigBee platform.
Oki Electric will acquire the driver chip business for large TFT LCDs from Texas Instruments Japan. This acquisition is part of Oki's growth strategy to enhance its large TFT LCD driver chip business, which is considered to be one of Oki's semiconductor specialities.
South Korea's MagnaChip Semiconductor has agreed to acquire International System and Electronics (ISRON), a maker of display driver ICs, for an undisclosed amount.
Agilent Technologies will acquire Wavics, a Korean-based designer and manufacturer of power amplifier modules for mobile handsets. Wavic's patented CoolPAM power amplifier technology reduces battery consumption. Agilent plans to combine this technology with its miniature film bulk acoustic resonator (FBAR) filters to create higher performance CDMA and W-CDMA front-end modules.
Intel has agreed to buy Oplus Technologies, a fabless provider of video processing products and technologies for digital television and digital displays.
Cambridge Silicon Radio has established CSR Sweden, a new design centre for wireless chips based in Lund, Sweden.
Alcatel and Microsoft have announced a collaboration agreement to accelerate the availability of Internet Protocol Television (IPTV) services for broadband operators world-wide. The companies will team to develop an integrated IPTV delivery solution leveraging Alcatel's leadership in broadband, IP networking, development, and integration of end-to-end multimedia and video solutions, and Microsoft's expertise in TV software solutions and connected-entertainment experiences across consumer devices.
Rohde & Schwarz has joined the LAN Extensions for Instrumentation Consortium (LXI) as a strategic member. As a result it has become one of the companies supporting the development and introduction of the LXI standard, which is a LAN-based, modular platform for automated test systems.
A group of leading semiconductor companies has launched the PISMO Advisory Council, the industry's first organisation focused on streamlining system-level memory validation and test. The group will define a single, board-level interface standard that allows designers to use a variety of memory devices on development platforms from multiple vendors in a plug-and-play fashion. The new PISMO (platform independent storage module) standard is expected to enable the more rapid deployment of increasingly powerful and affordable mobile telecommunications, computing, and consumer products.
Industry
Plastic electronics, based on conductive polymers and flexible substrates, will change the face of electronics, according to a new report from industry analyst firm, NanoMarkets. The company forecasts that the worldwide plastic electronics market will grow to $5,8 bn in 2009, and reach $23,5 bn by 2012. In 2009, NanoMarkets expects that displays will account for 46% of the plastic electronics market and that memory will account for 38%. By 2012 the markets for logic/processors, flexible solar panels and sensors will all be measured in the billions of dollars.
DMASS (Distributors' and Manufacturers' Association of Semiconductor Specialists), the European industry body that collates detailed semiconductor distribution market data, announced that its fourth quarter has stable growth, although the growth trend curve throughout the year slowed down quite significantly. According to DMASS, semiconductor distribution sales from October to December increased 1,06 bn Euro, a 9% increase over the same period of 2003. For 2004, DMASS reported a growth of 13,2% to 4,65 bn Euro. Product-wise for the quarter, it said memories, at 35%, were the growth leaders - driven mainly by a surge in DRAMs (non-PC) and Flash. Major product groups in distribution like MOS-micro and opto, grew at or slightly below average, with LEDs standing out at a 30% increase. Analog components, programmable logic and discretes came in at low single-digit figures (between 5 and 2%).
At the 3GSM World Congress, the GSM Association reported that net additions of more than 13,5 million users, representing an annual growth rate of more than 500%, have confirmed that 3GSM took-off during 2004. At the year-end, 60 operators in 30 countries were offering 3GSM services, it said, with the global 3GSM customer base now fast approaching 20 million.
USB-enabled devices will continue their march to ubiquity in electronics products, as the number of total USB-enabled devices will rise from 705,7 million in 2004 to 2,1 billion in 2009, according to In-Stat. Growth will continue in all categories - PCs, PC peripherals, consumer electronics, and communications devices - through 2009, with the fastest growth coming in the communications category.
PC shipments worldwide are projected to total 199 million units in 2005, a 9% increase from 2004, according to a Gartner forecast. PC shipments topped 183 million units in 2004, an 11,6% increase over 2003, it said.
Because it does not require heavy regulation, WiMAX has the ability to compete with DSL and cable-modem services, and that could have a significant impact on the telecom industry, according to an In-Stat study. Low network investment costs and non-line-of-sight operation over licensed or non-licensed radio spectrum makes WiMAX an attractive technology. However, that hardly means that WiMAX is sure to succeed, says the study's author, Keith Nissen: "Consumer broadband markets cannot support an unlimited number of broadband wireless access service providers. Increased broadband competition, price compression and high subscriber acquisition costs threaten to drive margins ever lower."
Systematic failures in maths and science infrastructure in the United States threaten global leadership, according to the Business-Higher Education Forum (BHEF), a non-profit organisation of leaders from American businesses, universities, museums, and foundations. A new report objectively analyses America's performance in maths and science education, and warns that if current trends continue, the United States will lose is its pre-eminence in science and technology and its leadership position in innovation. The 2004 Program for International Student Assessment showed that the problem-solving skills of American grade 10 students are significantly lower than their peers in 25 other countries. Specifically, the performance of only 42% of US students was above the lowest of the Program's six levels of problem-solving achievement.
The first global standard for measurement of mobile phone exposure has been developed. The IEC has just published a new International Standard (IEC 62209-1) that mobile phone manufacturers - or anyone making handheld wireless devices - can use to ensure that their products adhere to internationally-recognised SAR (specific absorption rate) limits. It specifies the methods to use to measure SAR limits and harmonises different practices and different methods used around the world. This standard deals only with the measurement methods and does not set the SAR limits. SAR is the measure of the rate at which RF energy is absorbed in a unit mass of biological tissue, measured in units of watts per kilogram averaged over 1 g (IEEE) or 10 g (ICNIRP) of tissue.
Nokia has forecast that 3G/WCDMA subscribers would rocket to 70 million by end 2005. At the recent 3GSM World Congress, Nokia said it expects the global smartphone market to exceed 50 million units in 2005. Following the phenomenal success of camera phones, it says the next big thing in mobile multimedia will be music.
For the quarter ending 31 December, total shipments of cellphones totalled 193,7 million units - a third straight record year, according to In-Stat. Annual market shares were: Nokia 30,6%, Motorola 15,4%, Samsung 12,8%, Siemens 7,3%, LG 6,5% and Sony Ericsson 6,3%.
Infineon Technologies has launched the 'Aeneon' brand name for DRAM modules targeting the white-box PC market.
Robert Metcalfe, pioneer of the Ethernet, was announced as one of the recipients of the 2003 National Medal of Technology for technological innovation.
Technology
Intel has launched a Pentium 4 processor that includes 64-bit addressing under the Intel EM64T scheme that operate at up to 3,73 GHz clock frequency. Priced at US$999, Intel said the P4 processors would operate with Microsoft's Windows XP x64 64-bit operating system.
Freescale Semiconductor demonstrated its ultrawideband (UWB) communications technology on a Samsung cellphone at the 3GSM World Congress. The demo showed a Samsung camera phone take a picture, wirelessly transfer it under one second to a nearby laptop, where the photo was automatically displayed, showcasing the ease of use for consumers. Additionally, MP3 audio files or data from the phone's address book can be selected and transferred directly to a laptop.
Ntera has announced an intelligent electronic display technology it claims features ink-on-paper readability and low power consumption at a competitive cost. The Ntera NanoChromics display technology uses paper white or translucent backgrounds that give it four times the contrast and reflectivity of other display technologies, said the company. The technology offers bi-stability, and 1 V d.c. operation, allowing around a tenth of the power consumption of existing display technologies.
Samsung Electronics says it has begun volume manufacturing a 2,5 Gbit memory component for multimedia mobile phones, claimed to be the world's largest-capacity multichip package (MCP) memory. It operates from a 1,8 V supply and is capable of storing up to four hours of video data at QVGA resolution.
mPhase Technologies has presented a paper on its Nanobattery at the Nano Science and Technology Institute. mPhase plans to fabricate nanotech-based batteries which can generate electric current, and projects it to be commercially available in 12-18 months. It said a primary development goal is to create a battery that could have a shelf life lasting decades, yet can be activated instantaneously.
Nanotechnology leapt into the realm of quantum mechanics when an antenna-like sliver of silicon a tenth the width of a human hair, oscillated in a lab at Boston University (BU) recently. The sliver not only exhibits the first quantum nanomechanical motion, but is claimed to be the world's fastest moving nanostructure. Fabricated by the Mohanty group, the nano-structure consists of a 10,7 μm long by 400 nm wide central silicon beam, that bears a 'paddle' array 500 nm long by 200 nm wide along each side. The antenna-like structure, comprised of 50 billion atoms, oscillated at 1,49 GHz. Under the extremely cold experimental conditions (110 milli-kelvin), the oscillator begins to jump between two discrete positions without occupying the physical space in between, a telltale sign of quantum behaviour. The group said that current ongoing miniaturisation of electronic circuitry on chips will inevitably require new paradigms involving quantum theory. For example, mechanical/quantum mechanical hybrids could be used for quantum computing.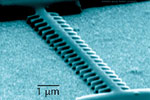 Further reading:
From the editor's desk: Are electromagnetic waves culpable in making us sick?
30 June 2020, Technews Publishing , News
When I started writing my column for this issue, I was determined to come up with a topic and a way to avoid mentioning the 'C' word. I came close – you will only find 'COVID-19' mentioned once or twice 
...
Read more...
---
To fake or not to fake
30 June 2020 , News
Prof. Johan Meyer explores the complex and controversial topic of the potential link between the global rollout of 5G networks and the COVID-19 pandemic.
Read more...
---
Clearing the Static: Curb the spread of COVID-19 with stringent floor hygiene
30 June 2020, Actum Electronics , News
According to the World Health Organisation (WHO), COVID-19 is primarily transmitted from person to person through respiratory droplets that emerge from the nose and mouth when an infected person speaks, 
...
Read more...
---
Personality profile: Warren Mande
30 June 2020, Altron Arrow , News
"It is said that "culture eats strategy for breakfast". Look to join companies whose culture fits your personal belief system."
Read more...
---
Not the end, but a journey
30 June 2020, ExecuKit , News
ExecuKit's Renita Fleischer and Elizna Classen offer local companies a route to help them navigate their way through what has become the 'new normal.'
Read more...
---
Elmatica CEO to vice chair IPC cybersecurity task group
30 June 2020, Elmatica , News
Didrik Bech, CEO of printed circuit broker Elmatica, has been appointed to serve as vice chair for IPC's new cybersecurity task group. The 2-12c Task Group leadership is a representation of IPC as an 
...
Read more...
---
From the editor's desk: Making and sending things to space
29 May 2020, Technews Publishing , News
In this issue, one of the topics we are featuring is the aerospace and military/defence sector. The feature includes an analysis of what it takes to successfully design and manufacture products in this 
...
Read more...
---
Electronics news digest
29 May 2020, Technews Publishing , News
South Africa
• Acting minister of communications and digital technologies, Jackson Mthembu, joined the world in observing World Telecommunication and Information Society Day (WTISD). Proclaimed by the 
...
Read more...
---
Personality profile: David Power
29 May 2020, Cadshop , News
"Aspire to work for a company that you admire, and for a boss that you want to serve, that shares your passion and motivation."
Read more...
---
Designing for military and defence applications
29 May 2020, Omnigo, Kreon Technology , News
No business can stand on its own without strong partnerships and stakeholder relationships. In this regard the military and defence industry is no exception.
Read more...
---