printer friendly version
Electronics News Digest
15 June 2005 News Electronic News Digest
Southern Africa
Empowerment in the mining sector has received a boost through Grintek's sale of its stake in its mining electronics business to a BEE company to be called Guduza Systems Technologies. Peter Davidson, chairman of Guduza, says the new company will focus on supplying the South African and the Chinese market with a number of services such as environmental solutions, underground radio technology, and conveyor belt monitoring systems.
South Africa is lagging behind countries such as Botswana, Zambia and Kenya in its adoption of wireless broadband solutions. This is according to Nik Patel, business manager at Motorola's Government & Enterprise Mobility Sector (GEMS). He says these African countries' respective regulators have shown a more progressive attitude towards de-regulation, while SA is still trying to come to terms with defining regulations for value-added network service providers and other broadband users. "Suppliers and telecoms investors are shifting their focus to countries where the regulatory environment is more progressive, with the result that SA end users are prevented from enjoying the benefits of technologies that compete both in terms of price and performance with those of existing operators," he claims. "Canopy, Motorola's fixed wireless broadband solution, is a case in point - Botswana, Zambia and Kenya have joined the US and Europe in reaping the benefits of instant, high-speed connectivity that can provide everyone with access to the Internet, even if they live in remote or rural areas. These communities are starting to see Canopy's potential for establishing networks to serve e-learning, telemedicine, e-government, SMEs and to provide a wireless bridge for hotspots." Patel says that the potential for wireless broadband growth is significant and, while he applauds the decision to liberalise the telecoms sector, the delays in finalising regulations have to be addressed urgently.
Dignified Life, a charitable organisation providing computer training to the poorest areas of Accra in Ghana, has received a generous donation of 10 computers from GS Telecom, a supplier of wireless and satellite systems in Africa. In addition to the computers, GS Telecom also installed the wiring for power as well as voltage stabilisers and an airconditioning unit. A radio system linking DLI to the GS Telecom offices in Accra was also installed, allowing them free Internet access via their network.
Overseas
Business
Altera has narrowed its second quarter guidance, saying that the company now expects Q2 revenue to be at the higher-end of its previous quarterly guidance.
Fairchild Semiconductor reduced its guidance for second quarter 2005 sales to be flat to down slightly, compared to flat previously as the company seeks to lower distribution inventory.
Companies
Sun Microsystems has announced it is acquiring Storage Technology (StorageTek) for $4,1 bn. Sun says the two companies' products are complementary. StorageTek is a vendor of data storage systems.
Digi International has acquired Rabbit Semiconductor (formerly Z-World), for $49m in cash. Rabbit Semiconductor manufactures the Rabbit line of microprocessors and microprocessor-based core modules and Z-World single board computers. With the acquisition, Digi says it will have one of the widest ranges of embedded device networking solutions in the industry.
Aeroflex has reached an agreement in principle to acquire SPG, a developer, manufacturer and integrator of wireless test and measurement solutions, for approximately $81m. SPG, headquartered in Melbourn, England, is the Test and Measurement Division of UbiNetics.
Mentor Graphics has acquired Volcano Communications Technologies (VCT), including the complete product line of Volcano's automotive networking series. The series includes network design tools, embedded software test and validation tools for all major automotive networks.
SiRF Technology, a provider of GPS-enabled location technology, has acquired the GPS chipset product lines from Motorola for $20m. As part of the agreement, SiRF also has become a preferred GPS technology supplier to Motorola.
UK CCTV specialist, AD Group, has acquired the assets and business of US semiconductor company, ChipWrights, which produces digital signal processing-based devices called visual signal processors (ViSPs). ViSPs are built on an architecture that mixes a RISC processor and an array of DSP vector processing units. Applications range from realtime image capture/presentation to image transmission/network media infrastructure.
JDS Uniphase has sold the assets of its CATV business to communications semiconductor and subsystems supplier, Emcore, for $1,5m.
Transmeta has announced it plans to license and sell its Crusoe x86-based microprocessor technology to Culture.com Technology, a subsidiary of Culturecom Holdings of Hong Kong for around $15m.
California Micro Devices has announced that it has sold its mothballed fab in Tempe, Arizona, to Microchip Technology for $1,9m. The company is moving towards a fabless model.
Cirrus Logic has agreed to sell its digital video product line to Magnum Semiconductor. Cirrus said the sale would allow it to focus on analog, mixed-signal and embedded ICs for audio and industrial applications, while Magnum would focus on digital video ICs for consumer applications such as DVD recorders, hard-disk-drive-based camcorders and network media adapters.
Kodak has licensed its organic light-emitting diode (OLED) technology to Fuji Electric. Fuji will use the OLED technology for development of its colour conversion matrix (CCM) technology in flat panel passive matrix displays. CCM uses a metal, maskless organic film deposition production technique that is said to provide improved manufacturing yields.
Sumitomo Chemical and Cambridge Display Technology of the UK are forming a joint venture company in Tokyo to develop and supply polymer materials for polymer-type organic light emitting diode (OLED) displays and lighting.
In a management buy-out, Infineon Technologies has turned over its activities in the area of wearable electronics to the company Interactive Wear. Infineon had conducted research on the integration of electronic functions into textiles and developed this technology to market-ready point. However, it says it has decided to discontinue these activities as part of its strategic restructuring and concentration on its core business.
Motorola has made a strategic minority investment in Sonaptic, a developer of advanced audio technologies for the mobile device market. Sonaptic has developed a unique 3D audio engine that creates immersive, three-dimensional sound users can hear through embedded speakers in portable devices or through standard headphones.
The MultiMediaCard Association (MMCA) and the Mu-Card Alliance of Taiwan have announced they will join forces. The former Mu-Card members will create a technical subcommittee under the MMCA umbrella to define the next generation I/O device interface standard based on the MMC specification.
Cree has announced it is closing the unprofitable silicon radio frequency and microwave semiconductor business of its subsidiary, Cree Microwave, to focus on silicon carbide (SiC) and gallium nitride (GaN) RF and microwave products.
Cambridge Consultants has been chosen as a technology provider to ITI Techmedia's £6,7m project focused on ultra-wideband (UWB) communications technology. The project is aimed at reducing the cables within the home. In conjunction with two other major subcontractors - TES Electronic Solutions and Elonics - Cambridge Consultants will work on UWB system definition, hardware, software and mesh networking technology, targeted at wireless-enabling equipment such as PCs and other consumer electronic devices.
The FPGA High Performance Computing Alliance (FHPCA) has been launched in Edinburgh, Scotland. Comprising leading technology companies, academics and the public sector, it intends to work over the next two years towards designing and building the world's largest FPGA-based high performance computer using COTS components. The 64-node FPGA-based supercomputer will be capable of achieving processing speeds in excess of 1 Teraflop, it said. The group includes Algotronix, Alpha Data, Edinburgh Parallel Computing Centre, The Institute for System Level Integration, Nallatech, and Xilinx.
IBM, Infineon and Macronix have announced a joint research initiative to explore the potential of phase-change memory (PCM) technology. PCM is a novel technology that stores data by changing the state of a special material from an amorphous to a crystalline structure, rather than storing data as an electrical charge.
Industry
The three-month average of worldwide semiconductors sales came in at $18,15 bn in April according to the US Semiconductor Industry Association. This was a sequential decline of 1,2% from the $18,43 bn reported in March and up 6,9% from sales in April of 2004.
Thanks to stronger mobile PC sales due to better prices and wireless access, Gartner raised its worldwide PC sales forecast slightly to 202,1 million units in 2005, a 10,2% increase from 2004. It previously projected worldwide PC shipments would increase 9,9%. Mobile PC shipments are expected to grow 26,5% in 2005, while desk-based units are now forecast to grow 4,6%. Mobile PC share is currently just under 30% of all PC shipments, it said.
IC Insights has raised its worldwide semiconductor forecast from a decline of 2% to a growth of 4% in 2005. Seeing a more positive market, the group projects that the IC market will hit $186,5 bn in terms of revenues in 2005, up 4% over 2004. Unit volumes are projected to remain flat at 105,6 billion in 2005.
The gap between China's IC demand and production will continue to widen during the next few years, according to US market researcher, The Information Network. The firm predicts IC demand will leap 32% this year, to about $45 bn.
NAND flash memory was the fastest-growing of any semiconductor market in 2004, according to Semico Research. Revenues jumped 80% from the previous year to $7,2 bn.
Databeans estimates that the Ethernet IC market reached $1,3 bn in 2004, constituting 65% of the Fast I/O Interface market. It estimates that revenue growth for Ethernet ICs, physical layer devices and data layer products used in WANs and LANs, will accelerate over the next five years at an annual growth rate of 11% each year.
Royal Philips Electronics has announced it will invest 40m euro in its Aptura LCD backlighting technology to improve the picture quality of widescreen liquid crystal display televisions and also use less energy. The Philips Lighting factory in Roosendaal, The Netherlands, will benefit from the investment.
The German government is using highly secure chips developed by Infineon Technologies in electronic passports, which the German Passport Office intends to issue as of November 2005. Infineon will also be supplying a special chip package developed for identity cards and passports as well as the inlay containing the antenna and its connection to the chip.
Plastic Logic, a developer of plastic electronics for flexible display backplanes and sensors, has opened a prototyping facility alongside the company's existing R&D and office facilities in Cambridge, England.
Technology
Philips 3D Solutions, a subsidiary of Royal Philips Electronics, has announced it is working on a graphics chip to drive flat displays to give three-dimensional images on cellphones. This would be possible without the need to wear special viewing glasses, although the LCD is specially adapted. The IC3D graphics chip operates rendering and realtime overlapping of the 2D images with spatial information, thus obtaining a 3D image. Without this signal processing, the 3D image could only be displayed in static, pre-rendered form, similar to logos and photographs. The IC3D chipset will also be used for colour processing, scaling and 2D realtime content computation, said Philips.
Samsung Electronics has developed a NAND flash memory module intended to replace magnetic hard drives (HDDs) in computers. To make drop-in replacement of HDDs possible, the solid-state drives (SSDs) have been designed with an HDD-style electrical interface. Samsung's 2,5" SSD module can carry 16 NAND Flash devices of 4 or 8 Gbit capacity to provide an 8 or 16 GB storage capacity. Samsung claims its advantages over HDDs are: lower power consumption, less weight; about 150% faster than a HDD, no moving parts, no noise, and minimal heat.
At the International Interconnect Technology Conference (IITC) Fujitsu presented a paper on carbon nanotubes where it claims that multiwalled carbon nanotubes could offer low resistance in interconnect vias for next-generation chip designs. The company believes that nanoscale metallic carbon nanotubes could offer very high current densities as compared to conventional technologies. Also, copper exhibits electro-migration failures, and carbon nanotubes should, conceptually, offer much better electro-migration behaviour, it says.
Freescale Semiconductor and the University of Florida claim to have created the world's first double-gate transistor model. Also called a FinFET, it is engineered to pack more computing power into less space and reduce power consumption, while using existing semiconductor manufacturing processes. Freescale is driving the licensing of the University's double-gate models.
Infineon Technologies has extended its broadband silicon portfolio with a complete VDSL2/ADSL2+ chipset for end-to-end solutions that meets the just-ratified specification for the very high bit rate VDSL2. Now officially ratified as G.993.2 by the ITU, VDSL2 uses a unified modulation scheme based on discrete multitone technology and is aimed at relatively short loop, 100 Mbps symmetric transmission both downstream and upstream. The Infineon solution, called VINAX, uses a flexible VDSL2/ADSL2+ architecture to take care of backward compatibility and interoperability.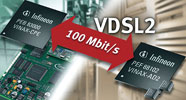 RadioScape, a UK innovator in software-defined digital radio, has launched a radio module that can receive DRM (digital radio mondiale) as well as DAB (digital audio broadcast), SW, LW, MW and FM with RDS. The RadioScape RS500 module is based on the company's innovative radiOS architecture, enabling re-use of existing applications and features developed for its previous modules. The RS500 is based on the TI's TMS320DRM350 digital signal processor-based baseband, the first integrated digital baseband that supports both DRM and DAB standards.

Matsushita Electric Industrial has developed an 850 nm AlGaAs/GaAs VCSEL (vertical cavity surface emitting laser) capable of high speed 12,5 Gbps data transmission rate at low operating current of 8 mA. The laser is intended for low-cost optical communication such as plastic fibre communication and spatial light transmission. The company says it was developed with a planarised structure using benzocyclobutene resin with low dielectric constant formed around the light-emitting post structure. Such an arrangement reduces the parasitic capacitance to under a third that of the usual 0,7 pF value, to 0,2 pF - which doubles the modulation bandwidth possible.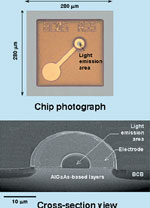 Further reading:
Locked down but not knocked out
25 March 2020, ExecuKit , News
As a business, we are facing extremely hard times with the current worldwide pandemic and isolation. We are all maintaining social distancing and must learn how to do business with an enforced lockdown 
...
Read more...
---
From the editor's desk: A new era – after mourning comes rebuilding
29 April 2020, Technews Publishing , News
When I sit down to write these columns once a month, even if the topic I decide to write about is not all sunshine and roses, I always try and look for a silver lining. I'm simply not able to do that 
...
Read more...
---
Personality profile: Chris Viveiros
29 April 2020, Otto Wireless , News
The operations director of Otto Wireless Solutions shares his background, experience, advice and thoughts on the future.
Read more...
---
Locked down but not knocked out
29 April 2020, ExecuKit , News
We as a company salute the component suppliers who have supported us and are there to assist during this time even if the requests we pose are not always realistic.
Read more...
---
Electronics industry tackling the coronavirus
29 April 2020 , News
2020 has been a crazy year already. From Australian bushfires to climate emergencies to US trade tariffs, the start of the decade hasn't been very positive. Not only this, within the last few months there 
...
Read more...
---
SqwidNet becomes first Sigfox-accredited lab in southern hemisphere
29 April 2020, iSERT , News
iSERT (Safety, EMC, RF, Testing), a leader in the provision of turnkey testing solutions for EMC, RF and safety testing, has collaborated with SqwidNet, the only licenced Sigfox operator in South Africa, 
...
Read more...
---
Clearing the Static: ESD cleaning and hygiene products
29 April 2020, Altico Static Control Solutions , News
In light of the current COVID-19 pandemic, Actum Group would like to remind electronics manufacturers of our range of antistatic cleaning agents, cleanroom materials and PPE.      
Cleanroom garments and 
...
Read more...
---
Jemstech continuing its growth path
29 April 2020, Jemstech , News
Since its inception in 2005 and especially during the past five years, Jemstech has grown from a medium-sized electronic manufacturing services (EMS) provider into one of the major players for electronics 
...
Read more...
---
Company profile: Phoenix Contact
29 April 2020, Phoenix Contact , News
Phoenix Contact was founded in 1923 in Essen, Germany, by Hugo Knümann. It entered the South African market in 1969 through a local distributor, and was later established as a wholly owned subsidiary 
...
Read more...
---
In memoriam: Vivienne Caroline Dorrington - 19 June 1958 – 21 April 2020
29 April 2020, Technews Publishing , News
It is with great sadness that we announce the death of our CEO, Vivienne Dorrington, after a long and brave battle with cancer. Like her father, Ray Beaumont, who founded Technews Publishing in 1985, 
...
Read more...
---