printer friendly version
Electronics news digest
10 August 2005 News Electronic News Digest
Southern Africa
Harmonic Group has announced it has met its black empowerment objectives with the formation of a new subsidiary named Ameva Solutions. Harmonic is a mobile computing and RFID specialist company. According to managing director Barry Baetu, he holds 30%, Ameva MD Ken Mathu has 30%, operations director Mandla Mtsweni has 30% and project leader Setsetse Miya holds 10%.
Grintek has been contracted by ATNS (Air Traffic and Navigation Services) to supply, install and commission navigation aids across the country for a project that is being implemented by ATNS. Grintek will deliver turnkey solutions to upgrade air navigation systems across the country over a contract period of 30 months. The order includes 10 DVOR systems, 18 VOR systems and five distance measuring systems as well as equipment shelters and civil works. Grintek will also supply the Aviation Training Academy (ATA) - ATNS's high-tech training institution - with a computer-based training system.
Dex Security Solutions, a local designer and manufacturer of biometric security systems, has acquired the sole right to import the Techsphere VP-II security system. In terms of the contract, Dex will handle the distribution of the highly-advanced infrared vein structure biometric scanners in South Africa and sub-Saharan Africa. The VP-II system reads the unique pattern of the veins on the back of a person's hand, and can verify their identity in less than one second, claims Dex.
Communica has been appointed as a distributor for Schurter Electronic Components.
Sense Brazil has appointed iS Electronics as its exclusive representative in South Africa. Sense Brazil manufactures sensors, network sensors, instruments, proximity switches, relays, power supply units, photo-sensors etc.
The Southern African TETRA Association has confirmed that the SATA TETRA Workshop & Exhibition 2005 will take place in Honeydew, Gauteng, at the Sentech Conference Hall from 13-14 September 2005. A limited number of exhibition spaces are still available. For more details contact Bronwen Lambert, +27 (0)11 706 5457, info.sata@webmail.co.za.
Communica has announced that it is now officially trading from its new state-of-the-art premises at 53 Landmarks Avenue, Samrand, in Centurion.
Technews' Electronics Buyers' Guide 2006 has just been published. Dataweek subscribers may look out for their free issue of this comprehensive 350 page electronics and equipment directory that will soon be arriving in their post.
Overseas
Business
RF Micro Devices posted a net loss of $2,7m on sales of $159,4m in its first fiscal 2006 quarter, which compares to a loss of $63,0m on sales of $150,4m for the previous quarter. RFMD earned $3,0m on sales of $165,8m in the year-ago quarter.
STMicroelectronics reported net revenue of $2,16 bn for the second quarter, an increase of 3,8% from the prior quarter, but down slightly from the $2,17 bn the company reported for the same period a year ago. The company reported operating income of $12m and net income of $26m, compared to a net loss of $31m during the first quarter. ST said sequential sales growth was primarily driven by wireless and automotive applications, but that year-over-year increases were offset by sales declines in consumer applications and the distribution market.
Microchip Technology has announced first quarter fiscal 2006 sales revenue of $218,5m, up 5% sequentially, and up 2,7% from sales of the prior year's first quarter. GAAP net income for the first quarter was a record $61m, up 8,2% from net income of $56,4m for the preceding quarter, and up 39,3% from the prior year's first quarter.
Linear Technology announced that sales for its fourth quarter were $255,8m, a 7% increase from the fourth quarter of the previous year. Net income for the quarter was $106m, compared with $98,8m a year ago.
Infineon Technologies posted pre-tax losses of Euro 225m for its third quarter, almost double the previous quarter's Euro 117m loss. The net loss was Euro 240m. Total revenues in the third quarter were Euro 1,61 bn. Third quarter EBIT loss included charges of Euro 81m, primarily in connection with the planned phase-out of production at the company's Munich-Perlach facility and impairment charges in the communication segment.
Companies
TDK of Japan has agreed to acquire the Lambda Power Division from London-based Invensys, for £134m. Lambda Power Division comprises Lambda USA, Lambda Europe, Densei-Lambda, and several other entities. Under the agreement, TDK will take over sole ownership of Lambda's power businesses in the US and Europe, and acquire 58% of Densei-Lambda.
Sony Computer Entertainment is to acquire SN Systems, a supplier of programming tools for game developers established in 1989 and based in Bristol.
Chelton Microwave, a wholly-owned subsidiary of Cobham, has announced the acquisition of component manufacturer Microwave Development Company (MDC). MDC is a supplier of waveguide and coaxial components.
Fabless communications chip company Broadcom has agreed to buy Ethernet processor company Siliquent Technologies for $76m. Siliquent has specialised in 10GbE network interface controllers.
Two laser-source startups, ASIP (Application-Specific Integrated Photonics) and T-Networks, have merged to form Apogee Photonics.
Remec has signed a definitive agreement to sell its Outdoor Unit and Transceiver (ODU) business to Wireless Holdings International through a management buyout transaction. The ODU business designs and manufactures high frequency point-to-point outdoor radios and transceivers.
RF Monolithics has announced the formation of RFM Technologies, a wholly-owned subsidiary. The company said that RFM Technologies will be a vehicle to assist it in carrying out its strategic plan to assemble wireless solutions with products, technologies, and applications composed of a wide range of radio modules, gateways, wireless sensor networks, point-to-point and mesh network protocols with development tools.
Flextronics Semiconductor, the semiconductor business unit of EMS provider Flextronics, has agreed to license custom EEPROM IP from Aplus Flash Technology, a supplier of non-volatile memory and custom memory IP.
Actions Semiconductor of China, has licensed the MIPS32 4KEc Pro and MIPS32 M4K Pro cores from MIPS Technologies.
DuPont Electronic Technologies has become a licensee of Sanmina-SCI's patented 'Buried Capacitance' technology. DuPont's Interra HK polyimide laminates can now be used in the practice of Buried Capacitance technology, and is available to Sanmina-SCI's existing family of licensed PCB manufacturers.
Micromem Technologies has signed an agreement with the University of Toronto giving the company exclusive worldwide rights to all MRAM technology developed at the university and funded on its behalf. The deal gives Micromem full control over the last three years of technological innovation including the development of the single bit memory prototype announced last February.
Mobility Electronics and Xantrex Technology have signed an agreement to jointly develop and market a family of portable power inverter products combining Mobility's 'itip' technology and Xantrex's inverter technology.
Atmel has joined the Z-One Digital Power Alliance, which includes power supply manufacturers Power-One and C&D Technologies. This development combines the three companies' strengths to define and provide the next generation of digital power conversion and management products based on the Z-One Digital Power Architecture with focus on the communications and data infrastructure markets.
A two-year old partnership between ZBD Displays and manufacturer Varitronix has been extended to cover commercial manufacturing of ZBD's zenithal bistable display. ZBD intends to roll out a mass-produced version of an electronic shelf-edge label for the retail market that will be produced on Varitronix' existing LCD production lines.
Nortel and the other members of the Wi-Mesh Alliance are working together to help standardise Mesh WLAN around the world to promote interoperability of a wide range of wireless communication devices and services. Following extensive technical collaboration, the Wi-Mesh Alliance will present its proposal for a new global mesh WLAN standard to the IEEE 802.11 Task Group S meeting on wireless mesh in San Francisco.
Cypress Semiconductor has announced that it intends to file an initial public offering for its solar power subsidiary, SunPower, in the Q4 of 2005.
Industry
Semico Research's new Inflection Point Indicator model shows two years of moderate growth for the worldwide semiconductor industry in 2005 and 2006, followed by a strong double-digit upswing in 2007 and 2008. Semico maintains its worldwide semiconductor revenue shipments forecast of +2,0% to $217,3 bn in 2005. Semico said the IPI shows early indications that 2006 will be another 'moderate' year, with revenues increasing 8,1% to $234,9 bn. However, the research firm reckons the IC market will show stronger growth in 2007 and 2008, which are projected to jump 19,8% and 18,1%, respectively.
The worldwide market for handheld computing devices fell in terms of shipments in the second quarter of 2005, its sixth consecutive quarter of year-over-year decline, according to market research company IDC. It reported shipments decreased 24,9% sequentially in the second quarter to 1,7 million units.
A 64-bit microprocessor went into production last quarter that demonstrates China is capable of designing world-class microprocessors. According to a new article published by In-Stat's Microprocessor Report, the Chinese Godson-2 processor has architecture that is an unauthorised variation of the popular MIPS architecture from US company, MIPS Technologies, which could raise intellectual-property issues. Although Chinese chip-fabrication technology lags about two generations behind the rest of the industry, In-Stat says the country is catching up fast, and the Chinese could gain access to state-of-the-art fabrication technology by outsourcing manufacturing to independent external foundries. China's ambition to make its own microprocessors will affect microprocessor vendors all over the world, according to In-Stat.
Early in 2005, ABI Research forecast that 'the coming year will see a sharp increase in the number of contactless payment opportunities for consumers.' According to Erik Michielsen, director of RFID, that forecast has not only proved correct, but is an understatement. The related market for near-field communications (NFC) is also seeing a surge in activity and, according to Michielsen, 2006 will be 'the year of NFC.'
US-headquartered companies are expected to lose worldwide semiconductor market share over the next four years, from holding 46% of the market in 2004 and 2005, to 42% in 2009, according to market research company IC Insights. Japan-headquartered companies are expected to hold 19% in 2005, down from 20% in 2004 and forecasted to decline further to 16%, it said. Meanwhile European-headquartered companies are expected to maintain a 10% market share through to 2009.
Hewlett-Packard has announced it intends to lay off 14 500 workers over the next 18 months, or about 10% of its workforce. The company expects the cuts to save $1,9 bn annually, to streamline its operations and improve its business performance. It said most cuts will be in support functions, along with 'modifications' to HP's US retirement arrangements. HP also said it would dissolve its Customer Solutions Group, and merge these functions into three business groups - technology solutions, imaging and printing and personal systems.
The ITU and infoDev have launched a new online 'Regulation Toolkit' designed to address the complex regulatory challenges emerging from a rapidly-evolving ICT industry. Conceived as a permanently evolving resource, the toolkit (www.ictregulationtoolkit.org) comprises a series of modules on key regulatory issues in the rapidly converging ICT sector. The first module, now live, deals with the authorisation of telecoms services, addressing such issues as different authorisation approaches and practices, and competitive licensing processes. The remaining modules are scheduled to come online between now and 2006. They will cover legal and institutional aspects of regulation, including radio spectrum management.
The European Commission has decided to make available a substantially greater amount of radio spectrum in the 5 GHz range throughout the European Union for Wi-Fi. EC members must make two specific frequency bands (5150-5350 MHz and 5470-5725 MHz) available in all Member States for wireless access systems by 31 October 2005. A large amount of flexibility is provided with respect to what type of service or network topology the technology is used for. The decision also introduces spectrum management, by requiring the application of 'intelligent' techniques to protect against harmful interference for other radio spectrum users, such as military radar and satellite services.
The MultiMediaCard Association (MMCA) has finalised the MMCmicro specification.The new MMCmicro Cards represent the third MultiMediaCard form factor, along with MMCplus and MMCmobile cards. Around a third the size of MMCmobile cards (12 x 14 x 1,1 mm) it operates at either 3,3 or 1,8 V and is capable of data transfer rates up to 26 Mbps. In addition, 1 Gbyte of Flash memory can be packaged using existing NAND Flash technology.
The Electronics Supply Chain Association and industry analyst firm Industry Directions, are inviting participants from all sectors of the electronics industry to complete a (±20 minutes) web-based survey: The Impact of Outsourcing on the Electronics Industry (www.vertmarkets.com/nl/208982/91022). Participants will be sent a copy of the survey report that will be released in November at its Winter Symposium.
Intel has announced plans to build a new 300 mm wafer fab at its site in Chandler, Arizona, at a cost of $3 bn. This represents the company's sixth 300 mm wafer fab to date.
Technology
Scientists at the University of Manchester have discovered a new class of materials that previously only existed in the realm of science fiction. The team claim to have discovered a whole family of previously unknown materials, which are one atom thick and exhibit properties never thought possible. Not only are they ultra-thin, but depending on circumstances, can also be ultra-strong, highly-insulating or highly-conductive, say the scientists. The materials are created by extracting individual atomic planes from conventional bulk crystals by using a technique called 'micromechanical cleavage'. Depending on a parent crystal, their one-atom-thick counterparts can be metals, semiconductors, insulators, magnets, etc. Previously, it was thought that such thin materials could not exist in principle, but according to the researchers, they have demonstrated that they are not only possible but fairly easy to make.
NTT DoCoMo claims to have achieved 1 Gbps realtime packet transmission in the downlink at the moving speed of about 20 km/h in an outdoors experiment on 4G radio access. The experimental system combines the VSF-Spread OFDM wireless access method developed by NTT DoCoMo and MIMO (multi-input multi-output) multiplexing. DoCoMo said it will continue to conduct field trials as part of its program to develop a 4G global standard in cooperation with the ITU.
Mark Nixon, a research professor at the University of Southampton, has identified ears as a potential biometric signature. In a paper just published entitled 'Force field feature extraction for ear biometrics' he presents the case for the use of ears as a biometric. According to Nixon, ears have certain advantages over the more established biometrics as they have a rich and stable structure that is preserved from birth to old age - instead of ageing, they just get bigger. The ear also does not change with facial expressions.
In a bid to speed development of new wireless protocols and networking standards, Calit2 (California Institute for Telecommunications and IT) at the University of California, San Diego, has begun distributing for alpha testing, a hardware-and-software platform for wireless research and development. Called CalRadio 1.0, the open-source software-defined radio platform allows researchers to test out new algorithms and new techniques for wireless communications.
Philips Research has been demonstrating the 'iCat' - a prototype user-interface to consumer electronics in the shape of a yellow plastic cat. Philips says the iCat user-interface provides a 'natural human-like interaction to help you in your daily tasks such as sending messages, accessing daily information, selecting your favourite music, photos and video or even guarding your home.' Philips Research is investigating technical and social aspects of user-interface robots in an 'Ambient Intelligence' environment, in which technology is seamlessly integrated into one's life.

Compro Technology has released what it claims is the world's smallest USB 2.0 analog TV tuner that allows worldwide TV reception through the USB port. The VideoMate U880 provides the capability for TV watching, MPEG 1/2/4 formats and DVD/VCD recording, time shifting, channel surfing, still frames capturing and universal broadcasting reception without any external power adapter required. The analog TV tuner measures 9 x 2,6 x 1,1 cm - similar in size to a USB Flash Drive.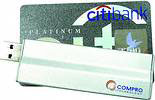 NHJ, a Japanese digital device distributor, has introduced a small and light-weight MP3 audio player in Japan, around half the size of a cigarette lighter. The v@mp c@ndi series weighs 17 g and is 4,2 cm tall. There are 1 GB, 512 MB and 256 MB models. The 1 GB version is capable of storing about 240 songs of MP3 files (at 128 Kbps sound quality).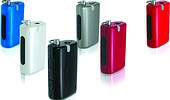 Cambridge Consultants has previewed the second generation of its through-wall radar technology, Prism 200, which provides 3D feedback on the location and movement of people inside buildings. The system is being re-engineered as a standalone handheld unit, eliminating an external controller and man-machine-interface. Held against a wall or mounted on a tripod up to 2 metres away, Prism 200 transmits low frequency UWB radar pulses that pass through building materials over 40 cm thick, to detect activity over a range of up to 15 m.

Further reading:
From the editor's desk: Yes, it's that thing everyone's talking about
25 March 2020, Technews Publishing , News
Call me a pessimist, but I'm absolutely, 100% certain that I'm going to catch COVID-19 (or the 'novel coronavirus' if you prefer to call it that) – if I haven't done so already. At least the mortality 
...
Read more...
---
Electronics news digest
25 March 2020 , News
Overseas
Business
• ams reported record revenues and results for full year 2019, with revenues up 32% year-on-year, and fourth quarter revenues exceeding expectations with strong adjusted operating 
...
Read more...
---
XinaBox – Reaching for the stars
25 March 2020, RS Components (SA) , News
From collecting data in sub-zero Antarctica to rapid circuit prototyping on the International Space Station this South African company is reinventing the way we approach IoT while inspiring students to follow STEM careers.
Read more...
---
Electrocomp launches new website
25 March 2020, Electrocomp , News
Electrocomp is inviting visitors to explore its new website, which has been designed to offer a user-friendly experience with improved navigation and functionality while allowing customers to see their 
...
Read more...
---
Looking beyond radar, the car's virtual eye
25 March 2020, Altron Arrow , News
Faster, higher-resolution radar sensors have enabled the next generation of driver assistance technologies through improvements in vehicle safety and comfort in view.
Read more...
---
Disposing of e-waste in space
26 February 2020 , News
According to BBC, there are over half a million pieces of debris floating around the Earth's orbit. Most debris within the atmosphere are lost parts from space crafts, disused rocket stages or waste from 
...
Read more...
---
IPC revises five standards
26 February 2020 , News
IPC announced the release of five newly revised standards covering several areas of the supply chain:      
· IPC/WHMA-A-620D, Requirements and Acceptance for Cable and Wire Harness Assemblies. · IPC-2223E, 
...
Read more...
---
Testerion to represent ITW EAE in SA
26 February 2020, Testerion , News
ITW EAE announced a new extended partnership agreement with Testerion South Africa to represent and distribute all ITW EAE equipment including MPM printers, Camalot dispensers, Electrovert soldering systems, 
...
Read more...
---
Würth helps produce PCBs for ventilators
25 March 2020, Würth Elektronik eiSos , News
The worldwide spread of the coronavirus is not only increasing the demand for personal protective equipment, but also for medical ventilators. In order to ensure the supply in Germany, the German government 
...
Read more...
---
u-blox acquires Thingstream
25 March 2020 , News
u-blox has acquired IoT communication-as-a-service provider, Thingstream. Thingstream provides a comprehensive, end-to-end solution for global IoT connectivity using the industry standard MQTT protocol. 
...
Read more...
---