printer friendly version
Electronics News Digest
2 November 2005 News Electronic News Digest
Southern Africa
The dti runs an innovation support programme that is administered by the Industrial Development Corporation (IDC) called Support Programme for Industrial Innovation (SPII). This programme is designed to promote innovation in the South African IT and industrial market. SPII (www.spii.co.za) currently consists of three schemes:
* The 'Product Process Development Scheme' provides financial assistance is provided for small, very small and micro enterprises in the form of a grant of between 65% and 85% of the qualifying cost incurred during the technical development stage with a maximum grant amount of R500 000 per project.
* The 'Matching Scheme' provides financial assistance to SMEs (small and medium enterprises) in the form of a grant of up to 50% of the qualifying cost incurred during the technical development stage - up to a maximum amount of R1,5m per project.
* The 'Partnership Scheme' provides financial assistance in the form of a conditionally-repayable grant of 50% of the qualifying cost incurred during development activity, with a minimum grant amount of R1,5m per project, repayable on successful product commercialisation.
Communica has announced new agencies: Communica is now the sole local agent for Xemics, following its sale to Semtech. Another two new Communica agencies are BCEsud and Littelfuse. The Wickmann Group, for which Communica is the sole local agent, recently became part of Littelfuse.
EBV Electrolink has been appointed as a distributor for Philips Semiconductors. The franchise is part of an agreement between European semiconductor distribution company, EBV Elektronik and Royal Philips Electronics. EBV Electrolink is a branch of EBV Elektronik and will distribute Philips' portfolio of microcontrollers, discretes, logic, audio-video ICs and other semiconductor products in South Africa.
Bekithemba has been appointed as a distributor for Rep-Tronix GPS products and services.
Overseas
Business
Intel has posted record revenue of $9,96 bn for the third quarter, up 18% year-over-year and up 8% sequentially. Q3 operating income was $3,1 bn, up 31% year-over-year and up 17% sequentially, and includes the impact of a legal settlement with MicroUnity. Net income was $2 bn, up 5% year-over-year and down 2% sequentially.
Motorola has posted record sales of $9,42 bn in the third quarter, up 26% from the same period a year ago. The company made a profit of $1,75 bn in the quarter, compared to $479m a year ago. Its handset unit (the Mobile Devices Segment) had sales of $5,6 bn, up 41% compared with the year-ago quarter and a record for the business, it noted.
Fairchild Semiconductor posted a third quarter loss of $20,8m on sales of $345,5m, compared with net earnings of $13,4m on sales of $409,7m in the year-ago quarter. Included in the Q3 loss was $4,2m of restructuring expenses related to employee severance and certain asset impairments.
ARM Holdings has posted sales of £56,7m in the third quarter, up 6% from the like period a year ago. The results included sales of Artisan, a supplier of intellectual-property that was acquired by ARM. ARM said that Q3 net income hit £9,78m from £9,53m in the year-earlier quarter.
Companies
Automatic test equipment company Teradyne has agreed to sell its connector division to Amphenol for $390m in cash. Teradyne's connector division supplies high-speed, high-density connectors, and PCBs used in backplane interconnect systems.
Wireless and broadband semiconductor supplier, Broadcom, has signed an agreement to acquire Athena Semiconductors, a fabless semiconductor company that specialises in the design and development of mobile digital television tuner and low-power Wi-Fi technology, for $21,6m.
Enclosure maker Pentair has entered into a definitive agreement to acquire the assets of APW, including the McLean Thermal Management, Aspen Motion Technologies and Electronic Solutions businesses.
Intel has agreed to acquire the digital broadcast business and IP of Zarlink Semiconductor to strengthen its platform solution offerings for home consumer electronics. Under the acquisition, Intel would receive the RF front-end consumer business of Zarlink.
Fabless chip company, Oxford Semiconductor, has acquired TransDimension, a provider of USB technology.
Epcos has decided to sell its tantalum capacitors business unit. According to the company, negotiations with US capacitor manufacturer, Kemet, are already in an advanced stage. The sale is a further step in the company's re-organisation and repositioning process. Epcos said that it is also streamlining its portfolio of ceramic capacitors.
Mixed-signal semiconductor supplier SigmaTel, has acquired the direct digital amplification (DDX) technology, design team and intellectual property from Apogee Technology, for an undisclosed amount. DDX Technology is a high efficiency, Class-D digital amplifier technology that converts digital audio directly into power without the need of a digital-to-analog conversion.
Following its acquisition by Goldman Sachs Capital Partners, the former Pirelli Cables and Systems has been renamed Prysmian Cables and Systems. Prysmian will continue to operate and develop its business in the two core cable sectors of telecoms and energy, and maintain its existing product portfolio of energy cable products.
Fraunhofer Gesellschaft, the network of German industrial research organisations, has formed a venture capital arm, Fraunhofer Venture-Group, based in Munich.
The Los Alamos National Lab is teaming up with the College of Engineering at the University of California, Santa Barbara to create an Institute for Multiscale Materials Studies.
Pentax and Samsung Techwin have signed an agreement to jointly develop digital single-lens reflex (SLR) cameras. Pentax said it expects its optical technology will complement Samsung's electronics devices and image processing firmware for digital cameras. The partners will both sell the jointly-developed SLR cameras under their own brand names.
Industry
Future Horizons has lowered its semiconductor growth forecast from 15% made earlier in the year, to about 8-10% in 2005.
According to a NanoMarkets research report, the proliferation in mobile communications devices will help drive the mobile battery market to $9,1 bn in revenues by 2010 and also create opportunities for alternative battery technologies. Three new opportunity areas pinpointed include: growth of smartcards, RFIDs, disposable electronics, military, medical and slimline cellphones will drive the market for lithium-polymer batteries, which is expected to reach about $1 bn in sales by 2010; mobile fuel cells are closer to market than many battery companies think; new developments in nanostructures and thin films will create considerably better future mobile batteries.
The number of shipments of portable digital music players using Flash memory instead of hard drives is expected to increase nearly fourfold by 2009, according to research firm, International Data Corp. Fuelling Flash players growth, which play compressed MP3 music files, are falling prices for memory and players, the availability of paid online media services, and growing consumer demand. The maximum capacity of Flash players is expected to reach 8 GB in 2006 and 16 GB by late 2007, IDC said.
The market for automotive-grade semiconductors is expected to reach $16,3 bn this year - an increase of 7,2% from 2004, according to a new Strategy Analytics report. Planned enhancements to vehicle performance, features and safety will drive automotive semiconductor revenues to $25,7 bn by 2012, ensuring steady growth for automotive semiconductor vendors. The study also found that semiconductor-based sensors will provide the highest growth in demand.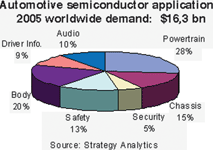 In a white paper released by Semiconductor Equipment and Materials International (SEMI), the industry group estimates that the equipment and materials industries will be able to afford a projected annual R&D budget of $10,4 bn by 2010. However, it warns that estimated R&D funding needed for the continued scaling of CMOS technology will be $16,2 bn - a funding shortfall of $9 bn. Moreover, the R&D needs would approach $20 bn annually by 2010 if a transition to larger wafer sizes takes place, a prospect that is starting to be debated. "The semiconductor industry is at a crossroad," states Stanley Myers, CEO of SEMI. "The development of the IC has contributed to remarkable improvements in the electronics sector, resulting in enormous economic and social benefits. However, without significant attention to the R&D gap, the semiconductor equipment and materials industry will not be able to afford to keep up with Moore's Law."
Agilent Technologies' EEsof EDA division has announced several plans for its product lines following its recent acquisition of the business of Eagleware-Elanix. Expected changes include price decreases, a new customer investment protection program, advanced design system (ADS) translators, and a trade-in offer to users of non-Agilent software. The price decrease is for non-US Eagleware-Elanix customers only, and is made possible through the efficiency gains Agilent expects to make in its global infrastructure, it said. Agilent also announced a new investment protection program, calling it the first of its kind in the high-frequency EDA market. The program allows Eagleware-Elanix customers to apply 100% of the current list price of the software toward other products in the Agilent EEsof EDA portfolio.
Three emerging chip-to-chip interconnect standards - HyperTransport, PCI Express, and RapidIO - are being included in ICs and systems at an increasing rate and their use will grow over the next several years according to market research company, In-Stat. PCI Express will experience the highest growth, rising from 8,7 million systems in 2004 to 283 million in 2009. Despite shrinking use in consumer applications, In-Stat is forecasting a 28% growth rate for the use of HyperTransport fuelled by success in computing and routing applications. RapidIO is clearly a distant third in I/O wins, but has found a position in telecoms, said In-Stat. Although each interconnect system has roadmaps to higher speeds and bandwidth, all face challenges overcoming jitter using current PCB technology. These challenges may eventually force a transition to optical interfaces, believes In-Stat.
A new report from Research and Markets has revealed that flexible and flex-rigid substrates are now a key emerging technology in next-generation electronic system design/development and IC packaging. Flex technology was previously seen as a specialist and niche substrate technology, however, the demand for increased functionality, improved signal integrity and interconnect density is now pushing it into the mainstream.
Market research firm, DisplaySearch, has reported that raw liquid crystal display (LCD) panel array capacity supply was sufficient in the third quarter, with the panel capacity surplus to widen into 2006.
Market research firm, iSuppli, has boosted its growth forecast for 2005 year PC unit shipments to 10,3%, from 8,2% previously, due to robust first-half sales and strong demand for mobile computers. For 2005, iSuppli now projects PC shipments to reach 210,9 million units. According to the firm, mobile PC unit shipments are slated to reach 54,6 million units in 2005, up from 45,6 million in 2004.
ACG Identification Technologies has announced that it has received ITSO certification for five types of its smartcards, namely the Philips Mifare Ultralight, Philips Mifare DesFire, Philips Mifare 1k, Philips Mifare 4k and Infineon Mifare 1k. ITSO is an organisation that has established and maintains a specification for secure 'end-to-end' inter-operable ticketing transactions using applicable ISO and CEN (European Committee for Standardisation) standards.
Samsung Electro-Mechanics (SEM), of Korea, has announced that it will enter the light-emitting diode backlight unit, and the LED market for illuminating homes and buildings, from next year. According to SEM, LED backlighting units are expected to replace cathode fluorescent lamp technology (CCFL) and reach 2,7 trillion won in market size by 2009.
A federal court jury in Los Angeles has awarded International Rectifier $6,241m in a patent suit against semiconductor supplier, Ixys. The patent relates to 'elongated octagonal MOSFET' technology.
STMicroelectronics has announced that the company has established a 'greater China' organisation internally, to cover its operations in China, Hong Kong, and Taiwan. According to the company, its Asia Pacific customers account for nearly 50% of its total sales.
Altera has announced the completion of its low-cost Cyclone II FPGA family rollout. According to Altera, the high densities and low prices of Cyclone II FPGAs allow designers to use them as an alternative to mid-density ASICs and ASSPs.
Samsung Electronics of South Korea has agreed to pay a $300m fine, according to the US Justice Department based in Washington. Samsung agreed to the fine following a three-year US antitrust probe of price fixing in the US DRAM industry.
Agilent Technologies has announced it expects to close the sale of its Semiconductor Products Group (SPG) to Kohlberg Kravis Roberts & Co. and Silver Lake Partners on or near 1 December. The company also confirmed it will spin off its system-on-a-chip (SoC) and memory test businesses by next year.
Technology
Intel has started sampling to customers its Itanium-2, 64 bit microprocessor that utilises 1,72 billion transistors. The processor, codenamed Montecito, integrates two processing cores.
Sharp has developed an LCD panel it claims has the highest contrast ratio of 1 000 000 to 1. Named Mega-Contrast ASV (advanced super view) Premium LCD, Sharp reckons that the display goes well beyond self-illuminating displays such as CRTs and plasma displays. The prototype display is a 94 cm panel with full HD resolution and luminance of 500 cd/m².
Stanford University's robotic vehicle, dubbed Stanley, dominated a field of 195 unmanned vehicles and won a $2m first prize in the Darpa Grand Challenge race in October. Stanley finished a 212 km course through the Mojave Desert at an average of 31 km/h. Based on a stock, diesel-powered Volkswagen Touareg R5, the vehicle is actuated via a drive-by-wire system developed by Volkswagen of America's Electronic Research Lab. All processing takes place on seven Pentium M computers. The vehicle incorporates measurements from GPS, a 6DOF inertial measurement unit, and wheel speed for pose estimation. While the vehicle is in motion, the environment is perceived through four laser range finders, a radar system, a stereo camera pair, and a monocular vision system. All sensors acquire environment data at rates between 10 and 100 Hertz. Map and pose information are incorporated at 10 Hz, enabling Stanley to avoid collisions with obstacles in realtime.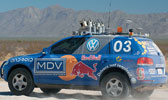 Daktronics has been awarded a contract to design and build the world's largest high definition (HD) light emitting diode display for the Dolphins Stadium in Miami. Two 'ProStar' screens will incorporate a wider aspect ratio than the 9:16 wide screen ratio of high definition television, giving sports fans a panoramic view of the action. The larger display will measure approximately 15,3 metres high by 41,8 metres long, with a true resolution of 736 pixels high by 2112 pixels wide. Full-screen images shown on this display will be comprised of more than 1,5 million pixels, made from more than 4,6 million red, green and blue LEDs.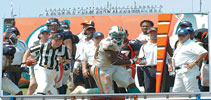 Alps Electric has developed what it claims is the industry's smallest series of tuner units for digital terrestrial broadcasting. The TDQ Series, which can also be used as an analog broadcasting receiver, measures 55 x 38 x 13 mm. The addition of digital broadcasting to conventional analog broadcasts has led to the co-existence of two different broadcasting methods. Televisions and other devices thus require both digital and analog tuners to receive each broadcast. This ultra-compact single-unit tuner that can receive both broadcasts, contributes to more compact and thinner set devices.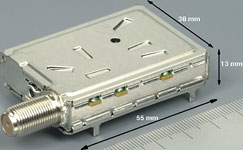 Oki Electric has announced the development of a power transistor with dramatically-improved amplifying characteristics. The gallium nitride high electron mobility transistor (GaN-HEMT), is formed on a large diameter silicon substrate achieving a world record for transconductance rating of 350 mS/mm and maximum oscillation frequency (fmax) of 115 GHz. Because this GaN-HEMT is achieved on a silicon wafer - not on conventional Silicon Carbide - it can reduce costs by approximately 50%, claims the company. The transistor also achieves a 56 GHz current gain cut-off frequency.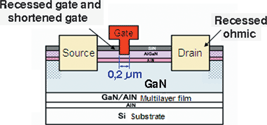 Further reading:
Personality profile: Jean Mearns
29 July 2020, WH Circuit , News
"No one works for me, they only work with me, for without each other our team will fail to exceed the expectations of our customers."
Read more...
---
Letter to the editor
29 July 2020 , News
I take exception to the article 'To fake or not to fake' published in the June edition of Dataweek that is clearly based on the principle 'guilty until proven innocent'. I am by no means an expert 
...
Read more...
---
Q&A with Brandon Kuhn and Steve Stafford
29 July 2020 , News
Q: What is the rationale behind the reorganisation? What impact will it have on Avnet's customers in South Africa?    A (Kuhn):
Since 2009, our shared front-end model in South Africa has differed from the 
...
Read more...
---
Avnet EMEA names two new leaders to SA operation
29 July 2020 , News
Avnet has named Steve Stafford and Brandon Kuhn as new leaders in South Africa following the completion of a reorganisation in the region.
Read more...
---
UCT chooses Tektronix instruments for training lab
29 July 2020, Comtest , News
Comtest, local partner to Tektronix, recently assisted the University of Cape Town (UCT) physics department in refurbishing its electrical training laboratory. All of the existing analog oscilloscopes 
...
Read more...
---
New electromagnetic solutions range from Accutronics
29 July 2020, Accutronics , News
Accutronics has been appointed as the reseller for the Electromagnetic Integrated Solutions (EIS) range of products from API Technologies. APITech offers a complete line of coaxial EMI solutions, 
...
Read more...
---
Fighting COVID-19 using TV white space spectrum
29 July 2020 , News
The CSIR has partnered with the Technology Innovation Agency (TIA) to enable local Internet service providers to deploy Television White Space (TVWS) networks, using the CSIR-developed Secondary Geo-Location 
...
Read more...
---
Clearing the Static: ESD wrist straps
29 July 2020, Actum Electronics , News
The human body is the primary source of electrostatic charge generation. In order to control and reduce static charge build-up and prevent electrostatic discharges (ESD), we use grounding systems to ensure 
...
Read more...
---
From the editor's desk: This too shall pass
29 July 2020, Technews Publishing , News
Things were tough enough for the South African electronics manufacturing industry before, but this year has thrown up unprecedented challenges that nobody could have foreseen and which are outside of 
...
Read more...
---
Electronics news digest
29 July 2020 , News
South Africa
• As part of the national data-driven approach to countering COVID-19, the CSIR has developed a platform that monitors human mobility to better understand movement patterns across specific 
...
Read more...
---