printer friendly version
Electronics News Digest
8 March 2006 News Electronic News Digest
Southern Africa
The CSIRM has announced that an agreement has been reached whereby Herley Industries of the USA will acquire digital radio frequency memory (DRFM) technology from the CSIR. Herley will use this technology to manufacture DRFMs in the USA and internationally. DRFMs are devices that are able to receive, store, modulate and transmit radar signals. They are used in countermeasure systems, radar test applications, electronic warfare training and, more recently, in the area of countermeasures against improvised explosive devices (IEDs). Herley Industries is based in Lancaster, Pennsylvania and is a leader in the design, development and manufacture of microwave technology solutions for the defence, aerospace and medical industries.
Sentech is beginning to upgrade South Africa's broadcasting infrastructure from an analog system to a digital system, and will roll out digital terrestrial television (DTT) services to various sites over the next five years. "The estimated cost to achieve 92% coverage of the population for DTT is in the region of R1 bn," states Frans Lindeque, Sentech executive for digital services. "By 2009, Sentech will have covered around 78% of the country's population with DTT, ahead of the World Cup, a year later." He says the advantage of DTT is its 'spectral efficiency', which allows a number of digital channels to be broadcast within the same bandwidth as one analog channel. This will free up the other frequencies for value-added services including interactivity, e-commerce as well as additional channels and broadcasters.
The Cape Town branch of RF Design has moved to new premises at Montague Gardens: Unit S13, Spearhead Business Park, Cnr of Montague Drive & Freedom Way, Montague Gardens, 7441. Postal: Box 1449, Milnerton, 7435. Tel: +27 (0)21 555 8400; Fax: +27 (0)21 555 8401.
Overseas
Business
Agilent Technologies has reported a GAAP net income of $2,82 bn on revenue of $1,34 bn for the fiscal first quarter of 2006. This was up significantly from a net income of $103m in the first quarter of 2005 and $104m in the fourth quarter of 2005. Revenue of $1,34 bn was up 10% from revenue of $1,21 bn for the first quarter of fiscal 2005, but down 21% from the fourth quarter of 2005. Agilent reported orders of $1,35 bn for the fiscal first quarter, up 15% from $1,18 bn in the fiscal first quarter of 2005.
Companies
Semiconductor supplier Avago Technologies has agreed to sell its printer ASIC business to Marvell for $240m in cash. Avago Technologies expects the sale to help the company focus on its core businesses and reduce the debt related to its recent buyout from Agilent Technologies.
Irdeto, a leader in content security and a Naspers subsidiary, has reached an agreement on the terms of the transfer of Royal Philips Electronics' conditional access (CryptoTec) business unit to Irdeto. Philips' CryptoTec business unit is within Philips' 'Other Activities' business segment, and employs approximately 65 people, located in Europe and China. In addition to conditional access for digital TV, Irdeto also offers software-based content security for IPTV services as well as multiple digital rights management (DRM) and CA products for premium mobile content and mobile TV (DMB and DVB-H).
Semiconductor equipment supplier KLA-Tencor has agreed to acquire ADE, a supplier of metrology and inspection systems for approximately $488m in stock.
CRLO Displays has been renamed Forth Dimension Displays - also recognisable by the abbreviated 'ForthDD'. According to the company, Forth Dimension Displays more clearly identifies both its Scottish roots - on the Firth of Forth - and its focus on developing and commercialising the benefits of its one-chip, high-speed, high-resolution microdisplay technology. Forth DD's microdisplays process images temporally, ie, in the 'fourth dimension' of time. The company's advanced displays are used in high-end specialty applications.
UK company Alpha Micro Components has signed an agreement with Luminary Micro of the US to distribute its range of ARM-based system-on-chip (SoC) products within the UK and Ireland.
Syntax-Brillian, a designer and developer of LCD and liquid crystal on silicon (LCOS) high-definition TVs and microdisplay components, has signed a $1m sales agreement with aerospace company Rockwell Collins for the purchase of microdisplays and drive ASICs. The components will be integrated into Rockwell's head-up guidance system (HGS) for pilots.
UK-based display IP company, Cambridge Display Technology, has acquired five key patents from Maxdem related to light-emitting polymer compositions and applications. The move will enable it to continue expanding its OLED patent portfolio.
LG Philips LCD has signed an agreement with Eastman Kodak to jointly evaluate and develop active-matrix organic light-emitting diode (AMOLED) technology.
Industry
Gartner has revised its forecast for chip market growth in 2006 upwards to 9,5% as a result of news of increased capital spending budgets for 2006. In January, Gartner predicted annual growth of 7,6%. In 2005, the market grew 7% and Gartner said that worldwide semiconductor revenue would be $257,7 bn in 2006, a 9,5% increase from 2005 revenue of $235,3 bn. A mild growth slowdown is expected in 2007 with growth of 7%, followed by a cyclical market peak in 2008.
Total spending in the US telecoms industry rose 8,9% in 2005 to an estimated $856,9 bn and is expected to climb 10,2% in 2006 reaching $944,7 bn, according to the newly released 2006 Telecommunications Market Review and Forecast from the TIA. Total international communications spending (not including the United States) reached $1,8 trillion in 2005, up 11,4% over 2004, it said, fuelled by double-digit increases in wireless transport services, Internet access, public network equipment and professional services in support of public network and enterprise equipment. Middle East/Africa was the fastest-growing region in 2005, with an 18,4% advance to $66,7 bn. The TIA forcasts overall international telecoms spending to reach $2,7 trillion in 2009, growing at a 10,4% CAGR 2006-09.
Sales of TV phones will soar from $5 bn in 2005 to over $30 bn by 2010, according to a market research report from Strategy Analytics. The study expects the open procedure standard DVB-H to account for 40% of all TV phones by 2010, up from 19% in 2006, as support grows from leading vendors.
Emerging thin-film electronics applications will generate $15,5 bn in revenue by 2011, according to a report from NanoMarkets. The group expects thin-film display applications (excluding LCD displays) to reach $7,3 bn by 2011. But it also expects significant new business opportunities to emerge from other applications of thin-film electronics such as photovoltaics, batteries, sensors, information storage and lighting.
Shipments of hard disk drives with sizes of less than 1,8-inches are set to show 50% annual growth from 2006 through 2011, according to Databeans research.
Microsoft's Windows server revenues were $17,7 bn for 2005, which means that for the first time, the Windows server segment modestly exceeded spending for Unix servers, according to the IDC's Worldwide Quarterly Server Tracker. Linux servers generated revenues of $5,7 bn, placing it in third place for the first time from an operating system perspective as customers continued to expand the role of Linux servers into an increasingly wider array of commercial and technical workloads. Unix servers experienced a 5,9% decline in factory revenue year over year. For all of 2005, Unix server revenues were $17,5 bn, moving the O/S platform from sole possession of first place for the first time in more than a decade.
An unusually strong sales growth in the traditionally weakest quarter, helped the European semiconductor distribution industry to significantly reduce its decline of earlier quarters. According to DMASS (Distributors' and Manufacturers' Association of Semiconductor Specialists), Q4 of 2005 grew by 5,7% over Q4 of 2004 to semiconductor distribution sales of 1,13 bn Euro. The full year ended with sales of 4,56 bn Euro, 2,85% lower than in 2004.
With an abundance of low-cost labour and a vast technical workforce, Asia is now the world's largest contract electronic manufacturing (CEM) market, reports In-Stat. The Asian CEM market was $73,35 bn in 2004, and is expected to reach $161,90 bn by 2009, according to the high-tech market researchers. With China and Taiwan already strong in this field, other Asian countries such as India, Thailand, and Vietnam are emerging as strong contenders for low-cost manufacturing of electronic equipment.
NEC Semiconductors, Ireland has announced plans to cease production at its IC assembly and test plant in Ballivor, County Meath, Ireland, at the end of September 2006 due to high operating costs. 350 workers are expected to lose their jobs.
Technology
Academics at Aston University in Birmingham, UK have invented the world's longest laser. They have transformed a 75 km long optical fibre into the laser, which the team hopes will improve long distance global transmissions. The new laser is special because it can transmit light signals over such a long distance without any loss of power, so the signal that is being sent barely deteriorates. Utilising the phenomenon of the Raman effect, lasers inject light at each end, which makes some of the fibre's atoms give out more energy and emit photons of a longer wavelength. These photons are reflected back into the fibre by special mirrors at each end of the link. The fibre then stores a stable, uniform amount of laser light that travels with the signals and strengthens them, enabling them to move across the fibre at full power without suffering any loss, so removing the need to amplify the signals.
Mitsubishi Electric has developed what it says is the world's first rear projection television that uses a laser as its light source instead of a mercury lamp as with current rear projection TVs. It claims the laser-based rear projection TV provides a better picture quality than LCD and plasma display panel televisions. Light from a semiconductor laser is divided into red, blue and green, making it possible to represent images with a colour variety 1,8 times greater than that of LCD TVs and thereby improving image quality, it claims.
Seagate has announced a 12 GB 1-inch drive aimed at the mobile phone market with a 23% smaller footprint than its current 1-inch hard drive. The new device ST1.3 Series has 50% more capacity and consumes 30% less power, to boot. The new 12 GB drive measure 40 x 30 x 5 mm and uses perpendicular recording technology. It also features an optional drop sensor that increases operational shock resistance up to 2000 G. Perpendicular recording drives store more data by standing charged particles on end.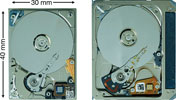 United Microelectronics has fabricated a 'push-push' voltage-controlled oscillator (VCO) that it claims has the highest operating frequency for any circuit implemented in silicon to date: 192 GHz. Such high-frequency oscillators could potentially be used in close-to-terahertz applications for advanced remote sensing and imaging applications to accomplish chemical detection, detection through fabric, imaging through fog and clouds, and the detection of skin cancer, it says. The VCO was fabricated using a 0,13 μm CMOS process.
Optoelectronics supplier Cree has announced that its new XLamp 7090 white LED package is rated to produce 47 lm/W at a drive current of 350 mA, and 57 lumens of typical light output. The company also announced the availability of the XLamp 7090 warm white LED to address the emerging market for residential lighting applications.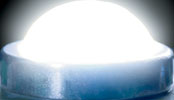 Group4 Labs has announced what the company claims is a gallium nitride (GaN)-on-diamond semiconductor wafer product line. The GaN-on-diamond wafer addresses the classic heat problem plaguing the high power and high-speed transistor industry: excessive heat build-up inside the chip's engine that ultimately leads to device failure. The product, dubbed Xero Wafer, is designed to sit 0,5 nm away from a synthetic diamond substrate and features high temperature resilience for high-power, high-frequency, solid-state white lighting, and military and photonics applications.
Researchers from MIT have developed a lithium nickel manganese oxide battery that could become an alternative to nickel metal hydride batteries used today to power hybrid cars. Researchers modified the lithium nickel manganese oxide material's structure to make it capable of charging and discharging more quickly. Until now, lithium batteries have not had the rapid charging capability or safety level needed for use in cars. A battery made from the new material can charge or discharge in about 10 minutes - or about 10 times faster than unmodified lithium nickel manganese oxide technology, according to MIT.
picoChip has demonstrated at the 3GSM World Congress, a reference design for an ultra-low cost 3G/HSDPA basestation for use in a home or small office as an alternative to WiFi and UMA (unlicensed mobile access). The PC8208 modem reference design for a 3G access point or 'femtocell' base station supports HSDPA with a software upgrade to HSUPA. It says such a system enables cellular operators to counter competitors offering UMA or voice-over-WiFi (VoWiFi), but - a crucial difference - it also allows customers to use existing standard cellular handsets.
Lumileds has revealed a new powerful white LED aimed at torches. The Luxeon Portable PWT1 is the market's smallest power LED designed for portable lighting applications, claims the firm. The emitter (pictured) generates 26 lumens at 350 mA from a 2 x 1,6 x 0,7 mm package. The 2000-hour life surface mount device also has on-chip 8 kV ESD protection.

Tadiran Communications has created a wristwatch-based video system it has (amusingly) dubbed 'V-Rambo', to be used by the Israeli army. The idea is that aeroplanes, helicopters, pilotless drones or robots can feed live video to commanders on the ground. The colour screen is 76 mm and receives live video at 30 frames per second.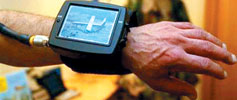 Further reading:
From the editor's desk: Making and sending things to space
29 May 2020, Technews Publishing , News
In this issue, one of the topics we are featuring is the aerospace and military/defence sector.
Read more...
---
Personality profile: David Power
29 May 2020, Cadshop , News
"Aspire to work for a company that you admire, and for a boss that you want to serve, that shares your passion and motivation."
Read more...
---
Designing for military and defence applications
29 May 2020, Omnigo, Kreon Technology , News
No business can stand on its own without strong partnerships and stakeholder relationships. In this regard the military and defence industry is no exception.
Read more...
---
Why 'new space' satellites demand a new approach to components
29 May 2020, Avnet South Africa , News
New space is opening up exciting opportunities for businesses, which can create completely new products, services and capabilities that were, until recently, impossible or impractical.
Read more...
---
Clearing the Static: Safe storage and transportation of components
29 May 2020, Altico Static Control Solutions , News
During product transportation or storage, humidity can lead to excessive moisture inside of packaging, which can potentially damage electronic components by causing corrosion and mould-attack. Apart from 
...
Read more...
---
Elmatica's SA seminars on PCB design a success
29 May 2020, Elmatica , News
During March, just weeks before COVID-19 resulted in South Africa going into lockdown, Elmatica held several seminars in the country, to get closer to and educate the local industry on printed circuit 
...
Read more...
---
Vepac launches new website
29 May 2020, Vepac Electronics , News
Vepac Electronics has recently launched its new and optimised website to enable its customers to navigate effortlessly, with a host of new products and related datasheets. Visitors to the site are also 
...
Read more...
---
Comtest trading for 15 years
29 May 2020, Comtest , News
Comtest, one of South Africa's leading providers of test, measurement and communications equipment, is proud to mark its 15-year trading milestone in 2020. CEO Barend Niemand says, "Comtest has representation 
...
Read more...
---
Locked down but not knocked out
25 March 2020, ExecuKit , News
As a business, we are facing extremely hard times with the current worldwide pandemic and isolation. We are all maintaining social distancing and must learn how to do business with an enforced lockdown 
...
Read more...
---
From the editor's desk: A new era – after mourning comes rebuilding
29 April 2020, Technews Publishing , News
When I sit down to write these columns once a month, even if the topic I decide to write about is not all sunshine and roses, I always try and look for a silver lining. I'm simply not able to do that 
...
Read more...
---