Southern Africa
World Wide Worx's 'Mobility 2006' survey, a new research project that kicks off this month, is set to debunk a number of myths about the cellphone market in South Africa. The research will include interviews with thousands of South Africans on the buying and the use of cellphones and other mobile technology. The project is being conducted in three phases, covering consumers, small business and corporate use of mobile technologies, and is expected to be concluded in September 2006.
Local IT service provider to the SME market, Netsurit, has outperformed Microsoft partners from around the globe and has been named Partner of the Year for Sales and Marketing in Networking Infrastructure Solutions at the 2006 Microsoft Worldwide Partner Program Awards. This is the first time a South African Microsoft partner has received the award. The case study that clinched Netsurit's award was based on an implementation undertaken for Digistics, a supply chain management solution provider.
Bekithemba has been appointed as the sole agent in South Africa for Vitec Multimedia, a supplier of MPEG encoding and editing technology.
Overseas
Business
Royal Philips Electronics' semiconductor unit reported sales of 1,22 bn euro in the second quarter, up 5% sequentially and up 12% over the same period a year ago. Operational profits quadrupled to 120 million euro. Royal Philips Electronics intends to float or sell off a majority stake in its semiconductors division by the end of this year.
Infineon reported third quarter revenues of 1,97 bn euro compared to 1,99 bn euro in the prior quarter. It said this reflected lower sales in the two logic segments that were not entirely offset by increased sales at Qimonda, the company's memory products business. EBIT increased to 49m euro, from 28m euro in the prior quarter. EBIT included a dilution gain of 30m euro in connection with the IPO of Inotera Memories, which it said was mostly offset by impairment and restructuring charges during the third quarter. Net loss in the third quarter was 23m euro compared to a net loss of 26m euro in the prior quarter, including charges in connection with the carve-out of Qimonda and valuation allowances of tax assets. Infineon hopes to raise about 1 bn euro through the upcoming IPO of Qimonda.
Japan's NEC Electronics posted a loss of 6,1 bn yen in the quarter, compared with a 6,3 bn yen loss a year earlier. The company blamed the loss on price declines and a glut for LCD driver chips in the marketplace.
For its first fiscal 2007 quarter, Matsushita Electric Industrial posted group sales of $18,58 bn, up 4% from the same quarter a year ago. First-quarter operating profit was $566m, up 41% from the same period a year ago.
Texas Instruments posted second quarter sales of $3,7 bn, up 11% sequentially and 24% from a year ago. TI attributed the results to strong semiconductor demand as well as seasonal demand for graphing calculators due to its back-to-school season. It reported gross profit of $1,91 bn, up $481m from the year-ago quarter.
EDA supplier, Mentor Graphics, has posted a net loss of $0,45m, on sales of $178,4m in the second quarter. Sales rose 15% from the year-ago quarter, with bookings up 20% from a year ago.
Freescale Semiconductor reported sales for its second quarter of 2006 of $1,60 bn, up 5% from $1,53 bn in the first quarter of 2006 and up 9% from $1,47 bn in the second quarter of 2005.
Companies
Silicon Laboratories has acquired StackCom, a company developing wireless protocol software stacks for GSM and GPRS mobile applications, for $7m in cash. The acquisition provides Silicon Laboratories with internal software stack capabilities enabling the integration of complete software solutions with future generations of its AeroFONE single-chip phone.
Integrated Device Technology (IDT) has agreed to acquire SigmaTel's AC-97 and HD-Audio PC and Notebook audio codec product lines, for $72m in cash.
Alliance Memory has completed the acquisition of the asynchronous SRAM business from Alliance Semiconductor.
Optical Communication Products has agreed to acquire GigaComm, a Taiwan-based supplier of passive optical network fibre-to-the-home (FTTH) components, for $20m in cash.
Elixent, a spin-off company from the Hewlett-Packard research laboratories in England, has been acquired by Matsushita Electric Industrial.
Kyocera Kinseki, a wholly-owned subsidiary of Kyocera, is to acquire Hertz Technology, a supplier of crystal devices including tuning fork crystals, in a stock transaction. Hertz intends to change its name to Kyocera Kinseki Hertz.
Carl Zeiss SMT of Germany has acquired Alis, a developer and marketer of helium-ion microscopy technology.
Indian telecom R&D and support services firm, Sasken Communication Technologies, has acquired Finland's Botnia Hightech, a provider of wireless R&D and testing services, for about $45m. Botnia is a supplier of hardware, software, mechanical design and testing services to mobile handset vendors.
Molex has announced it will acquire Woodhead Industries in an all cash transaction valued at approximately $256m.
Siemens Automation and Drives has acquired Opto-Control Elektronik Prufsysteme of Bochum, Germany, adding high-precision automatic optical inspection systems to Siemens's Siplace surface mount technology business. Opto-Control's inspection systems are fully automated and use leading 3D sensor technology to detect any solder or placement flaws at high speed.
US battery supplier, EnerSys, has entered a definitive agreement to purchase the assets of Chaozhou Xuntong Power Source Company, a sealed lead-acid battery business located in Chaozhou, China.
Oki Electric has signed an agreement with Tyco Electronics to transfer Tyco's USB power protection switch IC technology, to Oki. The technology is a protection switch IC that is inserted in the power supply line for USB terminals.
Epcos has joined a new European Union programme known as Mobilis (mixed SIP and SOC integration of power BAW filters for digital wireless transmissions). The objective of the programme is to develop miniaturised RF filters for the latest mobile phone standards and digital radio reception with mobile phones. In particular, EPCOS will contribute its knowhow in BAW bulk acoustic wave technology in the project. The participants expect to develop BAW solidly mounted resonators on a silicon basis, which on a single chip, cover all mobile communications standards and frequency bands.
Silicon Image, a supplier of semiconductors for the secure storage, distribution and presentation of high-definition content, has announced an agreement with the China Video Industry Association (CVIA), under which CVIA will promote and support the use of the high-definition multimedia interface (HDMI) by the consumer electronics industry in China.
picoChip has signed a non-exclusive partnership with Korea Telecom (KT) to develop WiBro/WiMAX access points, sometimes called Femtocells. The basestations under development will use picoChip's multicore DSP. Femtocells are small, low-cost basestations, intended to be used in residential or corporate environments where high-speed coverage would otherwise be limited.
Helic and Applied Wave Research have announced a technology licensing agreement that enables the integration of Helic's VeloceRF whole-chip radio frequency extraction, modelling and verification technology into AWR's Analog Office RF integrated circuit design suite.
Anritsu has formed Anritsu EMEA, reinforcing its continued commitment to Europe, the Middle East and Africa, which has seen a number of investments over the past 12 months.
Industry
Future Horizons has lowered its forecast for semiconductor growth in 2006 to 14% from the 20% it predicted in January. It has also downgraded its forecast for next year, suggesting that 2007 will see growth of 19%, as opposed to its original estimate of 22%.
The market for COTS VME slot cards reached $408,7m in 2005 for the European and North American markets combined, according to the recently-released Venture Development (VDC) report. This compares to $354,1m it forecast for 2005, which was based on year 2003 data. Factors to which the larger-than-projected 2005 shipments of COTS VME slot cards can be attributed, include an increase in military budgets since 2003, said VDC. This is especially true in developing European nations and the US, which accounts for 47% of worldwide spending on defence.
The Indian ASIC market could grow by more than 35% to $443m in 2006, but growth will likely be slowed by rising use of FPGAs, according to a study commissioned by the India Semiconductor Association. The communications market will again account for about 75% of ASIC use in India this year, and as much as 94% of Indian ASIC consumption by 2015.
Market research group IDC has reported that slow growth in the shipment of PCs in Europe held back global sales in the second quarter of the year, though they did manage to grow by 9,7% year-on-year.
Paced by anticipated sales of blue laser players, game consoles, PC drives, and related media, the blue laser disk technology market is expected to exceed $28 bn in sales in 2010, according to a report by the Santa Clara Consulting Group (SCCG). The game console segment, supported by sales of the PlayStation 3, will have the most important influence on the blue laser disk technology market, with more than half of the $2 bn in revenue for 2006, it said. Content, including movies and games, will represent half of this market's revenues in 2010.
Market research firm In-Stat projects that 50% of mobile computers will have solid-state drives by 2013, and within 10 years, possibly replace hard disk drives (HDD) as the preferred storage medium in laptop computers.
New WTRS research forecasts integration of as many wireless protocols as possible into one chipset and thus one device. This is driven in part by semiconductor companies responding to the constant commoditisation of chips and elimination of margins by attempting to add as much value as possible into a single RF component, it says. The study projects the primary growth areas for wireless components over the next five years to be wireless telecom and wireless sensors. In the former segment, key protocols to consider include CDMA, IEEE 802.11n, and IEEE 802.16e. By contrast, RFID, ZigBee, and IEEE 802.15.4 are the standard protocols likely to dominate the wireless sensor segment over the next 10 years.
The Government Electronics and Information Technology Association (www.geia.org), a US trade organisation, is in the final stages of releasing three documents to help aerospace, defence, and other high performance electronics industries respond to the global transition to lead-free electronics driven by the EU's Restriction of Hazardous Substances (RoHS) and Waste Electrical and Electronic Equipment (WEEE) directives. Although aerospace and defence products are expected to be either out of scope or exempt from the directives, these industries will be 'swept along' as the larger global electronics industry transitions to lead-free products, according to GEIA.
Power.org, the open collaborative organisation set up to promote power architecture technology, has unveiled several initiatives designed to accelerate the development of innovative, high-performance, power-efficient devices and applications. The organisation has released a merged instruction-set architecture - Power ISA version 2.03 - which creates a single instruction set for all Power-based processors. Also being introduced is the first collaboratively-developed Power platform specification, called the Power Architecture Platform Reference specification, which it says will provide a foundation for more rapid development of standardised products based around Linux.
The Indian Ministry of Information Technology has amended its IP Rights programme to curtail patent infringement and adhere to international trade rules on intellectual property.
Technology
Physicists in the US have discovered that mercury atoms keep better time than caesium atoms. Researchers at the National Institute of Standards and Technology have demonstrated an experimental clock they says is five times more accurate than the National Clock, which is based on caesium atoms. The clock measured the natural oscillations of an electrically-charged mercury ion held in a super-cold electromagnetic trap. According to the researchers, the current caesium-based clock would lose or gain a second in about 70 million years if operated continuously. The latest version of the mercury-based atomic clock would neither gain nor lose a second in about 400 million years.
Exmovere has developed a Web-based, Bluetooth-enabled biosensor wristwatch service for medical supervision of the elderly. The Exmocare wristwatch monitors one's pulse rate, heart rate variability and skin conductance. It also monitors the wearer's level of activity via built-in accelerometer to determine whether the subject is active, inactive or sedentary. With user-configurable alerts, it sends information to families and care providers by e-mail, SMS, or instant message.

Semiconductor Research Corporation (SRC), the National Science Foundation and the University of Michigan are researching 'self-healing' chips. Current efforts to make chips more reliable, through redundancy and other traditional means, involves both higher costs and the sacrifice of calculation speed. As the miniaturisation of electronics continues, product lifetimes will become dangerously short without innovative approaches to address in-field silicon failures, the SRC says. The research is intended to investigate a defect-tolerant design style that could increase product lifetime through components that take longer to fail or that can recover from failure. According to the SRC, the solution is not to build flawless chips, but architectures that can survive defects.
NTT Docomo has teamed with Aquafairy to develop a water-powered fuel cell for mobile phones. The prototype cell is a polymer electrolyte fuel cell that produces 2 W. Based on Aquafairy's thin-film power unit technology, the polymer electrolyte fuel cell (PEFC) contains 10 cc of water and a hydrogen-producing catalyst. The PEFC is considered to have better power-generating capability than other technologies, including direct methanol fuel cells, because it handles hydrogen directly.

Hewlett-Packard has developed a miniature wireless data chip the size of a grain of rice, which could be attached or embedded in almost any object to make available information and content now found mostly on Web devices. Developed by the 'Memory Spot' research team at HP Labs, the chip is a CMOS memory device (2 to 4 mm square), with a built-in antenna. These chips could be embedded in a sheet of paper or stuck to any surface, and could eventually be available in a booklet as self-adhesive dots, according to HP. The chip has a 10 Mbps data transfer rate, with a storage capacity ranging from 256 Kb to 4 Mb in working prototypes. It could store a very short video clip, several images or dozens of pages of text.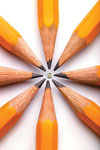 Infineon Technologies has finalised the tapeout of a dual-band ultra-wideband (UWB) transceiver paving the way toward fully-integrated high-speed communications system-on-chip solutions optimised for mobile devices. The low power CMOS RF chip, which Infineon claims is the industry first, is also said to exceed current standards, transmitting in both 3-5 GHz and the 6 GHz to 9 GHz band.
CPU Technology has announced a new class of semiconductor devices called field-programmable multicore chips (FPMCs). In collaboration with IBM, the company is integrating multiple PowerPC cores into its Acalis product family. According to the companies, this new generation of programmable semiconductor devices combines the flexibility of FPGAs with the speed and capacity of ASICs.
Matsushita has developed and is launching a 103 inch PDP TV that uses a plasma display panel measuring about 140 by 240 cm. The TH-103PZ600U television offers full high definition (1920 by 1080 pixels), a 4000-to-1 contrast ratio in dark surroundings and includes an HDMI connection. Matsushita said it will begin taking orders for the 103 inch TV in September, and it is expected to be priced at about $50 000.

Samsung Electronics has announced that its 4 GB solid-state disk will serve as a high-speed NAND flash cache for notebooks and PCs running Windows Vista. The disk is ready for production and complies with Windows ReadyBoost, a new Vista feature that uses flash memory to improve system performance.
Freescale has claimed a breakthrough in integrated circuit packaging by making a component that contains all the electronics for a 3G phone in a package measuring 25 x 25 mm. Using its redistributed chip packaging (RCP) method, Freescale claims that RCP can help produce a packaged chip component that is 30% smaller than a traditional ball grid array (BGA) component and that RCP could replace BGA and flip-chip packaging as the dominant packaging and assembly approach for highly integrated chips. The radio-in-package contains all of the electronics required for a 3G mobile phone including memory, power management, baseband, transceiver and RF front end modules.