printer friendly version
Electronics News Digest
23 August 2006 News Electronic News Digest
Southern Africa
Spescom DataFusion has concluded a strategic partnership agreement with East African-based ICT provider, Computer Point. Computer Point has branch offices in Kenya, Uganda, Ethiopia and Rwanda and is now empowered to offer Spescom's full range of contact centre products and services.
Test & Rework Solutions has been appointed as the exclusive South African distributor for Geotest, a global producer of PXI and PC-based test equipment and test solutions. This distributorship will complement the company's existing range of T&M products. A major market for the products is in military applications.
Overseas
Business
Maxim Integrated Products has reported record net revenues of $510,6m for its fiscal fourth quarter, a 6,8% increase over the previous quarter and a 27,5% increase over the same quarter of 2005. Net income for the fourth quarter of fiscal 2006 was $124,3m. This compares to $120,3m for the third quarter of 2006.
On Semiconductor has announced that its revenues in the second quarter of 2006 were $375,3m, an increase of approximately 12% from the first quarter of 2006. During the second quarter of 2006, the company reported net income of $67,5m. This included approximately $3,3m of restructuring, asset impairments and other charges. Second quarter results include approximately $2,4m associated with stock-based compensation expenses. In the previous period, On Semi posted a net of $40,4m, on sales of $334m.
Companies
Royal Philips Electronics has announced it has agreed to sell an 80,1% stake in its semiconductor unit to an investment consortium for 6,4 bn Euro. The consortium, made up of private equity firms Kohlberg Kravis Roberts & Co and Silver Lake Partners of the US along with Dutch AlpInvest Partners, will buy the stake while Philips will retain the remaining 19,9% share. Said Philips president and CEO Gerard Kleisterlee: "As a standalone company, the semiconductors business will have every opportunity to realise its full potential and we are very pleased to have found strong partners that share our belief." Philips said that the sale will allow it to 'fully focus' on its health care and lifestyle products.
SanDisk, a leader in flash memory subsystems for imaging and audio storage, is acquiring one of its largest solid-state memory competitors, Msystems of Israel, in a stock transaction worth approximately $1,35 bn.
Digi International has acquired MaxStream, a leader in the wireless device networking market. The acquisition is a merger transaction for $38,5m of cash and stock.
Agilent Technologies has signed a definitive agreement to acquire Xpedion Design Systems, a privately-held company that provides software for wireless and high speed digital circuit and systems design in the communications industry.
Suntech Power Holdings, a Chinese supplier of photovoltaic (PV) cells, has signed a definitive agreement to acquire solar-module maker MSK of Japan. MSK is one of Japan's largest PV manufacturers.
Synopsys has signed an agreement to acquire German lithography simulation vendor Sigma-C for an undisclosed amount.
Schaffner has announced the sale of its EMC Test Systems business through a management buyout to a group of investors led by the present head of the business. The sale is part of the firm's strategy to refocus on its EMC components and modules business.
Nokia has acquired digital music software and services firm, Loudeye, for $60m. Loudeye, which operates 60 live services in over 20 countries, aggregates rights and content from music labels and independents.
Tyco International has entered into a definitive agreement to sell its Tyco Printed Circuit Group (TPCG) business to TTM Technologies for $226m in cash. TPCG builds printed circuit boards for the military, aerospace and commercial markets. It has eight manufacturing facilities in the US and one in China.
Applied Micro Circuits has made a $69m cash offer to acquire Canadian Ethernet specialist Quake Technologies.
Dover Corporation has announced that it is planning to sell eight Dover Technology Group companies, including Vitronics Soltec and Universal Instruments. While these companies have achieved strong results over many years, Dover says that it is rebalancing its portfolio to be less focused on capital equipment.
AMI Semiconductor, a subsidiary of AMIS Holdings, has announced that it entered into an agreement to acquire the ultra-low power six-transistor (6T) SRAM and medical system-on-chip ASIC businesses of NanoAmp Solutions for approximately $21m in cash. NanoAmp specialises in low-voltage and ULP memory and ASIC solutions for the wireless communication, industrial, medical, and networking market segments.
On Semiconductor has reorganised its operations into four groups in an effort to boost growth. The company has re-aligned into four market-based divisions: the Digital and Consumer Products Group, the Computing Products Group, the Automotive and Power Regulation Group and the Standard Products Group.
Epcos and Taiyo Yuden have signed a cooperation agreement in the field of ceramic capacitors. Epcos will procure unfinished ceramic capacitors from Taiyo Yuden, process them further and sell them under the Epcos brand. The two will also exchange know-how in specific areas of technology on the basis of licensing agreements. With this cooperation, Epcos says it will be able to offer a more competitive range of ceramic capacitors to customers from other industries.
Matsushita and NEC are teaming with Texas Instruments to form a mobile phone joint venture that will share R&D activities. The joint venture, called Adcore-Tech, will generally focus on developing a communications platform for 3G, 3.5G, 3.9G and beyond. Matsushita and NEC will each hold a 44% share, with TI holding the remaining 12%.
Infineon Technologies has joined the Semiconductor Test Consortium, whose aim is to devise an 'open architecture' for ATE, which would enable the development of plug-and-play third-party modules for testers, and so drive down the soaring costs of IC test.
Apple Computer has announced it is working with Ford Motor, General Motors and Mazda to deliver 'seamless iPod integration' for their vehicles. Making it easier for users to integrate their iPods into a car stereo system, seamless iPod integration allows drivers to use their car's multifunction controls to select their music.
NanoHorizons has signed an agreement with Solarity, a developer and manufacturer of photovoltaic cells, giving Solarity exclusive use of its patented solar cell technology. NanoHorizon's device employs a nanoscale-engineered structure to perform both absorption and collection of solar energy.
Airbee Wireless has signed an agreement with Zentrum Mikroelektronik Dresden (ZMD) to integrate its Airbee-ZigBee Network Software stack with ZMD's 900 MHz ZMD44102 transceiver. To reduce time-to-market, a complete reference design with TI's MSP430-1612 ultra-low power microcontroller, was also released. The transceiver supports 868,3 MHz and the 902 to 928 MHz bands.
Wavesat has announced it is working with Texas Instruments to develop a 5,8 GHz Mini-PCI module and reference design to support designers of WiMAX-compliant wireless systems. The 5,8 GHz Mini-PCI design will use Wavesat's Evolutive WiMAX DM256 chip and TI's family of WiMAX-optimised RF solutions.
eMagin is working jointly with the Night Vision and Electronic Sensors Directorate (NVESD) of the US Army to develop better ways to assess the applicability of active-matrix OLED displays in military systems on the basis of their usable lifetimes. Current methods for measuring lifetime of non-emissive displays do not apply to OLED devices. Rather, the display's lifetime depends on the specific application and can be much longer than most conventional models predict, according to eMagin.
Industry
Worldwide sales of semiconductors in June grew by 9,4% from June 2005 to $19,64 bn in June 2006, according to the Semiconductor Industry Association (SIA). European semiconductor sales however, underperformed sales in the three other global regions. The SIA said that year-to-year, sales in Europe grew by 1,4% from June 2005 to $3,15 bn in June 2006. This compares to the North American market that grew 11,4%, the Asia Pacific region that grew 12,8%, and the Japan market that grew 6,5% over the same period, according to the SIA figures.
Semico Research has significantly lowered its semiconductor forecast in 2006, with a drastic slowdown projected in 2007. Semico now projects that the IC market will grow by 11% in 2006, but expects it to slow and grow only 3,4% in 2007. In its previous forecast, it projected that the IC market would grow 17% in 2006 and 20% in 2007.
Medical electronics constitutes a small but very attractive part of the industrial semiconductor market. According to Databeans, the medical segment in 2005 represented 8% of the $25,9 bn global industrial semiconductor market, or about $2,1 bn. Medical electronics is the fastest growing segment in the industrial semiconductor market, with an average growth rate of 11% per year. Databeans divides this segment into three major categories: the diagnostics and therapy market, which contributes roughly 48% of revenue, the home market with a remaining 37%, and imaging contributing 15%.
IMS Research forecasts that nearly half a billion people will be watching TV on their cellular handsets by the end of 2011. Mobile digital TV will experience 50% year-on-year growth through 2010, it says, driven primarily by the adoption of broadcast-based services such as DVB-H.
According to Lyra Research, the global installed base of camera phones has now surpassed that of film and digital cameras combined. Lyra estimates that the installed base of camera phones will reach approximately 850 million units in 2006, and this is expected to grow to more than 1,5 billion units in 2010.
According to Semico Research, the NAND flash market is projected to break all revenue records in 2006. Even though NAND prices fell by over 50% in the first quarter, the market's growth will allow it to not only meet 2005's stunning $11 bn in sales, but to support a full 44% growth to record-breaking revenues of over $16 bn this year, according to Semico.
Wedbush Morgan Securities has reduced its overall IC growth forecast for 2006 over 2005 by one percentage point to 9% growth.
The number of Internet television (IPTV) subscribers is expected to increase at a growth rate of 92,1% to 63,1 million in 2010, from 2,4 million last year, according to market researcher, iSuppli. The number of subscribers is expected to reach 5,3 million this year. The IPTV subscriber base is expected to generate more than $27 bn in overall services revenue in 2010.
Electronics Supply & Manufacturing has reported the rankings of the top 50 IC companies (2005 revenue) noting that 'the Leader Board in the semiconductor world has not changed much in the last five years.' Intel remains at No. 1 followed by Samsung and then Texas Instruments. Taking the rest of the top 10 positions are: Toshiba; STMicroelectronics; Renesas Technology; TSMC; Infineon Technologies; Sony; and Qualcomm.
Gartner has warned that the semiconductor industry faces a major shortage of capacity, including a potential shortfall of some 23 new 300 mm fabs by 2008, to meet projected demand.
LG Electronics has overtaken Samsung SDI as the top supplier by volume of organic light-emitting diode (OLED) panels according to market researcher, DisplayBank.
Intel has announced plans to support 45 of the world's top universities with expertise, funding, development tools, educational materials, and on-site training to incorporate multicore and multithreading concepts into their computer science curricula.
Power-One and Silicon Laboratories have agreed to settle and resolve the patent infringement lawsuit filed against Silicon Laboratories by Power-One in December 2005,
TTPCom has become the first company to have its 3G multiplatform protocol technology accredited by both the GCF and IOT handset-testing organisations. TTPCom's dual mode protocol stack has already been integrated onto multiple silicon platforms from different vendors and is being offered now for licence.
StarCore, the DSP organisation formed by Agere, Freescale and Infineon, has ceased operations.
Technology
Emcore, Group4 Labs and the US Air Force Research Labs (AFRL) claim to have demonstrated the world's first operational gallium nitride (GaN)-on-diamond high-electron-mobility-transistor (HEMT) device. The epitaxial transistor layers were grown by metal-organic chemical vapour deposition (MOCVD) at Emcore and atomically attached to chemically vapour deposited (CVD) diamond substrates from Group4 Labs.
Seoul-based firm, MtekVision has developed what it claims is the world's smallest camera control processor (CCP) using wafer-level packaging technology. Trademarked MV3019SNW, the new processor measures 4,6 by 4,6 mm, 40% smaller compared to existing CCP.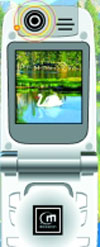 DARPA has awarded Lockheed Martin a $1,7m contract to design a revolutionary remote-controlled 'nano air vehicle' (NAV) that will collect military intelligence indoors and outdoors on the urban battlefield. Similar in size and shape to a seed from a maple tree, a chemical rocket enclosed in its one-bladed wing will power a sensor payload module more than 1 km. Delivered from a hover and weighing up to 2 grams, the module will be interchangeable based on mission requirements. Besides controlling lift and pitch, the wing will also house telemetry, communications, navigation, imaging sensors, and battery power. The NAV will be about 3,8 cm long and have a maximum takeoff weight of about 10 grams.
University of Bangor researchers in North Wales have reported the development of a biosensor that they say can detect low levels of explosive materials in the atmosphere. The biosensor makes use of enzymes, which, by virtue of their ability to breakdown, or synthesise, chemical compounds, reacts with the compounds found in an explosive. The reaction then generates an electrical signal. The researchers claim that it can detect explosive vapours at a level in the part per trillion range.
Samsung Electronics has developed two new types of MMC (multimediacard) cards that it claims have higher density and performance than existing cards. Designated MMCplus, one type offers 8 GB density, the industry's highest, based on Samsung's 8-gigabit (Gb) MLC (multilevel cell) NAND flash memory. The other MMCplus model, based on its 4-gigabit SLC (single-level cell) NAND flash memory, will be available in 1 GB and 2 GB densities.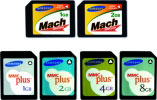 Intel has rolled out its new Conroe and Merom processors, part of the company's Core 2 Duo family of chips. Core 2 Duo is Intel's next-generation processor architecture, based on a 65 nm process technology. Conroe is for desktops, while Merom is for notebooks. Intel already launched Woodcrest, a Core 2 Duo chip for servers.
Researchers at the University of Washington have demonstrated a material - a mixture of zinc oxide and cobalt first formulated in 1780 as a pigment called cobalt green - that could be used as a magnetic structure for nonvolatile memory. The material would allow electrons to be manipulated both electrically and magnetically. The ability to manipulate electrons' magnetism, in addition to controlling their charge flow (spintronics), has the potential to create broad new capabilities for computers and other devices. The breakthrough with this material comes because it exhibits its magnetic properties at room temperature. Eventually, such materials could have profound impact on computers and digital devices. For instance, they would use a lot less power, and so need a lot less cooling capacity.
Using X-ray imaging technology, the Department of Energy's Stanford Linear Accelerator Center (SLAC) claims to have deciphered the last unreadable pages of the works from ancient mathematician Archimedes. The scientists used X-ray fluorescence (XRF) imaging technology to decipher Archimedes' 'scientific secrets' written on goatskin parchment manuscripts. The original text was obliterated by a monk who had re-used the parchment, leaving only the faintest traces of ink still embedded in the parchment.

Further reading:
Personality profile: Jean Mearns
29 July 2020, WH Circuit , News
"No one works for me, they only work with me, for without each other our team will fail to exceed the expectations of our customers."
Read more...
---
Letter to the editor
29 July 2020 , News
I take exception to the article 'To fake or not to fake' published in the June edition of Dataweek that is clearly based on the principle 'guilty until proven innocent'. I am by no means an expert 
...
Read more...
---
Q&A with Brandon Kuhn and Steve Stafford
29 July 2020 , News
Q: What is the rationale behind the reorganisation? What impact will it have on Avnet's customers in South Africa?    A (Kuhn):
Since 2009, our shared front-end model in South Africa has differed from the 
...
Read more...
---
Avnet EMEA names two new leaders to SA operation
29 July 2020 , News
Avnet has named Steve Stafford and Brandon Kuhn as new leaders in South Africa following the completion of a reorganisation in the region.
Read more...
---
UCT chooses Tektronix instruments for training lab
29 July 2020, Comtest , News
Comtest, local partner to Tektronix, recently assisted the University of Cape Town (UCT) physics department in refurbishing its electrical training laboratory. All of the existing analog oscilloscopes 
...
Read more...
---
New electromagnetic solutions range from Accutronics
29 July 2020, Accutronics , News
Accutronics has been appointed as the reseller for the Electromagnetic Integrated Solutions (EIS) range of products from API Technologies. APITech offers a complete line of coaxial EMI solutions, 
...
Read more...
---
Fighting COVID-19 using TV white space spectrum
29 July 2020 , News
The CSIR has partnered with the Technology Innovation Agency (TIA) to enable local Internet service providers to deploy Television White Space (TVWS) networks, using the CSIR-developed Secondary Geo-Location 
...
Read more...
---
Clearing the Static: ESD wrist straps
29 July 2020, Actum Electronics , News
The human body is the primary source of electrostatic charge generation. In order to control and reduce static charge build-up and prevent electrostatic discharges (ESD), we use grounding systems to ensure 
...
Read more...
---
From the editor's desk: This too shall pass
29 July 2020, Technews Publishing , News
Things were tough enough for the South African electronics manufacturing industry before, but this year has thrown up unprecedented challenges that nobody could have foreseen and which are outside of 
...
Read more...
---
Electronics news digest
29 July 2020 , News
South Africa
• As part of the national data-driven approach to countering COVID-19, the CSIR has developed a platform that monitors human mobility to better understand movement patterns across specific 
...
Read more...
---