printer friendly version
Electronics News Digest
20 September 2006 News Electronic News Digest
Southern Africa
Test and measurement equipment supplier, Comtest, has formed a black economic empowerment (BEE) subsidiary called Kikiza, which presently has a 5% BEE shareholding. In time, this will increase to 26%, says Comtest. Kikiza's focus will be in the specialist telecommunications arena. With the ever-increasing complexity of network systems and the need to optimise them, Comtest says that Kikiza will be offering a number of infrastructure, monitoring and management solutions from leading companies to the telecoms network operators and major communications users. Suppliers represented include: JDSU (formerly) Acterna, Test-Um, ADC/Krone, Comtest Wireless, Envivio, Psiber, Data Networks, Midtronics, Radian Research, and COM10.
Overseas
Business
National Semiconductor reported net income of $120,1m on revenue of $541,4m for the first quarter of fiscal 2007. For Q1, sales declined 5,4% from the previous quarter. Year-over-year, sales rose 9,6%. National said that gross margin rose to 61,7% due to the enhanced mix of high-value analog products, compared to 61,4% of the previous quarter.
Optical communications company, JDS Uniphase, reported a GAAP net loss of $45,8m on sales of $318,2m in its fiscal fourth 2006 quarter. In the year-ago quarter, JDS Uniphase lost $145,7m on sales of $170,9m. For fiscal 2006, JDS lost $151,2m on sales of $1,2 bn, compared with a loss of $261,3m on sales of $712,2m in fiscal 2005.
Companies
Alcatel is to buy the UMTS network access equipment division of Nortel for $320m.
Francisco Partners has signed a definitive agreement with Dover Technologies International, to acquire Universal Instruments, a supplier of circuit board assembly equipment. Terms of the transaction were not disclosed. Universal will continue to operate under its current management team, with a focused business strategy to continue to develop, manufacture, and market its portfolio of products and services globally. Under the agreement, Vitronics Soltec and Hover-Davis are also being acquired by Francisco Partners and operated as independent companies.
L-3 Communications announced that it has agreed to acquire Nova Engineering for $45m in cash, plus an additional purchase price contingent upon Nova's future financial performance. The business will be included in L-3's Command, Control, Communications, Intelligence, Surveillance and Reconnaissance (C3ISR) reportable segment. Nova designs and manufactures state-of-the-art communication systems for network-centric warfare and technology-driven applications.
Video transport infrastructure specialist, Harmonic, has announced it will pay $45m to acquire the IPTV networking software business of Entone Technologies.
Taiwan's Himax Technologies has announced plans to acquire display-driver IC company, Wisepal Technologies, for $50m.
nLight, a manufacturer of high-power semiconductor lasers, has acquired the assets of Flextronics Photonics from Flextronics International of Singapore. The acquisition will add an array of new fibre-coupled and hybrid microelectronic products for nLight.
Omron of Japan has reached a preliminary agreement with NHK Spring to acquire its FTTH (fibre-to-the-home) optical coupler business. Omron intends to combine NHK Spring's quartz optical waveguide technology with its own stacked polymer optical waveguide technology to create high-performance, cost-competitive FTTH products.
RF Monolithics has signed definitive agreements to acquire Cirronet, a wireless data communications and networking company, and Caver-Morehead Systems, a supplier of computerised maintenance management system (CMMS) software.
Flextronics International has agreed to acquire LCD supplier, International DisplayWorks, in a stock exchange worth about $300m. IDW will become a wholly-owned subsidiary of Flextronics.
Advanced Analogic Technologies has entered into an agreement to acquire the power management analog business of China's IPCore Technologies for approximately $22m. The acquisition includes IPCore's subsidiary, Analog Power Semiconductor.
Planar Electronics Technology (PET) has announced the acquisition of Planar Filter Co. (PFC). This acquisition will allow Planar Electronics Technology to continue supplying filters, switch filter banks and filter assemblies to the RF/microwave community.
Cisco Systems has announced it will acquire Arroyo Video Solutions, a provider of next-generation solutions for on-demand TV for $92m. The integration of the Arroyo platform into Cisco's IP-NGN (next-generation network) architectural framework is intended to help enable carriers to accelerate the distribution of network entertainment, interactive media and advertising services to TVs, PCs, mobile handsets and other devices.
Compound semiconductor specialist, Emcore, has sold its 49% interest in GELcore to the lighting operations of GE Consumer & Industrial, a division of General Electric (GE), for $100m in cash. GELcore is a joint venture company addressing the solid-state lighting market with high brightness, LED-based lighting systems. GE has also formed a strategic alliance with Nichia, one of the world's leading LED manufacturers, to support GELcore.
NeoPhotonics, a supplier of fibre-optic component and module solutions for long-haul, metro and FTTX networks, has acquired BeamExpress, a supplier of multimode transceivers for enterprise and storage applications.
China-based photovoltaic cell supplier, Suntech Power Holdings, has established a US subsidiary called Suntech America, based in Delaware.
With a change of ownership from Royal Philips Electronics to a consortium of private equity investment companies, Philips Semiconductors has been renamed NXP, which stands for the consumer's 'next experience', according to Philips. The NXP trademark will include a 'Founded by Philips' tagline as part of its branding.
Qimonda and Winbond Electronics have signed an agreement to expand their existing cooperation on the production of standard memory chips (DRAMs).
National Instruments and Agilent Technologies have agreed to cooperate to create NI's LabView plug-and-play instrument drivers for Agilent LXI, USB and GPIB instruments. The companies said they will work together to provide instrument drivers to engineers and scientists shortly after the release of new Agilent measurement products, making it easier to combine the graphical development platform NI LabView with Agilent instruments. The new initiative will give NI early access to its new products.
Analog Devices, NEC Electronics, Tensilica, and Texas Instruments have joined the Nexus 5001 Forum, a 22-company effort to address multiprocessor debugging of embedded systems through adoption of the Nexus standard, according to the organisation. The Nexus standard (IEEE-ISTO Nexus 5001) is an embedded processor development tool interface that helps design engineers rapidly identify software- and hardware-level problems in realtime. It is said to be the only open debugging standard.
International Rectifier, together with the Center for Power Electronics Systems (CPES), a research centre sponsored by the National Science Foundation, has introduced an initiative for the development of a strategic power electronics technology roadmap. The effort will focus on two areas: low-horsepower motor drives and low-voltage, high-current power supplies. Both areas represent significant hurdles for equipment makers including computers, cars and appliances as manufacturers strive to improve energy efficiency and extend device performance, said IR.
Industry
Worldwide sales of semiconductors reached $20,1 bn in July, up more than 11,5% year-to-year, according to the Semiconductor Industry Association (SIA). Sequentially, July sales were up 1,8%. The SIA said that the semiconductor industry is on track to pass $240 bn in sales in 2006, which would be a record. European sales of semiconductors in July were $2,78 bn, up only 0,8% from July 2005.
The PCB production and laminate market expanded for the third year in a row in 2005, reaching $42,6 bn, and has almost returned to its peak in 2000, according to a new IPC report. Asia has grown to nearly 80% of world PCB production, with Europe and North America losing some share. The US slipped from fourth to fifth place among PCB-producing countries with 10% of world production, while the UK fell out of the top 10, replaced by the Philippines.
The market for high-brightness LEDs will reach $6,5 bn in 2006 and increase at an annual rate of 10,3% to reach $8,8 bn in 2011, according to a report by BCC Research. It predicts the substrate materials market for LEDs to hit $1,1 bn in 2006, increasing at an annual rate of 9,7% to $1,8 bn in 2011.
EDGE handsets are capturing a 14% share of the mobile phone market, according to ABI Research. The group predicts that 148 million EDGE units will be shipped this year.
By 2011, the total high power RF semiconductor market will be nearing $1 bn, reports a new ABI Research study. But according to research director Lance Wilson the shape of the industry five years hence will depend on two critical shorter-term questions: at the manufacturing level, 'will the introduction of gallium nitride and silicon carbide as basic materials for the fabrication of RF power semiconductors mean the demise of Si LDMOS?' and, with mobile/3G infrastructure markets in decline, 'will they continue to drive the RF power semiconductor industry as they have in the past?'
The market for flexible displays will grow from $16m in 2007 to almost $2 bn by 2015, with low-cost, low information content applications likely to dominate at the outset, according to a report by DisplaySearch. Although no killer applications currently exist for flexible displays, it said that initial applications may be found, for example, in smartcards that have built in fraud protection, shelf labels tied to the cash register price changes, and point-of-purchase signs with time-of-day advertising.
Market research firm Darnell has projected that the DC-DC converter module sector will grow significantly less than anticipated just 12 months ago. In a report, it now projects a five-year global CAGR for DC-DC converter revenue of 8,6%, down from 10,5% previously.
Demand for semiconductor intellectual property (IP) is growing, and the demand is shifting from simple IP to complex IP, according to Gartner. Worldwide IP revenue is projected to total $1,8 bn in 2006, a 24,9% increase from 2005 revenue of $1,4 bn. By 2010, worldwide semiconductor IP is forecast to surpass $2,7 bn. Gartner defines semiconductor IP as predesigned blocks of circuits for use in making complete semiconductor devices. Its definition of the semiconductor IP market only includes revenue from IP sold on the open market.
Global NOR flash memory revenue rose sequentially in the second quarter, according to a preliminary estimate from iSuppli. Second-quarter NOR flash revenue was nearly 19% higher than the year-ago quarter. Second-quarter unit shipments rose 10% sequentially and 25% year-over-year, said iSuppli.
austriamicrosystems has become a full member of Japan's JasPar (Japan Automotive Software Platform Architecture) consortium, a standards body that specialises in automotive electronic devices. This allows austriamicrosystems to participate in the development of fault-tolerant high-speed data communications in Japanese-manufactured vehicles.
According to a Shanghai Daily report, ZhongKe Menglan Electronics Technology is set to promote low-priced personal computers that use the locally-designed Godson CPU, to schools and local governments. It says the company will initially sell a few thousand, valued at $175 to $200 each, and if there is a good response the price could drop to $125. The computers are installed with the Godson 800 MHz to 1 GHz CPU, 256 MB memory, 40 G or 60 G hard disks and a Linux operating system.
Sony has said that the laptop battery recall programs of Dell and Apple Computer would likely cost it between 20 to 30 bn yen (approximately $170 to $256m).
Toshiba has been named as the manufacturer of Microsoft's upcoming portable media player, according to reports. Called the 'Zune', Microsoft's portable music device is planned to be released by the end of the year.
The 2006 Millennium Technology Prize has been awarded to Shuji Nakamura, who developed a new, revolutionary source of light - bright-blue, green and white LEDs and a blue laser. The world's largest technology prize is awarded for an innovation that improves the quality of human life and wellbeing. It is awarded by Finland's Millennium Prize Foundation and has a value of 1 million Euro. Professor Shuji Nakamura's innovation has launched a totally-new sector in light-producing semiconductor research and development.
Technology
NEC Electronics has unveiled a system-on-chip image processor for automotive applications. The Imapcar (integrated memory alley processor-car) processor features 100 Gops (giga operations per second) performance while dissipating about 1,7 W. NEC says that realtime image recognition at 30 frames per second is possible.
Universal Display and Novaled have jointly developed a saturated red phosphorescent organic light-emitting diode (PHOLED) with record specifications. Researchers claim the device attains a record power efficiency of 12 lumens/W at 1000 cd/m² brightness. Luminous efficiency was 15 cd/A at an operating voltage of less than 4 V. Novaled claims its proprietary doping technology and materials enable OLEDs to operate at up to three times lower voltage than with other technologies.

Samsung Electronics has begun volume production of 7-inch WVGA-level (800 x 480 pixel) LCDs with a single-chip driver.
Toshiba has introduced an 8-bit microcontroller core that can process one instruction cycle in a single clock cycle, enabling faster processing at lower frequencies, reduced noise and lower power consumption compared with its previous 8-bit core. The new TLCS-870/C1 has a large-capacity address space that is expandable to 128 KB.
Tokyo Electron Device is sampling what it claims is the industry's fastest JPEG chipset, which consists of a high-speed Encoder LSI; a high-speed JPEG Decoder LSI; and a video multiplexer LSI. Called 'inrevium' the JPEG chipset enables up to 120 frames/second (at NTSC) and up to 21 frames/second at 2-mega-pixels resolution.

By mimicking how insects see, researchers at the University of Adelaide claim to be now able to produce digital videos in which much more detail can be seen. Traditional cameras use a single average light setting to control the brightness of an image - but this is not so good if some parts are much brighter than others. By directly recording images from the brain cells of a fly, then crafting an algorithm to mimic the observed behaviours, Russell Brinkworth and his colleagues have shown that they can use the inputs from a camera's sensor, process it and recover information that would otherwise be lost, enabling the camera to record clear detailed scenes.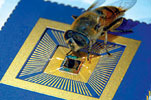 Dow Corning has announced that it has started shipping solar-grade (SoG) silicon material made from 'metallurgical' silicon blended with poly-crystalline silicon feedstock. Solar cells are usually built from high-purity polysilicon originally intended for the semiconductor industry, and as such, subject to a resource restraint. The launch of the PV1101 SoG silicon will offer a new source of supply, as well as new technical and business options for the solar industry, according to the group.
TDK has developed recordable blue laser disk technology with a groundbreaking capacity of 200 GB. Surpassing existing optical media technologies several times over, this laser disk is double the capacity of its existing 100 GB Blu-ray prototype. One 200 GB blue laser disk could store approximately 18 hours of high definition video (encoded at 24 Mbps) says TDK.
Claiming to offer the industry's lowest-power FPGAs, Actel has rolled out the Igloo family of products, targeting the tight power budgets of the portable market. According to Actel, this flash-based family consumes four times less static power than its nearest competitor and delivers more than five times the battery life of leading programmable logic devices (PLDs) in portable applications. It says that the Igloo parts offer an attractive alternative to ASICs and complex PLDs for designers that need to add features and complexity without draining more energy from a battery.
Intel has unveiled eight new microprocessors for servers, based on 65-nm process technology. Intel said the Dual-Core Intel Xeon processor 7100 series for servers offers up to twice the performance over previous Intel Xeon MP processors. The family also includes lower-power, 95 W options that reduce associated energy costs. These Dual-Core Intel Xeon 7100 series processors boast more than 1,3 billion transistors and 16 MB of shared cache.
Programmable logic vendor Xilinx has announced that its low-cost Spartan field programmable gate arrays (FPGAs) are being used onboard the earth-friendly, biodiesel-powered Earthrace powerboat. The brainchild of New Zealander Pete Bethune, the 78-foot wave-piercing powerboat will attempt to break the 75 day world record for circumnavigating the globe - and additionally, entirely on bio-diesel renewable fuel. Xilinx said that its FPGAs enable the radar and night vision systems aboard Earthrace ( www.earthrace.net).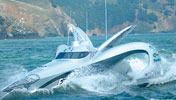 Further reading:
IPC teams up with PSMA on standards and more
30 September 2020 , News
IPC and the Power Sources Manufacturers Association (PSMA) have signed a memorandum of understanding (MoU) pledging to build a strong complementary relationship between the two entities with a focus on 
...
Read more...
---
Battery Technologies Conference goes virtual
30 September 2020 , News
Vukani Communications is back again with the 6th edition of the Battery Technologies Conference, and this time around the gathering is virtual. Topics to be discussed include, but are not limited to:
...
Read more...
---
A journey into the automation unknown
31 August 2020 , News
From small-town specialised machine builder to global technology company, Jendamark Automation's business journey has been characterised by calculated leaps into the unknown. And, as South African manufacturers 
...
Read more...
---
Resources for home and building automation
31 August 2020, TRX Electronics , News
Mouser Electronics is expanding its comprehensive range of building automation solutions from Silicon Labs, TE Connectivity (TE), and Littelfuse for the rapidly growing smart home and building automation 
...
Read more...
---
From the editor's desk: Enough of 2020 already
31 August 2020, Technews Publishing , News
Forgive me, but I don't think I'm alone in being a bit all over the place mentally at the moment. So far, two of my colleagues have been diagnosed positive for COVID-19 and have fortunately recovered. 
...
Read more...
---
Tribute to Paul Soteriou
31 August 2020 , News
Paul Soteriou, a man always willing to share what he had with a smile and with a deep-found love for South Africa, passed away earlier this year.
Read more...
---
Personality profile: Brian Andrew
31 August 2020, RS Components (SA) , News
With a father who is a civil engineer and an older brother who is a chemical engineer, you could say engineering was in the DNA of Brian Andrew.
Read more...
---
SA company scores in major international renewable energy project
31 August 2020, ETION Create , News
South African-based Etion Create has been selected as one of the preferred suppliers in the Sofia offshore wind farm project in the United Kingdom, one of the largest in the world. Etion Create, an original 
...
Read more...
---
Company profile: Vepac Electronics
31 August 2020, Vepac Electronics , News
Vepac Electronics was formed in 1987 and has been operating in South Africa since 1976 as Vero UK. Vepac Electronics was formed as a management buyout of Vero UK by the management at the time led by 
...
Read more...
---
South African stakeholders commit to responsible AI
31 August 2020 , News
Much like a microcosm of our socio-economic context, the artificial intelligence (AI) landscape in South Africa is uneven and burdened with regulatory challenges. If not addressed, these challenges could 
...
Read more...
---