printer friendly version
Electronics News Digest
16 May 2007 News Electronic News Digest
Southern Africa
Denel has announced that a R1 bn missile deal had been signed between South Africa and Brazil. Denel Dynamics, the missile unit of the defence parastatal, had launched the latest generation of the A-Darter air-to-air missile scheme developed for the SA National Defence Force and the Brazilian Air Force. The deal was launched at the Latin American aerospace and defence exhibition, which ended on 20 April in Brazil. Denel said that at least 200 engineers would be employed over the duration of the contract, with a focus on increasing the number of young engineers being attracted to Denel. Export contracts worth another R2 billion were expected in the next 15 years.
Altech has announced its results for the year. Revenue increased by 12% to R6,8 bn, and operating income by 18% to R573m. Cash balances of R1,2 bn reflect the strength of Altech's balance sheet, it noted. Altech CEO Craig Venter said that Altech is making good progress with its strategy to capitalise on convergence and global expansion in its focus areas of telecommunications, multimedia and electronics, and technology.
Jasco Electronics has increased its broadband offerings in the rest of the continent with the acquisition of RapidCloud Technologies, a local wireless broadband equipment supplier. With this deal, Jasco said it would gain a footprint in sub-Saharan Africa where RapidCloud Technologies operates, enhance its broadband product range, and strengthen its technical and marketing expertise.
Altech has signed a technology and distribution agreement with USA-based CityNet Wireless and its global licensing partner CityNet Wireless International. The principle of this agreement will enable Altech to enter the broadband infrastructure and operator space in sub-Sahara Africa. CityNet Wireless has been deploying wireless WiFi mesh networks globally since 2003, including densely populated cities such as Houston, Panama City and Mexico City. The company has been particularly successful in reducing the traditional cost of urban networking, using a combination of standard WiFi protocols, mesh architecture for redundancy and network flexibility, and network management software tools, said Altech.
Altech has concluded a black empowerment agreement that affected its Altech Alcom Matomo subsidiary. This initiative saw a new BBBEE equity partner introduced within the company. Altech approached Platina Venture Holdings, a consortium led by Penuell Maduna, to become its BBBEE equity partner. The transaction was successfully concluded at the end of March. Altech Alcom Matomo is a player in the emergency services Digital Tetra wireless market.
Overseas
Business
Intel posted Q1 revenue of $8,9 bn and net income of $1,6 bn. Sales fell 9% from the previous period and 1% from the like quarter a year ago. Net income was up 7% from the previous period and up 19% from a year ago. In 2007, Intel's R&D spending will be approximately $5,6 bn, it said.
Infineon achieved a net loss of Euro 11m on sales of Euro 1,96 bn for Q2 of 2007. The company said poor results at memory chip maker Qimonda dragged down sales, in which Infineon holds an 85% stake. Without Qimonda, Infineon's revenue climbed slightly against the first quarter from Euro 958m to Euro 978m. Group EBIT dropped to Euro 49m from Euro 216m, a decrease of 77%. However, excluding Qimonda, Infineon suffered an EBIT loss of Euro 28m, including one-time charges of Euro 54m from restructuring manufacturing facilities in France as well as from asset write-downs.
Freescale Semiconductor said sales for the first quarter of 2007 were $1,36 bn, compared to $1,53 bn in the first quarter of 2006 and $1,62 bn in the previous period. Freescale posted a net loss of $539m in the quarter, compared to a loss of $2,7 bn in the previous period and a profit of $212m a year ago.
STMicroelectronics said revenues for its first quarter were $2,3 bn, decreasing 3,7% compared to the $2,4 bn reported in last year's first quarter. Sequentially, net revenues decreased 8,4% from the $2,5 bn reported in the prior quarter, largely reflecting lower telecom and consumer sales. For the 2007 first quarter, net income totaled $74m, compared to the prior quarter net income of $276m, and the year-ago quarter where net income totalled $132m.
Texas Instruments has reported that its quarterly profit was $516m, compared with $585m for the year-ago quarter. Revenue fell to $3,19 bn from $3,33 bn.
Sharp has reported record high annual sales and profits for its fiscal year 2006. Annual sales totalled ¥3,128 bn, up 12% over the previous year. Operating profits totalled ¥187 bn, while net profits reached ¥102 bn, up 14 and 15%, respectively, over the prior year. Sharp sold more LCD TVs than it forecast over the period.
Cypress Semiconductor said revenue for its 2007 first quarter was $342,9m, up 19,5% from prior-quarter revenue of $287,0m and up 37,7% from year-ago Q1 revenue of $249,1m. It recorded a net loss of $2,0m in the 2007 first quarter.
Altera has posted a 28% rise in quarterly profit. Net profit for the first quarter was $75,1m, compared with $58,7m a year earlier.
Companies
IC-packaging provider Unisem Berhad of Malaysia has acquired a competitor, Advanced Interconnect Technologies (AIT), for $70,25m.
Rohm and Haas has acquired Eastman Kodak's Light Management Films business. The business produces advanced films that improve the brightness and efficiency of liquid crystal displays (LCD).
Silicon Motion Technology, a fabless semiconductor company in the consumer electronics arena, has agreed to acquire Future Communications IC, of Korea, for around $90m. FCI is a designer of RF integrated circuits for mobile television and wireless communications.
Silicon Hive, the technology incubator division of Royal Philips Electronics, has been spun from its parent. As part of the deal, New Venture Partners, TVM Capital and Philips have together invested $10m in the new company, which is a licensor of processor and related intellectual property. The newly created Silicon Hive B.V. is planning a major expansion into new markets and territories.
Element Six (E6) subsidiary, Diamond Microwave Devices (DMD), has signed a contract with Inex (Innovation in Nanotechnology Exploitation) for the development of technology to fabricate its high-power, high temperature diamond-based semiconductor devices targeting microwave power electronics. E6 uses chemical vapor deposition diamond technology to lay down diamond films. Diamond material offers the ability to operate at higher temperatures and higher breakdown voltages than conventional semiconductors.
SanDisk and Qimonda are to form a venture that will develop and manufacture flash-DRAM multichip packaging (MCP) products for the mobile handset market. The MCPs will use SanDisk's NAND flash and controllers and Qimonda's low-power mobile DRAMs. The jointly-owned company will be based in Portugal.
Hewlett-Packard is teaming up with Taiwan's Via Technologies to produce a low power desktop PC aimed at enterprise users in China.
Industry
Worldwide sales of semiconductors increased by 1% in March to $20,3 bn compared with the previous month, and is 3,2% better than the $19,7 bn reported for March 2006, according to the Semiconductor Industry Association (SIA). This increase reverses three months of sequential declines recorded by the SIA. Q1 global chip sales reached $61,0 bn, a 3,2% increase from the $59,1 bn reported for 20006's first quarter. Sales declined by 6,5% in Q1 of 2007 compared to the $65,2 bn reported for the final quarter of 2006.
Global semiconductor revenue will rise to $281,4 bn in 2007, up 8,1% from $260,2 bn last year, according to market research group iSuppli, who had previously estimated a 10,6% growth for the year. iSuppli said that its revision was due to a combination of factors, including a deceleration in mobile-phone shipment growth, a lingering excess inventory problem and a major slowdown in the memory market.
Worldwide semiconductor revenue is projected to grow 7,9% in 2007 to $267,3 bn, according to In-Stat. Continued semiconductor revenue growth will occur in 2007 and 2008, followed by a mild average selling price-driven downturn in 2009, and a return to growth in 2010 and 2011, said the high-tech market research firm.
IC Insights has lowered its IC forecast, citing inventory adjustments and memory pricing pressures. It lowered expectations for full-year 2007 worldwide IC market growth from 7% to 2%.
The DSP market is expected to grow 8% this year, a moderate gain that will outpace the 3,5% growth in the wider chip market, according to research group Forward Concepts. General purpose DSPs, dominated by Analog Devices, Freescale, Agere/LSI and Texas Instruments, will achieve about $9 bn in sales this year. Next year will be better, as the market returns to its more typical growth of 15%, it said. The embedded DSP market will remain strong, and be almost twice the size of the general-purpose DSP chip market, it noted.
According to iSuppli, the market for controller chips for MP3 players is seeing intense price erosion as new competitors enter the fray. Global PMP/MP3 player unit shipments will rise to 268,6 million units in 2011, expanding at a growth rate of 13% from 128,7 million units in 2005, according to iSuppli.
In-Stat has forecast the global WiMax chipset market to reach 21 million units in 2011, growing from 300 000 chipset units in 2006. This growth is being driven by the emergence of mobile WiMax applications, it says. The majority of WiMax chipsets produced in 2005 and 2006 were 802.16d-compliant and aimed at fixed WiMax. A small percentage of chipsets produced early in 2006 were used in early WiBro (mobile WiMax) devices.
Revenue in the wireless communications equipment sector, which is dominated by mobile phones, is predicted to rise to $202,3 bn in 2007, up 4,3% from $193,9 bn in 2006 according to iSuppli. This compares to 8,2% growth in 2006.
Microchip Technology has secured the number-one position in worldwide 8-bit microcontroller revenue, according to industry analyst firm, Gartner Dataquest's 2006 rankings. Having shipped well over five billion microcontrollers to date, Microchip offers close to 450 PIC microcontrollers in various memory configurations. Microchip said it expects to ship its two billionth Flash microcontroller this quarter.
The National Institute of Standards and Technology (NIST) has issued guidelines for radio-frequency identification (RFID). NIST's report (www.tinyurl.com/2uf3o2) on RFID security urges everyone using the technology to evaluate security and privacy risks and use best practices to mitigate them. The institute said it released the report to meet some of its responsibilities under the Federal Information and Security Management Act of 2002. It recommends the use of firewalls to separate RFID databases from other IT systems and databases. NIST also urges users to encrypt radio signals, authenticate approved users, and block tag signals with metal shields to prevent unauthorised skimming of information.
South Korea's proprietary mobile radio-frequency ID technology, known as Object Identifier (OID), has been adopted as an international standard by the International Organization for Standardization (ISO). The mobile RFID technology allows mobile phones to read a wide range of RFID tags.
New safety guidelines for lithium-ion batteries have been jointly released by the Japan Electronics & Information Technology Industries Association (JEITA) and the Battery Association of Japan. The guidelines include steps for battery cell and package design and safety steps. It also stresses the importance of avoiding voltages higher than the rated voltage set by battery manufacturers.
Acer America has announced it is recalling 27 000 notebook batteries with cells made by Sony. According to the company, it has received no reports of incidents and found no technical issues, but the recall decision was made in caution.
Spansion has announced that it will undertake large-scale, cost-cutting measures in response to losses and poor market conditions in the NOR flash sector. Actions include the sale of non-performing assets, the consolidation of certain functional operations and other activities related to reducing expenses.
Sony has announced it will enter the blue-violet laser market with a monthly production capacity of 1,7 million units. Diodes with a 170 mW output power for 4x recording are available now. The laser diodes achieve a lifetime of 10 000 hours.
VIA Technologies has announced that the eighth annual VIA Technology Forum will take place in Taipei on 6 June, during Computex 2007, with the theme of 'Ultra Mobility'.
Technology
A revolutionary new polymorphous microprocessor architecture designed and built by the computer sciences department at the University of Texas has been unveiled at a public presentation at the university. The research team has been designing the TRIPS (Tera-op, reliable, intelligently adaptive processing system) processor for seven years. The goal is to produce a scalable architecture that can accelerate industrial and scientific workloads, reaching trillions of calculations per second on a single chip. This radical new architecture can produce improved single-thread performance - at greater power efficiencies - than conventional designs. Called explicit data graph execution (EDGE), the architecture offers a flexible alternative to the current industrial direction of providing a greater number of processor cores with each passing generation.
AMI Semiconductor is introducing an integrated processor targeted at high quality hearing aids. Called Ezairo, the 24-bit DSP has an integrated audio accelerator block that aims to increase signal quality while being powerful enough to run next-generation software for hearing aids. Ezairo provides a dynamic range up to 110 dB, up from 90 dB for existing 16-bit AMI chips. With an estimated 30 Mips, better noise cancellation, beam-forming and other signal-processing jobs are envisaged.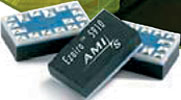 Further reading:
Quectel masterclass: IoT device application development
iCorp Technologies News
Quectel has announced the latest masterclass in a series of technical webinars titled "Accelerate wireless IoT device application development with Azure RTOS on STM32 MCUs".
Read more...
---
ST announces status of common share repurchase programme
News
The repurchase programme took place over the period from 11 to 15 July 2022 and saw ST repurchasing 210 462 ordinary shares.
Read more...
---
Actum Group leads in the interconnect industry
Actum Electronics News
Actum Group is a specialist importer and distributor of industrial and electronic products in Southern Africa and a leader in the interconnect industry.
Read more...
---
From the editor's desk: Do we have the power?
Technews Publishing News
On a recent trip to Grahamstown in the Eastern Cape I was reminded, quite rudely and abruptly to be honest, of the load shedding that has plagued South Africa for the last few years. Living in KZN, we 
...
Read more...
---
Top five MPU suppliers strengthen market dominance
Editor's Choice News
The new ranking shows that long-time leader in microprocessor units, Intel, has moved downwards closer to half the total worldwide sales in microprocessors.
Read more...
---
New meta-lens revolutionises vacuum UV optics
News
A research team co-led by City University of Hong Kong have successfully developed a novel vacuum ultra-violet (VUV) meta-lens which can generate and focus the UV light.
Read more...
---
Electronics news digest
Technews Publishing Electronic News Digest News
The Semiconductor Industry Association (SIA) has announced global semiconductor industry sales were $51,8 billion in the month of May 2022, an increase of 18,0% over the May 2021 total of $43,9 billion 
...
Read more...
---
EVENTS
Events News
IFA Berlin
2-6 September Berlin, Germany This event aims to present the latest products and innovations in the commercial electronics industry. It will offer a comprehensive overview of the international 
...
Read more...
---
Going beyond with HONOR
MyKay Tronics Editor's Choice News
The tempo of business in China is lightning fast. But if you are responsive and go a step beyond, the rewards can be great. In just 15 days, Mycronic delivered 30 dispensing systems to HONOR.
Read more...
---
Global cellular IoT connections increase 22%
News
A new report says that the global number of cellular IoT subscribers increased by 22% during 2021 and that the number of cellular IoT devices will reach 4,3 billion by 2026.
Read more...
---