printer friendly version
Electronics News Digest
27 June 2007 News Electronic News Digest
Southern Africa
Vodacom has released some key financial highlights for the year to 31 March: total customers increased by 28,2% to 30,2 million; revenue increased by 20,9% to R41,1 billion; profit from operations increased by 22,5% to R10,9 billion; EBITDA increased by 20,5% to R14,2 billion; cash generated from operations increased by 25,0% to R13,9 billion.
Control Instruments has issued 15 million ordinary shares using a vendor placement with third parties and a further 15 million ordinary shares under the general authority granted to directors to issue shares for cash. This comes in the wake of agreements with Siemens VDO for the acquisition of certain distribution rights.
Engineering and technology company Ansys' private placement ahead of its proposed listing on the JSE's AltX has been oversubscribed by up to 12 times the number of shares on offer. The black empowered company, which specialises in the design and integration of monitoring and control systems for the transport and defence industries, says it will use the R30 million raised for strategic acquisitions.
Arrow Altech Distribution has signed an agreement with Cree LED, a supplier of high bright LEDs, to distribute its full range of LED products, which include blue and green LED chips, lighting LEDs and LED backlighting solutions.
Comtest has been awarded the sole southern African distributorship for the All-Test Pro range of test instruments for field testing of electrical motors, generators and transformers.

Pictured is Richard Scott (left) from All-Test Pro, and Comtest's Ravi Lachman
A global realignment of several businesses within the Siemens organisation has led to the formation of Siemens IT Solutions and Services, a global powerhouse of IT solutions and services that was launched in South Africa recently. This division of Siemens is present in more than 40 countries, boasts annual sales revenues of around 6 billion Euros and employs more than 43 000 people worldwide.
Parsec has announced that it has achieved a Level Four Contributor rating in terms of the broad-based black economic empowerment (B-BBEE) Act of 2003, after recently undergoing a verification rating process. A level four rating implies a B-BBEE Procurement Recognition level of 100% on the Qualifying Small Enterprise Scorecard.
Michael Botha (pictured below right) from Meissner's Durban branch was recently awarded the 'Meissner Salesperson of the Year for 2006/7' by managing director Craig Brown.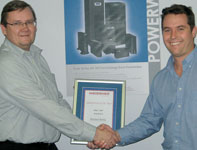 Overseas
Business
Results for National Semiconductor's fourth quarter of fiscal 2007, which ended 27 May, include net income of $90,1 million, or 28 cents per share, on sales of $455,9 million. This was 5,8% higher than the previous quarter, but 20,4% lower than the fourth quarter of 2006.
Industry
Experts from governments, international organisations, the private sector and civil society met in Yaoundé, Cameroon, recently to focus on telecommunications and information and communication technologies as a means of bolstering response to hazards and natural disasters in Central Africa. The workshop was co-organised by the International Telecommunication Union and the Cameroon Government's Ministry of Posts and Telecommunications.
A two-day forum on Telecommunications/ICT (information and communication technologies) Regulation in Africa (FTRA-2007) was held recently in Nairobi, Kenya. Organised by the International Telecommunication Union (ITU) in collaboration with the Communication Commission of Kenya, the Forum brought together African regulators and industry to share experiences and develop new approaches for ICT infrastructure-sharing and low-cost solutions to expand access to ICT across the continent.
IBM, Infineon, Freescale, Chartered Semiconductor Manufacturing and Samsung have signed a series of semiconductor process development and manufacturing agreements. The joint development agreements between these companies will now include 32 nm bulk CMOS process technology and development of process design kits to support that technology. The partners plan to pool their combined expertise and collaborate to design, develop and manufacture advanced technology until 2010.
New analysis from global growth consultancy Frost & Sullivan finds that the European telepresence market for products and services is expected to reach $409,6 million by 2013, growing at a compound annual rate of 56,5% from 2006. By cleverly using life-sized images and eye-to-eye contact, telepresence goes one step further than video conferencing, to create an immersive environment usually delivered only by live meetings.
More than 80 representatives from US government, industry and trade associations recently attended a two-day meeting on lithium-ion battery standards and transport regulations hosted by the Portable Rechargeable Battery Association (PRBA) and the US Department of Transportation. During the meetings, industry experts updated regulating authorities on the lithium-ion battery industry's commitment to improving battery testing and standards.
A new report from market researcher In-Stat predicts that the Asian contract electronics manufacturing market will more than double from $121,5 billion in 2006 to $281,8 billion in 2011, with consumer electronics leading the way, followed by the communications segment. This will see Asia accounting for 55,1% of the global market, compared to 45% in 2006. Thanks to their seemingly bottomless pool of cheap labour, China is expected to claim 76% of this market, with countries like India, Thailand and Vietnam emerging as credible contenders.
According to market researcher iSuppli, South Korea is likely to lose its dominance of the DRAM market in the coming years. The dominance of companies such as Samsung and Hynix is expected to fall from 47% of unit production to 46%, with Taiwan's and China's share increasing from 31% to 35% in 2008.
According to a report in New Scientist magazine, the world's supplies of rare metals that are used to form key components in many high-tech devices, are dwindling rapidly. The report states that elements such as tantalum - used in mobile phones - platinum - used in fuel cells and automobile catalytic converters - and indium - used in computer monitors and flat screen TVs - are 'being used up at an alarming rate'. Since these metals are chemical elements, no synthetic replacements can be developed. Thanks in large part to rapidly developing economies like India and China, even common metals such as zinc and copper are in increasingly short supply, with copper prices in particular soaring over the last year.
According to World Semiconductor Trade Statistics (WSTS), which groups the world's main semiconductor manufacturers, the global semiconductor market is now expected to grow by only 2,3% to $253,51 billion in 2007, as opposed to its October 2006 projection of 8,6%. This comes after severe price falls hurt computer memory makers in the January-March quarter. Although still expecting solid growth in 2008, expectations here have also been pulled back from 12,1% to 10,2%.
At the recent Computex Trade Fair in Taiwan, XGI and Kontron officially published the complete Universal Graphics Module design specification. This new standard is an economical option for high-end embedded graphics requiring a short time to market. Anyone interested in the new standard, which is designed for high-end PEG graphics and long term availability, can now download Version 1.0 from www.universal-graphics-module.org.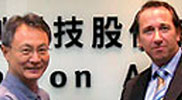 XGI (Jonathan Shyi, left) and Kontron (Dirk Finstel, right) publish the UGM 1.0 Embedded Graphics Module specification
A report from Frost & Sullivan reveals that the worldwide silicon wafer markets earned revenues of $8,61 billion in 2006 and estimates this to reach $12,28 billion in 2010. The market is currently being driven by increasing sales of consumer electronics, especially in Asia, together with a move toward larger wafer diameters. A major factor is the steep price increases for raw material.
Frost & Sullivan has performed analysis indicating that the worldwide LAN/WAN test equipment market earned revenues of $815,2 million in 2006 and estimates this to reach approximately $1,4 billion in 2013. Private enterprises appear poised to drive significant growth in this market, after previously ranking as the second largest end-user segment in 2006.
According to the report Metrology, Inspection, and Process Control in VLSI Manufacturing, recently published by The Information Network, the semiconductor metrology/inspection equipment market will recover modestly in 2007 from a dismal 2006. The market in 2006 grew only 16,4% compared to an overall growth rate for the front-end equipment market of 33,6%. This was thanks to semiconductor manufacturers finding ways to minimise capital expenditures as sampling of wafers was relaxed in 2006.
Agilent Technologies has been awarded principal member status by the WiMAX Forum. Agilent, a market leader in test equipment, has been actively involved in the Forum since 2004, introducing test equipment to support WiMAX technology.
According to research by iSuppli, the number of portable media players equipped with flash memory is expected to increase from the 5,9 million units in 2006, to 150,2 million in 2011, a 25-fold increase. Comparatively, shipments of portable media players equipped with hard disk drives are forecast to increase to only 35,3 million units in 2011 from 29,3 million units this year. This is due to continued price drops for NAND flash, the cost of which is expected to decline by more than 47% per year until 2010. Advantages of flash memory over hard disk drives include longer battery life, smaller size, more flexible form factors, and a wider variety of capacities. In addition, flash is less prone to failure.
The market for organic light emitting diode (OLED) displays was up 56% compared to the same period last year, at $121 million, but this is lower than the last quarter of 2006, according to market research company DisplaySearch. The top suppliers of these displays are Pioneer with 20,8% market share, Samsung SDI with 20,4%, LG Electronics with 20,0%, RiT with 19,4% and TDK with 4,8%.
Technology
An organic low-k dielectric 'nanoglue' material called organosilane could replace current IC interconnect techniques, since it is capable of forming bonds five times stronger than current tantalum compounds. The material is already commercially available, but scientists from Rensselaer Polytechnic Institute in the US discovered quite by accident that it gets stronger above 400°C, enabling it to withstand the high temperatures used to manufacture semiconductors.
MIPS Technologies claims to have developed the industry's first fully synthesisable 32-bit processors to achieve operating frequencies greater than 1 GHz in TSMC 65 nm process technology, based on an innovative embedded micro-architecture.
QuickLogic, a leader in low-power programmable solutions, has announced a revolutionary solution that enables the application processors in mobile products to boot directly from managed NAND devices and memory cards, eliminating the need for NOR flash and thus reducing BOM cost and PCB area.
Ramtron has launched what it claims is the industry's highest-density FRAM product with 4 Mb memory capacity, quadruple the capacity available until now. This innovation owes its success to a combination of Texas Instruments' proven 130 nm process and Ramtron's advanced FRAM cell architecture.
Using a setup consisting essentially of just two metal coils, researchers at MIT have successfully demonstrated that it is possible to power a 60 W light bulb wirelessly. The demonstration consisted of a coil creating a magnetic field, separated by two metres and an obstructing screen from a second coil that resonates at the frequency of the magnetic field and powering the bulb. Transmitting that much power opens the door to technology capable not only of charging the batteries of devices such as laptops, mobile phones and music players, but also of powering household appliances wirelessly.
Further reading:
Locked down but not knocked out
25 March 2020, ExecuKit , News
As a business, we are facing extremely hard times with the current worldwide pandemic and isolation. We are all maintaining social distancing and must learn how to do business with an enforced lockdown 
...
Read more...
---
From the editor's desk: A new era – after mourning comes rebuilding
29 April 2020, Technews Publishing , News
When I sit down to write these columns once a month, even if the topic I decide to write about is not all sunshine and roses, I always try and look for a silver lining. I'm simply not able to do that 
...
Read more...
---
Personality profile: Chris Viveiros
29 April 2020, Otto Wireless , News
The operations director of Otto Wireless Solutions shares his background, experience, advice and thoughts on the future.
Read more...
---
Locked down but not knocked out
29 April 2020, ExecuKit , News
We as a company salute the component suppliers who have supported us and are there to assist during this time even if the requests we pose are not always realistic.
Read more...
---
Electronics industry tackling the coronavirus
29 April 2020 , News
2020 has been a crazy year already. From Australian bushfires to climate emergencies to US trade tariffs, the start of the decade hasn't been very positive. Not only this, within the last few months there 
...
Read more...
---
SqwidNet becomes first Sigfox-accredited lab in southern hemisphere
29 April 2020, iSERT , News
iSERT (Safety, EMC, RF, Testing), a leader in the provision of turnkey testing solutions for EMC, RF and safety testing, has collaborated with SqwidNet, the only licenced Sigfox operator in South Africa, 
...
Read more...
---
Clearing the Static: ESD cleaning and hygiene products
29 April 2020, Altico Static Control Solutions , News
In light of the current COVID-19 pandemic, Actum Group would like to remind electronics manufacturers of our range of antistatic cleaning agents, cleanroom materials and PPE.      
Cleanroom garments and 
...
Read more...
---
Jemstech continuing its growth path
29 April 2020, Jemstech , News
Since its inception in 2005 and especially during the past five years, Jemstech has grown from a medium-sized electronic manufacturing services (EMS) provider into one of the major players for electronics 
...
Read more...
---
Company profile: Phoenix Contact
29 April 2020, Phoenix Contact , News
Phoenix Contact was founded in 1923 in Essen, Germany, by Hugo Knümann. It entered the South African market in 1969 through a local distributor, and was later established as a wholly owned subsidiary 
...
Read more...
---
In memoriam: Vivienne Caroline Dorrington - 19 June 1958 – 21 April 2020
29 April 2020, Technews Publishing , News
It is with great sadness that we announce the death of our CEO, Vivienne Dorrington, after a long and brave battle with cancer. Like her father, Ray Beaumont, who founded Technews Publishing in 1985, 
...
Read more...
---