printer friendly version
Electronics news digest
26 November 2008 News Electronic News Digest
Africa
Due to the dramatic increase in demand for UPSs experienced by Meissner over the past year, its supplier Eaton has invested in a considerable amount of off-the-shelf stock up to 160 kVA in order to offer customers faster turnaround times. The company is also lending Meissner the services of its key accounts manager and three-phase specialist Graham Kempster. Kempster will be assisting Meissner's technical and sales team for a period of one year.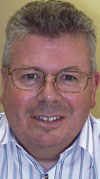 Eaton's Graham Kempster
Ericsson has rolled out a new GSM network in Guinea for the Cellcom Group. The new network, Cellcom Guinee, commercially launched during May this year. The network, which covers the Guinean capital of Conakry and the country's main rural areas, is based on the latest Ericsson Mobile Soft Switch (MSS) technology. Ericsson has also supplied the network's entire GSM telecommunication infrastructure, including packet network (GPRS and EDGE), GSM radio, microwave and SDH transmission equipment.
Overseas
Business
Cree has announced revenue of $140,4 million for its first quarter of fiscal 2009. This represents a 24% increase compared to revenue of $113,4 million reported for the first fiscal quarter last year and a 3% increase compared to the fiscal fourth quarter of 2008. GAAP net income for the first quarter was $5,9 million, or $0,07 per diluted share, compared to net income of $12,7 million or $0,15 per diluted share for the first quarter of fiscal 2008.
Kontron reported sales of 123,8 million Euros for the third quarter of the current financial year. This represents growth of 7,7% compared to the prior year period. The record 126,7 million Euros of the second quarter was once again slightly exceeded when taking into account the discontinuation of proceeds resulting from the deconsolidation of the Asian Quanmax joint venture as of 30 June. For the nine months of the current year so far completed, sales were 356,3 million Euros, compared with 322,6 million Euros in the previous year period.
Microchip has announced a $65 million investment plan for India over the next five years. As part of this investment, the company is expected to create 300 jobs at its new wholly-owned facility, the India Development Centre in Bangalore. The fully fledged development centre will work on integrated circuit development and marketing, microcontroller development tools and corporate information systems.
Cypress Semiconductor announced that consolidated revenue for the 2008 third quarter was $600,2 million, up 1,3% from $592,3 million for the prior quarter, and up 33,5% from $449,5 million for the year-ago period. GAAP net loss was $23,6 million in the 2008 third quarter, or a diluted loss per share of $0,16. Last quarter's diluted earnings per share were $0,14, while GAAP diluted earnings per share in the year-ago third quarter were $0,18.
ARM Holdings has announced unaudited financial results for the third quarter and nine months ended 30 September 2008. Quarterly revenue was a record high $134,4m, up 7% year-on-year, while normalised earnings per share were $0,92, up 23% from last year. Revenue for the year to date was $204,6 million, up from $194,8 million last year. Year-to-date earnings per share were $0,02, a similar figure to last year.
RF Micro Devices reported financial results for its fiscal 2009 second quarter ended 27 September 2008. Quarterly revenue increased approximately 13,0% sequentially to $271,7 million, reflecting market share gains in cellular front ends and growth in Polaris transceivers. GAAP gross margin decreased sequentially from 30,1% to 28,3. Operating loss was approximately $19,0 million on a GAAP basis, reflecting restructuring charges related to the strategic restructuring announced on 6 May 2008.
For the third quarter of its 2008 fiscal year, Freescale Semiconductor reported net sales of $1,41 billion, compared to $1,47 billion in the second quarter of 2008 and $1,45 billion in the third quarter of 2007. The reported loss from operations for the quarter was $3,37 billion, compared to a loss of $202 million in the third quarter of 2007. The operating loss for the latest quarter included non-cash charges related to an impairment to goodwill and intangible assets totalling $3,37 billion. Adjusted EBITDA was $387 million for the third quarter of 2008 and $1,66 billion for the 12 months ended 26 Sept 2008.
STMicroelectronics' third quarter net revenues increased 2,7% sequentially and 10,9% year-over-year to $2,46 billion – excluding results from ST-NXP Wireless, a joint venture owned 80% by ST. Gross margin, before the positive effect of the wireless addition and the adverse impact of purchase accounting adjustments, improved to 37,2% from 36,8% in the prior quarter. In the third quarter of 2007, gross margin was 35,2%, or 39,1% excluding FMG. The company estimates that year-over-year currency changes negatively impacted the Q3 2008 gross margin of 37,2% by approximately 250 basis points.
Opnext announced unaudited financial results for the second quarter ended 30 September. Sales decreased $4,0 million, or 4,8%, to $80,2 million compared to the previous quarter, while they were 4,7% higher than in the like period last year. Gross margin was 30,5% as compared to 32,2% for the previous quarter and 35,2% for the second quarter of 2007. Net income was $1,2 million, or $0,02 per diluted share, as compared to $2,6 million, or $0,04 per diluted share, for the first quarter of 2008, and $5,8 million, or $0,09 per diluted share, for the second quarter of 2007.
Intersil announced that due to current economic conditions, it is taking steps to restructure, including a 9% reduction of its global workforce – a total of approximately 140 employees. The company also expects to reduce its overall annual operating costs by approximately $12 – $14 million. It expects to record one-time pretax charges of approximately $20 million to $23 million, or $0,11 to $0,12 per share, after tax, during the fourth quarter for costs associated with these actions, including estimated impairment charges and other related costs.
Companies
IDT has purchased the video processing technology and related assets from Silicon Optix, including the Hollywood Quality Video (HQV) brand and the Reon product line. In addition, IDT has acquired the members of the Silicon Optix HQV intellectual property and engineering teams necessary to continue delivering video processing solutions. The transaction was approved by the boards of directors of each company and the stockholders of Silicon Optix. Financial details were not disclosed.
Atmel's board of directors has unanimously rejected the unsolicited acquisition proposal from Microchip and ON Semiconductor, on the basis that it is inadequate in multiple respects, including value, conditionality and complexity, and is not in the best interests of Atmel's stockholders. Neither Microchip nor ON have responded officially to the rejection.
Telit has acquired One RF Technology, a developer of ZigBee solutions. One RF's technology will enable Telit to capture M2M market segments that require short-range solutions or combined solutions integrating short range and cellular technology. The consideration for One RF acquisition is 1 300 000 new ordinary shares in the capital of Telit. Telit's total issued share capital – following the issuance of the new shares – is 44 514 281 ordinary shares and one voting right per share. There are no shares held in treasury.
Infineon and Micron have announced a strategic technology collaboration for the development of high-density subscriber identity module (HD-SIM) cards reaching beyond 128 MB. The companies are leveraging their respective expertise to architect modular chip solutions that combine an Infineon security microcontroller with Micron's NAND Flash memory with features designed specifically for HD-SIM applications. The chips are expected to host features such as error correction code, power management and ETSI compliance.
Industry
In response to numerous inquiries from the automotive industry, IPC will host a meeting with European automotive industry leaders including Porsche, Volvo and Volkswagen to investigate adding automotive-specific requirements for electronics used in cars, trucks and military vehicles to IPC-A-610D, 'Acceptability of Electronic Assemblies'.
Over the last several years, the market for Wi-Fi chipsets (primary components, not including power amplifiers, LNAs and other external components) has grown from just over $1 billion in 2006, through just over $2 billion in 2007, and is expected to deliver revenue of nearly $3 billion in 2008. According to ABI Research, more than 1 billion chipsets are expected to ship during 2011 alone, while the 2013 opportunity will be more than 1,6 billion units. On the device side, this is driven mainly by cellular handsets, consumer electronics, laptops, netbooks and MIDs. The laptop market already has 100% attach rates, so much of the growth will come in the other device categories.
Worldwide sales of semiconductors increased by 1,6% to $23 billion in September compared to sales of $22,6 billion in September 2007, according to the Semiconductor Industry Alliance (SIA). Sales grew by 1,1% from August 2008 when sales were $22,7 billion. Sales of $196,4 billion for the first nine months of 2008 were up by 4% compared to the first nine months of 2007 when sales were $189 billion. Excluding memory products, industry sales in September grew by 7,8% year-on-year. Bit demand for some memory products grew by more than 100% year-on-year; however, significant price attrition continued to impact revenues. Sales of Flash memory chips declined by 37,5% year-on-year, while sales of DRAMs declined by 11,1% from September 2007.
Findings from the recently published Semicast report on 32/64-bit MCUs, embedded microprocessors and general purpose DSPs suggest steady and ongoing growth for this market, despite the current economic uncertainties particularly affecting confidence in the US, Europe and Japan. Total revenues are forecast to reach $8,6 billion in 2008, up from $8,1 billion in 2007, and to grow steadily in each year over the period to 2013 to $14,2 billion, a CAGR approaching 10%. Consumer electronics are likely to suffer a significant decline in 2009, as the full effects of the economic problems slow demand for products such as LCD TVs, MP3 players, DVD players, digital cameras and cell phones. However, consumer electronics accounts for a relatively small portion of demand for the aforementioned components, with more secure industries such as automotive, industrial/medical and communications infrastructure accounting for the majority (about three-quarters) of revenues.
Technology
Enfis has launched what it claims is the world's brightest LED array. The Enfis Quattro generates 12 000 lumens and comprises an LED array, optics, thermal management and electronics. The light engine provides a stable, intelligent platform for the design, development, test and manufacture of lighting systems.

Enfis Quattro LED array
A US R&D company called Battelle has developed a wireless transmission system that could potentially challenge fibre-optics as the fastest way of transmitting data. Using off-the-shelf optical telecommunication components, the invention combines two low-frequency laser beams to generate a 100 GHz signal, with which the research team has demonstrated data rates of 10,6 Gbps between antennas 800 metres apart, and 20 Gbps in a lab environment.
The system employs millimetre-wave transmission to achieve these speeds, which are far in excess of current 'high-speed' technologies such as Wi-Fi, 3G and even WiMax, which can achieve no more than hundreds of Mbps.
Further reading:
Locked down but not knocked out
25 March 2020, ExecuKit , News
As a business, we are facing extremely hard times with the current worldwide pandemic and isolation. We are all maintaining social distancing and must learn how to do business with an enforced lockdown 
...
Read more...
---
From the editor's desk: A new era – after mourning comes rebuilding
29 April 2020, Technews Publishing , News
When I sit down to write these columns once a month, even if the topic I decide to write about is not all sunshine and roses, I always try and look for a silver lining. I'm simply not able to do that 
...
Read more...
---
Personality profile: Chris Viveiros
29 April 2020, Otto Wireless , News
The operations director of Otto Wireless Solutions shares his background, experience, advice and thoughts on the future.
Read more...
---
Locked down but not knocked out
29 April 2020, ExecuKit , News
We as a company salute the component suppliers who have supported us and are there to assist during this time even if the requests we pose are not always realistic.
Read more...
---
Electronics industry tackling the coronavirus
29 April 2020 , News
2020 has been a crazy year already. From Australian bushfires to climate emergencies to US trade tariffs, the start of the decade hasn't been very positive. Not only this, within the last few months there 
...
Read more...
---
SqwidNet becomes first Sigfox-accredited lab in southern hemisphere
29 April 2020, iSERT , News
iSERT (Safety, EMC, RF, Testing), a leader in the provision of turnkey testing solutions for EMC, RF and safety testing, has collaborated with SqwidNet, the only licenced Sigfox operator in South Africa, 
...
Read more...
---
Clearing the Static: ESD cleaning and hygiene products
29 April 2020, Altico Static Control Solutions , News
In light of the current COVID-19 pandemic, Actum Group would like to remind electronics manufacturers of our range of antistatic cleaning agents, cleanroom materials and PPE.      
Cleanroom garments and 
...
Read more...
---
Jemstech continuing its growth path
29 April 2020, Jemstech , News
Since its inception in 2005 and especially during the past five years, Jemstech has grown from a medium-sized electronic manufacturing services (EMS) provider into one of the major players for electronics 
...
Read more...
---
Company profile: Phoenix Contact
29 April 2020, Phoenix Contact , News
Phoenix Contact was founded in 1923 in Essen, Germany, by Hugo Knümann. It entered the South African market in 1969 through a local distributor, and was later established as a wholly owned subsidiary 
...
Read more...
---
In memoriam: Vivienne Caroline Dorrington - 19 June 1958 – 21 April 2020
29 April 2020, Technews Publishing , News
It is with great sadness that we announce the death of our CEO, Vivienne Dorrington, after a long and brave battle with cancer. Like her father, Ray Beaumont, who founded Technews Publishing in 1985, 
...
Read more...
---