printer friendly version
Electronic Touch Systems company profile
1 April 2009
News
Electronic Touch Systems (ETS) has supplied membrane keypad solutions and ancillary products to the South African electronics industry for nearly two decades.
Having been founded in 1990 by Irish expatriate Tony Ellis, the company has grown from strength to strength ever since, and looks forward to celebrating its vital position in the industry with its 20th anniversary next year.
From humble beginnings in Albertville Johannesburg, the company grew steadily until the premises simply were not large enough to contain its burgeoning production facilities. After a short-lived move to temporary premises in Albertskroon, in 1992 the company made its home in a 650 square metre facility in a prime Northcliff location. Having undergone extensive renovations required to optimise it for a streamlined operation, the building now houses printing, assembly and die-cutting operations on three separate floors and an administration department on the top floor.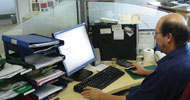 Graphic design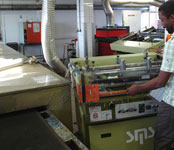 Printing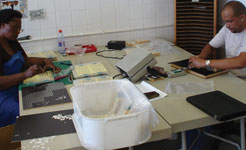 Assembly and testing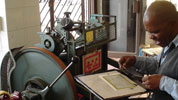 Die cutting
When founder and managing director Tony Ellis passed away tragically in 2007, the current team of directors faced a stern challenge to maintain the company's performance. In this regard, it exceeded even its own expectations by growing turnover by some 13% in the most recent financial year, the first with the new management team at the helm.
Financial director Denzil Hagemann attributes the way ETS survived the loss of its leader to its highly capable and stable staff complement: "Most of our staff have been with the company for 10 to 15 years; not bad for a company that has been running for just 19 years. This kind of team makes any transition period so much easier to manage." Hagemann, himself a 15-year veteran with the company, acknowledges that Ellis laid a solid platform for the future development of the company: "Of course Tony has been sorely missed, but we are all exceptionally proud of the fact that we have managed to continue growing the business despite his loss."
Although best known for its membrane keypads (as the company's name implies), ETS actually started business reproducing photographic materials for the silk screen printing industry. Spying a gap in the marketplace and with increasing confidence in its production capabilities, the company then began manufacturing polycarbonate labels, followed shortly afterwards by its range of membrane keypads. The product range has since expanded still further to include integration of LEDs into keypads, as well as supply of domed badges.
Membrane keypad technology has evolved slowly in the last 20 years, but that is not necessarily a bad thing. Marketing director Patrick Thomas, proud holder of a doctorate in literature and philosophy from the University of Johannesburg, who has been with the company since its inception, explains: "While we do and always will continue to explore new technologies that can enhance our products, the fact that we have employed pretty much the same manufacturing techniques for all these years has given us the opportunity to concentrate on our quality processes."
And speaking of quality, this is something to which ETS certainly does not simply pay lip service. Each and every button on each and every keypad the company manufactures is manually tested before being dispatched. It is thanks to this attention to detail, as well as its highly trained and experienced staff members, that the company has received numerous SASPA and CBI awards for quality and zero defects.
Although the company faces stiff price competition from Eastern competitors, Thomas is not overly concerned about the threat: "We have seen cases where companies who have come to us for prototypes have then taken their high-volume production requirements to China. We have also seen customers come back to us once they experience quality problems with these cheap Asian products. We believe our strong focus on quality, as well as our eager and immediate service capabilities, will continue to hold us in good stead as they always have."
With the current global economic crisis still in everybody's mind and on most people's lips, Hagemann remains upbeat about ETS's future: "We remain positive for growth in the next fiscal year, which will be achieved by reviewing and evaluating our company's internal operations, strategic plans, process flows, organisational structure and policies to see how we can cut costs, reduce duplication, increase productivity and improve fiscal oversight. We are confident that with our strong financial position and an outstanding team of personnel, we will be poised for unprecedented growth come the inevitable economic upturn in a couple of years' time."
Credit(s)
Further reading:
RS Components SA partners with Engineers Without Borders
RS Components (SA) News
The annual Engineering for People Design Challenge as well as the Inspiring and Building Community Leaders programmes kicked off earlier this year. The competition, now in its 10th year, is a year-long 
...
Read more...
---
Electronics News Digest
News
South Africa
Altron Arrow has signed a partnership to distribute Teltonika Networks' products in sub-Saharan Africa. This will help Altron Arrow to bring an even wider range of professional network connectivity 
...
Read more...
---
Personality profile: Doug Gunnewegh
Editor's Choice News
"They say if it doesn't kill you, it only makes you stronger, so by now all the survivors are superheroes."
Read more...
---
Panasonic commercialises high-reliability semiconductor substrate
News
Panasonic's Industrial Solutions Company has commercialised a semiconductor package substrate material (which it calls R-1515V) that enables both low package warpage and high assembly-level reliability. 
...
Read more...
---
ICASA commits to provisional assignment of high-demand spectrum
News
ICASA (the Independent Communications Authority of South Africa) has decided – following consultation with several of SA's telecoms infrastructure operators – to invite applications for provisional assignment 
...
Read more...
---
World-first demo of wireless-powered 5G base station
Editor's Choice News
Ericsson and PowerLight Technologies are exploring the possibility of delivering safe wireless power-beaming capabilities to enable cleaner and more sustainable operations for mobile networks.
Read more...
---
RS Components SA partners with Engineers Without Borders
RS Components (SA) News
The annual Engineering for People Design Challenge as well as the Inspiring and Building Community Leaders programmes kicked off earlier this year. The competition, now in its 10th year, is a year-long 
...
Read more...
---
Products of the Year 2021
Editor's Choice News
A selection of some of the best products to hit the South African electronic engineering market this year.
Read more...
---
ICAPE Group enters SA market with acquisition of TRAX
TraX Interconnect News Manufacturing / Production Technology, Hardware & Services
ICAPE Group is implementing its global strategy with its acquisition of TRAX Group in South Africa, resulting in the formation of two new entities: ICAPE–TRAX and ICAPE South Africa. Commenting on the 
...
Read more...
---
Company profile: Hiconnex
Hiconnex News
Hiconnex offers after-sales, design and technical support, backed by a deep understanding that the difference between winning and losing business lies in putting customers' needs first.
Read more...
---