printer friendly version
Electronic Touch Systems company profile
1 April 2009
News
Electronic Touch Systems (ETS) has supplied membrane keypad solutions and ancillary products to the South African electronics industry for nearly two decades.
Having been founded in 1990 by Irish expatriate Tony Ellis, the company has grown from strength to strength ever since, and looks forward to celebrating its vital position in the industry with its 20th anniversary next year.
From humble beginnings in Albertville Johannesburg, the company grew steadily until the premises simply were not large enough to contain its burgeoning production facilities. After a short-lived move to temporary premises in Albertskroon, in 1992 the company made its home in a 650 square metre facility in a prime Northcliff location. Having undergone extensive renovations required to optimise it for a streamlined operation, the building now houses printing, assembly and die-cutting operations on three separate floors and an administration department on the top floor.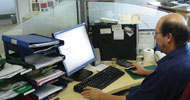 Graphic design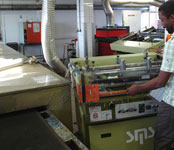 Printing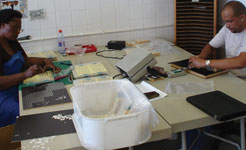 Assembly and testing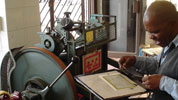 Die cutting
When founder and managing director Tony Ellis passed away tragically in 2007, the current team of directors faced a stern challenge to maintain the company's performance. In this regard, it exceeded even its own expectations by growing turnover by some 13% in the most recent financial year, the first with the new management team at the helm.
Financial director Denzil Hagemann attributes the way ETS survived the loss of its leader to its highly capable and stable staff complement: "Most of our staff have been with the company for 10 to 15 years; not bad for a company that has been running for just 19 years. This kind of team makes any transition period so much easier to manage." Hagemann, himself a 15-year veteran with the company, acknowledges that Ellis laid a solid platform for the future development of the company: "Of course Tony has been sorely missed, but we are all exceptionally proud of the fact that we have managed to continue growing the business despite his loss."
Although best known for its membrane keypads (as the company's name implies), ETS actually started business reproducing photographic materials for the silk screen printing industry. Spying a gap in the marketplace and with increasing confidence in its production capabilities, the company then began manufacturing polycarbonate labels, followed shortly afterwards by its range of membrane keypads. The product range has since expanded still further to include integration of LEDs into keypads, as well as supply of domed badges.
Membrane keypad technology has evolved slowly in the last 20 years, but that is not necessarily a bad thing. Marketing director Patrick Thomas, proud holder of a doctorate in literature and philosophy from the University of Johannesburg, who has been with the company since its inception, explains: "While we do and always will continue to explore new technologies that can enhance our products, the fact that we have employed pretty much the same manufacturing techniques for all these years has given us the opportunity to concentrate on our quality processes."
And speaking of quality, this is something to which ETS certainly does not simply pay lip service. Each and every button on each and every keypad the company manufactures is manually tested before being dispatched. It is thanks to this attention to detail, as well as its highly trained and experienced staff members, that the company has received numerous SASPA and CBI awards for quality and zero defects.
Although the company faces stiff price competition from Eastern competitors, Thomas is not overly concerned about the threat: "We have seen cases where companies who have come to us for prototypes have then taken their high-volume production requirements to China. We have also seen customers come back to us once they experience quality problems with these cheap Asian products. We believe our strong focus on quality, as well as our eager and immediate service capabilities, will continue to hold us in good stead as they always have."
With the current global economic crisis still in everybody's mind and on most people's lips, Hagemann remains upbeat about ETS's future: "We remain positive for growth in the next fiscal year, which will be achieved by reviewing and evaluating our company's internal operations, strategic plans, process flows, organisational structure and policies to see how we can cut costs, reduce duplication, increase productivity and improve fiscal oversight. We are confident that with our strong financial position and an outstanding team of personnel, we will be poised for unprecedented growth come the inevitable economic upturn in a couple of years' time."
Credit(s)
Further reading:
Quectel masterclass: IoT device application development
iCorp Technologies News
Quectel has announced the latest masterclass in a series of technical webinars titled "Accelerate wireless IoT device application development with Azure RTOS on STM32 MCUs".
Read more...
---
ST announces status of common share repurchase programme
News
The repurchase programme took place over the period from 11 to 15 July 2022 and saw ST repurchasing 210 462 ordinary shares.
Read more...
---
Actum Group leads in the interconnect industry
Actum Electronics News
Actum Group is a specialist importer and distributor of industrial and electronic products in Southern Africa and a leader in the interconnect industry.
Read more...
---
From the editor's desk: Do we have the power?
Technews Publishing News
On a recent trip to Grahamstown in the Eastern Cape I was reminded, quite rudely and abruptly to be honest, of the load shedding that has plagued South Africa for the last few years. Living in KZN, we 
...
Read more...
---
Top five MPU suppliers strengthen market dominance
Editor's Choice News
The new ranking shows that long-time leader in microprocessor units, Intel, has moved downwards closer to half the total worldwide sales in microprocessors.
Read more...
---
New meta-lens revolutionises vacuum UV optics
News
A research team co-led by City University of Hong Kong have successfully developed a novel vacuum ultra-violet (VUV) meta-lens which can generate and focus the UV light.
Read more...
---
Electronics news digest
Technews Publishing Electronic News Digest News
The Semiconductor Industry Association (SIA) has announced global semiconductor industry sales were $51,8 billion in the month of May 2022, an increase of 18,0% over the May 2021 total of $43,9 billion 
...
Read more...
---
EVENTS
Events News
IFA Berlin
2-6 September Berlin, Germany This event aims to present the latest products and innovations in the commercial electronics industry. It will offer a comprehensive overview of the international 
...
Read more...
---
Going beyond with HONOR
MyKay Tronics Editor's Choice News
The tempo of business in China is lightning fast. But if you are responsive and go a step beyond, the rewards can be great. In just 15 days, Mycronic delivered 30 dispensing systems to HONOR.
Read more...
---
Global cellular IoT connections increase 22%
News
A new report says that the global number of cellular IoT subscribers increased by 22% during 2021 and that the number of cellular IoT devices will reach 4,3 billion by 2026.
Read more...
---