printer friendly version
Electronics news digest
30 September 2009 News Electronic News Digest
South Africa
Powertech Transformers has expanded its empowerment shareholding and restructured its transformer business. Power Matla, chaired by Solly Moloko, has taken a 20% equity in the combined Powertech Transformers and Desta Power Matla operations. An additional 5,1% equity for empowerment in Powertech Transformers is currently under consideration and once completed will enable the business to achieve full points on its equity ownership portion in terms of the DTI's Codes of Good Practice. Empowerment has been facilitated by combining the power and distribution transformer operations into one legal entity.
Overseas
Business
u-blox announced sales for the first half year of 2009 of CHF (Swiss Franc) 34,1 million. This constitutes a 15,4% decline over the first half year of 2008. Gross profit increased strongly by 14,6% from CHF 16,1 million to CHF 18,4 million while net profits of CHF 1,5 million were lower by 58,3% in comparison to the same period in 2008. The company experienced continued growth in the Asia Pacific region, but encountered decreased sales in the Americas and EMEA due to the economic downturn.
National Semiconductor reported sales of $314 million and net income of $29,8 million, or 13 cents per diluted share, for the first quarter of fiscal 2010, which ended 31 August. First quarter sales were 12% higher than sales in the fourth quarter of fiscal 2009, when the company reported $281 million in sales, but lower than the $466 million reported in last year's first fiscal quarter. The sequential improvement in National's first quarter sales was driven by increased demand for the company's energy-efficient analog products, especially from distributors serving broad industrial markets. Net income of $29,8 million, or 13 cents per diluted share, was an increase from the net loss of $64 million or 28 cents per share in the fourth quarter of fiscal 2009.
Avago reported financial results for its third quarter of fiscal year 2009, ended 2 August. Revenue was $363 million, an increase of 12% when compared with the previous quarter, and down 17% from the same quarter last year. Net income was $2 million, or $0,01 per diluted share. This compares with a net loss of $31 million, or $0,14 per diluted share last quarter, and net income of $44 million, or $0,20 per diluted share in the same quarter last year.
Agilent Technologies reported revenues of $1,06 billion for the third fiscal quarter of 2009, 27% below one year ago. Third quarter GAAP net loss was $19 million, or $0,06 per diluted share. Last year's third quarter GAAP net income was $169 million, or $0,45 per share. During the third quarter, the company had restructuring and asset impairment charges of $81 million and $11 million of non-cash amortisation. It also recognised a tax benefit of $36 million and had $16 million of other net charges. Excluding these items, Agilent reported third quarter adjusted net income of $53 million, or $0,15 per share. On a comparable basis, the company earned $198 million, or $0,53 per share, one year ago.
For its fourth fiscal quarter of 2009, International Rectifier recorded revenue of $159,6 million. Excluding intellectual property and transition services segment revenue, revenue from ongoing customer segments was $154,1 million, up 16,2% compared with $132,6 million in the prior quarter, and down 18,6% compared with $189,4 million reported in the fourth quarter fiscal year 2008. Net income was $29,1 million, or $0,41 per share, compared with a net loss of $82,6 million or $1,15 per share in the prior quarter, and a net loss of $50,4 million or $0,69 per share in the fourth quarter of fiscal year 2008.
Altium has announced its final financial results for the three months ending 30 June 2009, and for the financial year ending 30 June 2009. For the quarter, sales were $14,5 million, down 28% from the corresponding quarter a year ago. The company recorded EBITDA for the full financial year of $4,8 million on sales of $51,3 million, compared to an EBITDA of $576 000 a year ago, when annual sales were $55,8 million.
Industry
Worldwide sales of semiconductors in July were $18,2 billion, an increase of 5,3% from June 2009 when sales were $17,2 billion, the Semiconductor Industry Association (SIA) has reported. SIA noted that the year-on-year rate of decline has moderated as the year has progressed. The first six months of 2009 saw an average monthly year-on-year decline of approximately 25%, while July 2009 sales were 18,2% lower than July 2008. All monthly sales numbers represent a three-month moving average of global semiconductor sales.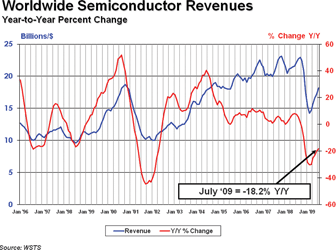 The Zigbee Alliance has released the ZigBee RF4CE specification for advanced remote controls for public download at www.zigbee.org/rf4ce. ZigBee RF4CE is designed to replace infrared with radio frequency communication in remote controls, allowing non-line-of-sight operation, greater range and longer battery life for consumer electronic remote controls. By supporting two-way communication, it opens the door for a whole new set of capabilities. The ZigBee RF4CE specification is designed for a wide range of products, including home entertainment devices, lighting control, security monitoring, keyless entry systems and many more.
Triggered by the introduction this year of a wave of cellphones equipped with main displays using active-matrix organic light-emitting diode (AM-OLED) technology, the global market for such screens is set to explode in the coming years, according to iSuppli. Shipments of OLED displays for the main screens of cellphones are expected to rise by a factor of eight from 2009 to 2015. Global shipments of OLED main cellphone displays will rise to 178 million units in 2015, up from 22,2 million in 2009. Nokia's new N85 represents the new breed of handsets with relatively large OLED primary displays arriving in the market. The N85 sports a 2,6-inch diagonal AM-OLED with a pixel format of 240 by 320. An iSuppli teardown of the N85 estimates the cost of the AM-OLED at $7,05, compared to $6,50 for an LCD of equivalent size and resolution. OLED displays also offer lower power consumption than LCDs.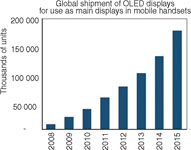 Technology
Xilinx is using Texas Instruments' power management technology to simplify power design in its new Virtex-6 ML605 field programmable gate array (FPGA) evaluation kit. TI's Fusion Digital Power controllers give FPGA users advanced power management capability and design flexibility, including the ability to monitor a power system's behaviour in realtime.
A startup company called NuPGA is developing a method of deploying a carbon-based memory process in FPGAs. The technology uses graphene nanoribbons as the vias between chip layers; these connections can then be made and broken by voltage pulses to reprogram the FPGA. Different voltages are used for different functions: 3,5 V breaks a connection; 3 V repairs a break; and 1 V interrogates a memory cell to determine its memory state. The graphene memory architecture is expected to offer advantages such as high density, limitless reprogramming counts, and insensitivity to radiation and temperature variation.
Further reading:
Personality profile: Jean Mearns
29 July 2020, WH Circuit , News
"No one works for me, they only work with me, for without each other our team will fail to exceed the expectations of our customers."
Read more...
---
Letter to the editor
29 July 2020 , News
I take exception to the article 'To fake or not to fake' published in the June edition of Dataweek that is clearly based on the principle 'guilty until proven innocent'. I am by no means an expert 
...
Read more...
---
Q&A with Brandon Kuhn and Steve Stafford
29 July 2020 , News
Q: What is the rationale behind the reorganisation? What impact will it have on Avnet's customers in South Africa?    A (Kuhn):
Since 2009, our shared front-end model in South Africa has differed from the 
...
Read more...
---
Avnet EMEA names two new leaders to SA operation
29 July 2020 , News
Avnet has named Steve Stafford and Brandon Kuhn as new leaders in South Africa following the completion of a reorganisation in the region.
Read more...
---
UCT chooses Tektronix instruments for training lab
29 July 2020, Comtest , News
Comtest, local partner to Tektronix, recently assisted the University of Cape Town (UCT) physics department in refurbishing its electrical training laboratory. All of the existing analog oscilloscopes 
...
Read more...
---
New electromagnetic solutions range from Accutronics
29 July 2020, Accutronics , News
Accutronics has been appointed as the reseller for the Electromagnetic Integrated Solutions (EIS) range of products from API Technologies. APITech offers a complete line of coaxial EMI solutions, 
...
Read more...
---
Fighting COVID-19 using TV white space spectrum
29 July 2020 , News
The CSIR has partnered with the Technology Innovation Agency (TIA) to enable local Internet service providers to deploy Television White Space (TVWS) networks, using the CSIR-developed Secondary Geo-Location 
...
Read more...
---
Clearing the Static: ESD wrist straps
29 July 2020, Actum Electronics , News
The human body is the primary source of electrostatic charge generation. In order to control and reduce static charge build-up and prevent electrostatic discharges (ESD), we use grounding systems to ensure 
...
Read more...
---
From the editor's desk: This too shall pass
29 July 2020, Technews Publishing , News
Things were tough enough for the South African electronics manufacturing industry before, but this year has thrown up unprecedented challenges that nobody could have foreseen and which are outside of 
...
Read more...
---
Electronics news digest
29 July 2020 , News
South Africa
• As part of the national data-driven approach to countering COVID-19, the CSIR has developed a platform that monitors human mobility to better understand movement patterns across specific 
...
Read more...
---