printer friendly version
Electronics news digest
28 April 2010 News Electronic News Digest
Overseas
Business
EXFO has reported record sales for its second fiscal quarter ended 28 February 2010. Sales increased 16,7% to $54,1 million from $46,4 million in the second quarter of 2009 and 18,8% from $45,6 million in the first quarter of 2010. GAAP net earnings in the second quarter of fiscal 2010 totalled $1,2 million, or $0,02 per diluted share, compared to $2,7 million, or $0,04 per diluted share, in the same period last year and $0,3 million, or $0,01 per diluted share, in the first quarter of fiscal 2010.
Taiwan Semiconductor Manufacturing Company announced unconsolidated net sales for March 2010 of approximately NT$30,82 billion, an increase of 5,6% over February 2010 and an increase of 126,3% over March 2009. Revenues for January through March 2010 totalled NT$89,18 billion, an increase of 137,4% compared to the same period in 2009. On a consolidated basis, net sales for March 2010 were approximately NT$ 31,92 billion, an increase of 5,9% over February 2010 and an increase of 124,8% over March 2009. Revenues for January through March 2010 totalled NT$92,19 billion, an increase of 133,4% compared to the same period in 2009.
Micron announced results of operations for its second quarter of fiscal 2010, which ended 4 March 2010. For the second quarter of fiscal 2010, the company had net income attributable to Micron shareholders of $365 million, or $0,39 per diluted share, on net sales of just under $2 billion. These results compare to net income of $204 million, or $0,23 per diluted share, on net sales of $1,74 billion for the first quarter of fiscal 2010 and a net loss of $763 million, or $0,99 per diluted share, on net sales of $1,0 billion for the second quarter of fiscal 2009.
Companies
Harman International and Research In Motion (RIM) have reached an agreement for RIM to acquire QNX Software Systems, the details of which have not been revealed. This strategic move is expected to further strengthen QNX penetration in the automotive market and foster innovation in other markets. QNX, based in Ontario, Canada, was founded in 1980 and acquired by Harman International in 2004. The unit's QNX Neutrino open platform operating system is deployed across multiple business sectors including automotive, industrial, telecommunications, medical, defence and aerospace.
Avago Technologies has filed a patent infringement lawsuit in the US District Court for the Eastern District of Texas against STMicroelectronics. Avago alleges that certain STMicroelectronics products infringe four of Avago's patents covering optical navigation technology and is seeking cash compensation and an order preventing further infringement of the technology.
Hamamatsu Photonics recently received a Prism award, given in recognition of its MicroFocus X-ray Sources (MFX). The 'Prism awards for photonics innovation' is an international competition for companies that realise innovative products that break conventional ideas, solve problems and improve life with photonics technology. The winning MFX source is a 160 kV open type, featuring a 0,25 μm resolution and high output intensity. A small focal point prevents blurring of X-ray images and delivers a sharp enlarged image.
Microchip and Silicon Storage Technology announced that Microchip has completed its previously announced acquisition of SST following approval of the transaction by SST shareholders at SST's special meeting of shareholders held recently. Approximately 90,9% of the SST shares voted were voted in favour of the merger agreement, under which SST shareholders will receive $3,05 per share in cash.
Industry
Thanks to rapid growth in the high-end server, notebook, mobile handset and wired communication segments, the Gallium Nitride (GaN) power management semiconductor market is expected to reach $183,6 million in revenue by 2013, up from virtually nil in 2010, according to iSuppli. GaN is an emerging process technology for power management chips that recently moved beyond the university-based testing phase and into the commercialisation stage. The technology represents an attractive market opportunity for suppliers by providing their customers with capabilities that may be out of the reach of present semiconductor process materials.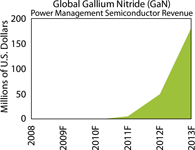 The Embedded Microprocessor Benchmark Consortium (EEMBC) announced it is developing new benchmarks that will track the performance of embedded processors with floating-point hardware units, an increasingly popular chip feature for graphics, audio, motor control and many other high-end processing tasks. Floating point (FP) refers to the ability of an embedded processor to crunch numbers that are too large or small to be represented as integers. Today, many embedded processors include hardware FP units (FPUs) to enable higher levels of precision. The new EEMBC benchmarks will allow users to evaluate FPU performance on the basis of consistent and controlled data, thus serving the needs of processor vendors, compiler vendors and system developers alike.
Gartner Dataquest has recognised RF Micro Devices as the worldwide leading supplier of mobile phone power amplifiers and front end modules, based on revenue, and the worldwide leading supplier of mobile phone RF devices, based on revenue, for 2009. According to a recent report, RFMD maintained its number one position in both categories. Also in the report, Gartner identified RFMD as the world's eighth largest supplier of overall mobile phone application-specific semiconductors in 2009, based on revenue. RFMD's 2009 revenue in the category increased to $712 million, highlighting RFMD as one of only four companies in the report to achieve year-over-year growth in this category.
The Semiconductor Industry Association (SIA) has reported that worldwide semiconductor sales in February were $22,0 billion, a decrease of 1,3% from January when sales were $22,3 billion. February sales grew by 56,2% from February 2009 when they were $14,1 billion. All monthly sales numbers represent a three-month moving average. Unit sales of the two leading demand drivers for semiconductors – personal computers and cellphones – are now projected to grow in the low- to mid-teens in 2010. While the 56% year-on-year growth reflected in the February sales number is encouraging, it is important to note that January and February of 2009 marked the low point for the semiconductor industry during the worldwide economic downturn.
Worldwide semiconductor capital equipment spending totalled $16,6 billion in 2009, a 45,8% decline from 2008, according to final results by Gartner. In major segments, wafer fab equipment declined 47%, while back-end equipment (BEE) decreased 40%, as both areas were hit hard by reductions in capital spending. Despite a 38% decline in revenue in 2009, Applied Materials increased its worldwide market share to 15,1% (up from 13,2% in 2008). Tokyo Electron returned to the No. 2 position for semiconductor equipment, overtaking ASML. In 2009, only three companies had equipment sales greater than $1 billion, compared with six in 2008 and 10 in 2007.
The EDA Consortium announced that EDA industry revenue for Q4 2009 was $1,26 billion, an 8,1% sequential increase from Q3. On a Q4/Q4 basis, EDA industry revenue declined 4,2%, compared to $1,32 billion in Q4 2008. The four-quarter moving average declined 9,5%. Companies that were tracked employed 25 995 professionals in Q4 2009, down 4,8% from the 27 311 employed in Q4 2008, but up 0,2% from the 25 942 employed in Q3 2009. Computer-aided engineering (CAE), EDA's largest category, generated revenue of $482,3 million in Q4 2009. This represents a 3,9% decrease over the same period in 2008. The four-quarter moving average for CAE declined 9,8%.
The ecosystem surrounding femtocells, or cellular base stations that improve indoor wireless coverage, is headed toward critical mass among all major nodes of the wireless supply chain and will vault into explosive growth after reaching a decisive watershed this year, iSuppli believes. Unit shipments of femtocells will more than triple this year, rising to 1,9 million, up from 571 000 in 2009, according to projections. A period of phenomenal expansion will then follow, with shipments reaching 7,2 million units in 2011, up 289% from 2010. Shipments will rise by 232% to reach 23,9 million units in 2012 and by a whopping 657% to hit 39,6 million units in 2013.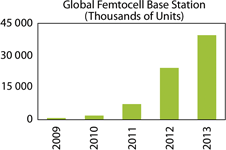 Further reading:
Personality profile: Jean Mearns
29 July 2020, WH Circuit , News
"No one works for me, they only work with me, for without each other our team will fail to exceed the expectations of our customers."
Read more...
---
Letter to the editor
29 July 2020 , News
I take exception to the article 'To fake or not to fake' published in the June edition of Dataweek that is clearly based on the principle 'guilty until proven innocent'. I am by no means an expert 
...
Read more...
---
Q&A with Brandon Kuhn and Steve Stafford
29 July 2020 , News
Q: What is the rationale behind the reorganisation? What impact will it have on Avnet's customers in South Africa?    A (Kuhn):
Since 2009, our shared front-end model in South Africa has differed from the 
...
Read more...
---
Avnet EMEA names two new leaders to SA operation
29 July 2020 , News
Avnet has named Steve Stafford and Brandon Kuhn as new leaders in South Africa following the completion of a reorganisation in the region.
Read more...
---
UCT chooses Tektronix instruments for training lab
29 July 2020, Comtest , News
Comtest, local partner to Tektronix, recently assisted the University of Cape Town (UCT) physics department in refurbishing its electrical training laboratory. All of the existing analog oscilloscopes 
...
Read more...
---
New electromagnetic solutions range from Accutronics
29 July 2020, Accutronics , News
Accutronics has been appointed as the reseller for the Electromagnetic Integrated Solutions (EIS) range of products from API Technologies. APITech offers a complete line of coaxial EMI solutions, 
...
Read more...
---
Fighting COVID-19 using TV white space spectrum
29 July 2020 , News
The CSIR has partnered with the Technology Innovation Agency (TIA) to enable local Internet service providers to deploy Television White Space (TVWS) networks, using the CSIR-developed Secondary Geo-Location 
...
Read more...
---
Clearing the Static: ESD wrist straps
29 July 2020, Actum Electronics , News
The human body is the primary source of electrostatic charge generation. In order to control and reduce static charge build-up and prevent electrostatic discharges (ESD), we use grounding systems to ensure 
...
Read more...
---
From the editor's desk: This too shall pass
29 July 2020, Technews Publishing , News
Things were tough enough for the South African electronics manufacturing industry before, but this year has thrown up unprecedented challenges that nobody could have foreseen and which are outside of 
...
Read more...
---
Electronics news digest
29 July 2020 , News
South Africa
• As part of the national data-driven approach to countering COVID-19, the CSIR has developed a platform that monitors human mobility to better understand movement patterns across specific 
...
Read more...
---