printer friendly version
The final match: China vs South Africa
4 August 2010 News Manufacturing / Production Technology, Hardware & Services
With the constant threat that is thrown at local contract manufacturers by our customers to take manufacturing 'offshore', myself and Microtronix' MD, Michael Goodyer, thought it was time to visit the 'threat' and see if production is really greener on the dim sum side of the fence.
Approaching the world giants of production, efficiency and pricing, who are globally currently perceived as the Tiger Woods (current form aside) of production, whose pricing would make flea markets cringe, is obviously done with a certain amount of trepidation!
Our evaluation excursion was made up of various visits to eight different PCBA (PC board assembly) factories of various sizes and capabilities. This we believed would allow us a broad spectrum of comparison. What we found was as much surprising as it was expected. We broke our comparison up into the logical big five criteria – equipment, labour, efficiency, pricing and quality – and evaluated each factory accordingly.
With regards to equipment and machinery, we can comfortably report that the Chinese seriously 'sweat the assets,' – some of the factories were like walking through a PCBA museum that was still in operation. Even with Microtronix's 20 odd years of experience, some machines were spotted still working that were manufactured before our time. In some instances machines were manned by a dedicated mechanic, tools in hand, just waiting for the hourly adjustments and quick fixes to keep the old dinosaurs puffing. With the exception of only one factory, equipment finding: first goal to South Africa.
Chinese labour; what can we say? After one week of watching the tiny fingered precision of the obsessive labour force one could be forgiven for having a vision of busloads of these miracle workers arriving at your factory each morning to perform an unimaginable amount of work each day. This was my ninth trip to China and with each trip I am more impressed by the pride of the lower level worker than the last visit. This is something that is hard to explain, it has to be seen to be believed. At least three times more efficient and at a quarter of the cost, this is the obvious engine of the Chinese global economic success. When it comes to the labour factor: we just stepped aside and let the Chinese ball roll through our goals for an easy equaliser.
As a footnote, it has to be said that the R1000 minimum monthly wage, the 6 x 12 hour weekly shifts and lack of unions or organised labour courts cannot last much longer, as the tier 1 international brand consumers will ultimately demand a bridging of this gap. Watch this space.
With regards to our factory efficiency, this race is a lot closer than one might assume. The Chinese can make large volumes of PCBs with the same efficiencies that McDonald's produces a Big Mac and fries. However, the lower volumes, largely required by the South Africa market, fly in the face of their layouts and definitely present them with problems that quickly level the playing fields. The Chinese manufactures are also experiencing the exact same component lead time problems as we are. This, coupled with the fact that actual production times are currently a tiny proportion of the total manufacturing time process, means that neither side scores on this pitch.
For the next comparison, namely price, many would believe this to be the crux of the comparison, and probably the deciding factor in the choice. On a board for board and component for component basis (including assembly costs), we found it very hard to compete. Everything seems to have two prices, an Eastern price and a Western or European price. However, on certain major brand ICs such as Atmel, Altera and Microchip, where we have registration pricing, our pricing on certain ICs was in fact better than the Eastern prices. Anyone with a Business Management 101 degree can equate cheap labour in a manufacturing environment to lower operating expenses and hence more competitive pricing.
However, there are a host of other expenses that must be divided into each unit that we believe often get ignored and are not calculated in when looking at the overall cost of a unit. During a recent chat over a cold beer with a new client representing the returning faction, the conversation was centred on this very point. After we have calculated duties and transport, as a proportional cost of sales, the Chinese will still come in with a slight price advantage. But without a doubt, there will be numerous trips per annum to get the process started, as well as to pass on test procedures and general information. The cost of these trips would normally fall under travel in your income statement, but these must in fact be added to your cost of sales. Unless you are making hundreds of thousands of boards per annum, this equates to a real cost per unit. At the risk of serious bias, we have to call this one 'a close save' – not allowing another goal passed our posts.
Finally, with regards to quality . . . can I hear 'Nkosi Sikelel' iAfrika', as this is a one-horse race? In all but two of the eight factories, we were greeted with filthy buildings, PCBs in boxes on floors, and generally a far less savoury environment than you would expect to see your boards being manufactured in. As for their processes and procedures, these were all Chinese to me! So I have to say on quality: a hard strike into the back of the net for the home side.
Overall, it was a very worthwhile visit and we were able to learn a lot from the Eastern factories, and in turn they were amazed by some of the facts and figures that we were able to share with them. Microtronix has set up some good contacts with selected factories in the East, and hopes to facilitate some Chinese manufacturing similar to what the local PCB manufacturers are offering.
In conclusion, that is two goals to SA and one, but solid golden boot goal, to our Chinese counter parts. So in spite of our overbearing unions, and inefficient, expensive labour, we still believe that local is lekker, and expect to see more contracts coming home. However, if by some chance we may be wrong, we are willing to pay for 'one-way' business class tickets for all NUMSA reps to Shenzhen.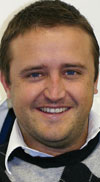 Jason Wilford
About the author: Jason Wilford holds degrees in both Law and Commerce and was one of the owners of the successful Armcom Electronic Security Company sold to Bidvest. His addition to Microtronix is intended to bolster the strategic, financial and commercial side of the technical and production team. Wilford will be spearheading the company's push into the global market.
Credit(s)
Further reading:
Locked down but not knocked out
25 March 2020, ExecuKit , News
As a business, we are facing extremely hard times with the current worldwide pandemic and isolation. We are all maintaining social distancing and must learn how to do business with an enforced lockdown 
...
Read more...
---
From the editor's desk: A new era – after mourning comes rebuilding
29 April 2020, Technews Publishing , News
When I sit down to write these columns once a month, even if the topic I decide to write about is not all sunshine and roses, I always try and look for a silver lining. I'm simply not able to do that 
...
Read more...
---
Personality profile: Chris Viveiros
29 April 2020, Otto Wireless , News
The operations director of Otto Wireless Solutions shares his background, experience, advice and thoughts on the future.
Read more...
---
Locked down but not knocked out
29 April 2020, ExecuKit , News
We as a company salute the component suppliers who have supported us and are there to assist during this time even if the requests we pose are not always realistic.
Read more...
---
Electronics industry tackling the coronavirus
29 April 2020 , News
2020 has been a crazy year already. From Australian bushfires to climate emergencies to US trade tariffs, the start of the decade hasn't been very positive. Not only this, within the last few months there 
...
Read more...
---
SqwidNet becomes first Sigfox-accredited lab in southern hemisphere
29 April 2020, iSERT , News
iSERT (Safety, EMC, RF, Testing), a leader in the provision of turnkey testing solutions for EMC, RF and safety testing, has collaborated with SqwidNet, the only licenced Sigfox operator in South Africa, 
...
Read more...
---
Clearing the Static: ESD cleaning and hygiene products
29 April 2020, Altico Static Control Solutions , News
In light of the current COVID-19 pandemic, Actum Group would like to remind electronics manufacturers of our range of antistatic cleaning agents, cleanroom materials and PPE.      
Cleanroom garments and 
...
Read more...
---
Jemstech continuing its growth path
29 April 2020, Jemstech , News
Since its inception in 2005 and especially during the past five years, Jemstech has grown from a medium-sized electronic manufacturing services (EMS) provider into one of the major players for electronics 
...
Read more...
---
Company profile: Phoenix Contact
29 April 2020, Phoenix Contact , News
Phoenix Contact was founded in 1923 in Essen, Germany, by Hugo Knümann. It entered the South African market in 1969 through a local distributor, and was later established as a wholly owned subsidiary 
...
Read more...
---
In memoriam: Vivienne Caroline Dorrington - 19 June 1958 – 21 April 2020
29 April 2020, Technews Publishing , News
It is with great sadness that we announce the death of our CEO, Vivienne Dorrington, after a long and brave battle with cancer. Like her father, Ray Beaumont, who founded Technews Publishing in 1985, 
...
Read more...
---