Africa
Manufacturers in Central and Eastern Europe, Middle East and Africa, or the CEMA region, are expected to increase their spending on technology to support critical business applications and quality improvements in 2011. According to recently published predictions from IDC Manufacturing Insights for the manufacturing sector, IT investments in the CEMA region are expected to increase from $11,1 billion in 2009 to $18,3 billion in 2014 at a compound annual growth rate of 10,5%. Africa is expected to show the steepest average annual growth, followed closely by Central and Eastern Europe, and the Middle East. IDC expects technology to be used by manufacturers to gain greater insight into customer behaviour and demands. Technology will also be a key enabler in improving efficiency and productivity of manufacturing operations, as well as integration of supply chains.
Custom Printers has moved business premises to Unit 13, Meadowbrook Business Park, Jacaranda Street, Olivedale. The company's telephone and fax numbers have also changed, to +27 (0)11 462 0984 and +27 (0)11 462 1091 respectively.
Donovan Ramage was recognised by Meissner as its Sales Person of the Year at the company's conference held during the first week of March.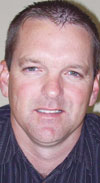 Donovan Ramage
International
Business
Tyco Electronics received shareholder approval at its recent annual general meeting to change the company's name to TE Connectivity. The name change is subject to Swiss regulatory approval, which the company expects to receive in the near future. The company believes that the new name better reflects the products and solutions it brings to its customers.
National Semiconductor reported sales of $343,9 million and net income of $59,4 million, or 24 cents per diluted share, for the third quarter of fiscal 2011, which ended 27 February. National's third quarter sales were 12% lower than the $390,4 million reported in the second quarter of fiscal 2011 due to inventory adjustments in the distribution channel and seasonally lower shipments to wireless handset customers following the holiday sales period. Third quarter net income was a decrease from the $83,5 million, or 34 cents per diluted share, in the second quarter of fiscal 2011, but an increase from the $53,2 million, or 22 cents per diluted share for the third quarter of fiscal 2010.
Companies
Radiall has been recognised for its best procurement rating among over 30 other suppliers by the Airbus Centre of Excellence in 2010. This follows previous Supplier of the Year awards awarded to the company by Airbus in 2006 and 2008 validates.
OSRAM is acquiring Siteco Lighting of Germany from Barclays Private Equity. Siteco is a leading European lighting company with a worldwide workforce of 1250 and achieved revenue of around 220 million Euros in fiscal year 2010. The company supplies luminaires and lighting systems for urban infrastructures such as public and commercial buildings, streets, tunnels, airports and sports stadiums. The parties have agreed to keep the purchase price undisclosed.
Extending a collaboration stretching back more than a decade, Fujitsu Semiconductor has signed a licence agreement with ARM for ARM IP products. This partnership will enable Fujitsu to offer platforms featuring the latest ARM technology including the Cortex-A15 processor, graphics IP and CoreLink systems IP.
Laird Technologies announced its acquisition of Klüver Aggregatebau. Klüver's revenues for the fiscal year ending 31 December 2010 were 13,0 million Euros. The transaction (the financial details of which were not revealed) is expected to formally close by 31 March. The purchase expands the scope of Laird's thermal management business into compressor-based temperature control systems for use in medical, telecommunications and other end-use markets.
Industry
According to up-to-date analysis by Semicast Research, Renesas Electronics was the leading supplier of semiconductors to the automotive sector in 2010, ahead of Infineon Technologies. Freescale Semiconductor, for many years the leading supplier of automotive semiconductors, dropped to fourth place behind STMicroelectronics, while Bosch gained one place to move up to fifth. With an estimated market share of 11,0%, Renesas held a substantial lead over second placed Infineon with around 7,9%. 2010 was the strongest year on record for the automotive semiconductor market, with sales increasing by an estimated 37% to $22,7 billion. China remains one of the most significant growth drivers of the automotive sector, with light vehicle production in the country totalling almost 15 million in 2010, double the level of 2008.
According to the Semiconductor Industry Association, worldwide sales of semi-conductors were $25,5 billion for the month of January 2011, a gain of 1,5% from the prior month's figure of $25,2 billion. This represents a 14,0% increase over the $22,4 billion in sales in January last year.
Technology
STMicroelectronics and bTendo have signed a development and licence agreement to jointly develop the world's smallest 'pico projector' for smartphones and other portable consumer-electronics devices. The solution is based on bTendo's innovative Scanning Laser Projection engine technology and will allow people to share movie clips and photos with others by projecting the images onto any surface. Less than 2,5 cm³ in volume and below 6 mm high, the projector solution will offer a focus-free, vivid colour, sharp and crisp image.
Intel announced the availability of Thunderbolt technology, a new high-speed PC connection technology that brings together high-speed data transfer and high-definition (HD) display on to a single cable. Running at 10 Gbps, Thunderbolt technology can transfer a full-length HD movie in less than 30 seconds. This Intel-developed technology is coming to market through a technical collaboration with Apple, and is available first on Apple's new line of MacBook Pro laptop computers. A video demonstrating the technology is viewable on YouTube.