printer friendly version
Electronics news digest
21 March 2012
News
Africa
African energy leaders see energy prices, energy poverty and instability in the Middle East and North Africa (MENA) region to be the most important critical uncertainties in Africa's energy sector, according to a newly released African survey published by the World Energy Council. The survey also reveals that renewable energy, energy efficiency and regional interconnection are considered important issues that could make a strong impact, but further action is required to realise their potential. These areas are facing constraints of investment, suitable social and environmental framework, political stability and bold economic reforms. Innovation such as smart grids and sustainable cities are of interest, but in order to progress towards these cleaner energy systems, the issues of talent (technology transfer, capacity building and policymaking), governance and corruption need to be taken in hand.
Overseas
Business
Analog Devices announced financial results for its first quarter of fiscal year 2012, a 14-week period that ended 4 February. Revenue of $648 million and diluted earnings per share (EPS) of $0,46 declined compared to both the immediately prior quarter and the year-ago quarter. However, the company's board of directors approved a 20% increase in its regular quarterly dividend to $0,30 per outstanding share of common stock.
Mentor Graphics announced financial results for its fiscal fourth quarter and year ended 31 January. The company reported revenues of $320,4 million and GAAP earnings per share of $0,52. For the full fiscal year, the company crossed the $1 billion revenue threshold for the first time, achieving revenues of $1014,6 million and GAAP earnings per share of $0,74.
Vishay recorded revenues for the year ended 31 December 2011 of $2,594 billion, compared to $2,725 billion for the previous year. The net earnings attributable to Vishay stockholders for last year were $238,8 million, or $1,42 per diluted share, compared to $359,1 million, or $1,89 per diluted share for 2010.
TE Connectivity's net sales for the fiscal first quarter were $3,3 billion. GAAP earnings per share (EPS) from continuing operations were $0,59 for the quarter and adjusted EPS were $0,66. For the full year, the company expects sales of $13,8 to $14,2 billion and adjusted EPS of $2,90 to $3,10. This compares to fiscal 2011 revenue of $14,0 billion and adjusted EPS of $3,03.
Reporting its fiscal year 2011 results, Sierra Wireless generated revenues of $578,2 million, a decrease of 11% compared to $650,3 million for the year ended 31 December 2010. M2M revenue was $293,2 million in 2011, down 11,8% compared to $332,4 million in 2010. Excluding sales to Barnes & Noble, the company's core M2M business increased 9% in 2011 on a year-over-year basis. Mobile computing revenue was $285,0 million in 2011, down 10,4% compared to $317,9 million in 2010. Excluding sales to Clearwire, the company's mobile computing business was down 1% in 2011 compared to 2010.
Companies
Laird Technologies has completed something of a spending spree, acquiring two companies in one day, both for undisclosed amounts. The first, Emerson & Cuming Microwave Products, a manufacturer of microwave absorbing materials, low-loss dielectrics and electrically conductive shielding materials, enjoyed 2011 revenues of 16,3 million Euros. The other acquisition was Summit Data Communications, a provider of industrial- and medical-grade wireless modules which made $17,2 million in revenues last year.
Intel and Micron Technology have modified their NAND Flash memory joint venture relationship by Micron buying Intel's stake in two wafer factories for approximately $600 million. The agreements also extend the companies' successful NAND Flash joint development programme and expand it to include emerging memory technologies.
STMicroelectronics achieved the milestone of shipping its two billionth MEMS sensor. This comes just 15 months after the company passed the one billion mark, underlining its success in this market and reflecting growth of the motion sensors market, which IHS iSuppli reported reached $1557 million in 2011 in the consumer sector, up 40% from $1112 in 2010, and will reach $2,5 billion in 2015, growing at a CAGR of 18%. ST's consumer MEMS sales grew more than 80% in 2011, reaching a total of approximately $650 million, well more than twice as large as its closest competitor.
Technology
Texas Instruments has revealed a new microcontroller (MCU) platform that it claims offers at least 50% less power consumption than any other MCU in the industry. Codenamed 'Wolverine', the devices boast 360 nA current draw in real-time clock mode and less than 100 μA/MHz active power consumption. The first devices based on this platform are expected to be available in June 2012.
Imec and Holst Centre have developed a low-power 2,3/2,4 GHz transmitter for wireless sensor applications compliant with 4 wireless standards – IEEE802.15.6/4/4g and Bluetooth Smart. The transmitter has been fabricated in a 90 nm CMOS process, and consumes only 5,4 mW from a 1,2 V supply (2,7 nJ/bit) at 0 dBm output. This is 3 to 5 times more power-efficient than current state-of-the-art Bluetooth Smart solutions.
Knowles Sound Solutions has launched a sound enhancing technology to increase the acoustic performance in consumer devices with small form factors. N'Bass stands for 'enhanced bass' and enables the smallest possible acoustic designs in smartphones, tablets and other portable media devices. The patent pending technology is a custom-developed material which increases the back volume seen by the loudspeaker by up to 100%. It provides either better acoustic performance – specifically more bass – or smaller loudspeaker box designs while keeping the same performance. N'Bass also facilitates the usage of bigger loudspeakers, thus providing superior sound performance within the same gross application volume. The first smartphones to incorporate the technology have recently been launched by tier-1 handset OEMs and are currently in mass production.
Industry
Gyroscopes were the top revenue generator in 2011 for the mighty consumer and mobile segment of the micro-electromechanical systems (MEMS) market, thanks to record sales of the iPhone and iPad devices from Apple during the final quarter of last year, according to an IHS iSuppli MEMS market tracker report. Gyroscopes netted $655,4 million in 2011, up a notable 66% from $394,5 million in 2010. Long a runner-up in its category, gyroscopes finally displaced accelero-meters last year to become the revenue champion in consumer and mobile MEMS. Gyroscopes will continue to reap top revenue honours in the next few years, taking in $1,1 billion by 2015.
According to market analyst IHS, Elpida Memory's move to file for bankruptcy protection will benefit the remaining players in the dynamic random access memory (DRAM) market, reducing supply and boosting pricing and revenue in the second half of the year. If more than 25% of Elpida's manufacturing capacity is taken offline, the global average selling price (ASP) for all DRAM shipments is projected to rise to $1,21 by the end of 2012, up 15,5% from $1,05 at the end of the first half of the year, as presented in the figure below. Without such a reduction in capacity, pricing would rise to $1,13 at the end of the year, up just 8,5% from the price at the end of the first half.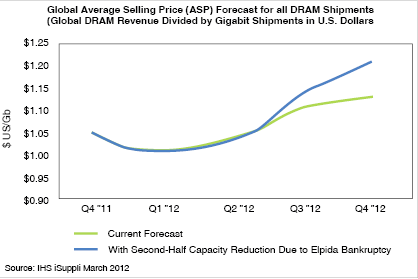 The Semiconductor Industry Association (SIA) announced that worldwide semiconductor sales were $23,1 billion in January 2012, a 2,7% decrease from the month prior when sales were $23,8 billion. According to the SIA, the revenue decline is in line with seasonal patterns, and a weakened global economy amidst inflation concerns and the European debt crisis, continued to affect sales at the start of the year, but there are strong signs pointing to recovery and growth as 2012 progresses. Semiconductor sales are expected to improve due to positive demand drivers, an improved US economic outlook and the resolution to the floods in Thailand. The graph below illustrates some of the wild fluctuations the industry has suffered in the past several years.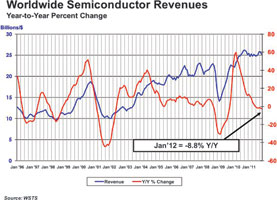 Further reading:
Plan your media strategy with Technews Publishing
23 October 2019, Technews Publishing , News
Dear Marketer, Have you ever looked back on a year and wondered how you survived it? For the majority of South Africans, 2019 started benignly enough, cosily wrapped in the blanket of Ramaphoria that 
...
Read more...
---
From the editor's desk: Getting charged up for the new year
25 November 2019, Technews Publishing , News
The Springboks' Rugby World Cup triumph in Japan couldn't have come at a better time for South Africa, as the country was in desperate need of a jolt of positive energy going into the festive season. 
...
Read more...
---
Battery Technologies Conference 2019
25 November 2019 , News, Editor's Choice
Batteries are a critical enabler of the Fourth Industrial Revolution, powering technology in products from laptops and handheld devices to electric vehicles and renewable energy storage.
Read more...
---
Boom, doom and gloom, or something completely different?
25 November 2019, Technews Publishing , News, Editor's Choice
As the end of 2019 looms, it's time to look ahead to what next year might have in store, and reflect on the year gone by. And what a year it's been.
Read more...
---
Actum Group remains resilient and optimistic for 2020
25 November 2019, Actum Electronics , News
Running a profitable business in South Africa is not for the fainthearted. With the national treasury downgrading this year's growth forecast from 1,5% to 0,5%, and state-owned entities like Eskom negotiating 
...
Read more...
---
Additional renewable energy development zones proposed
25 November 2019 , News
The second phase of the Strategic Environmental Assessment (SEA) for wind and solar photovoltaic (PV) energy in South Africa proposes three additional Renewable Energy Development Zones (REDZs) for wind 
...
Read more...
---
Locally developed electronic circuit builder for students
25 November 2019, K Measure , News, Editor's Choice
K Measure, creator of the award-winning Seebox engineering education solution, has created a new innovation to enable quick and easy electronic circuit-building. The SeeBlocks electronic circuit creator 
...
Read more...
---
Clearing the Static:Topic 9: Time to audit your ESD environment
25 November 2019, Actum Electronics , News
Now that we are nearing the end of the year, it is a good time to audit your existing static control products and procedures. The first line of defence should be your antistatic floor, since this is the 
...
Read more...
---
Winning hackathon entry curbs cell tower battery theft
25 November 2019 , News
The fourth annual TADHackJHB was held at MTN's head office in Fairland, Johannesburg, on 12 and 13 October, with a cell tower protection app emerging as the winner. The theme for the 2019 global TADHack 
...
Read more...
---
Products of the Year 2019
25 November 2019 , News
SmartServer IoT by Adesto
BAW-based chips for comms infrastructure
Cellular modules for LPWA applications
SoCs and software for smart home and IIoT
Secure element for IoT authentication
MPU for embedded 
...
Read more...
---