printer friendly version
Power inductors with specialised terminations
11 October 2017
Passive Components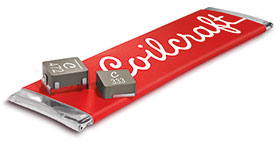 Coilcraft added two new products to its line of high-current, moulded power inductors, both offering unique termination options.
The XTL7030 series features side metal terminations for automated optical inspection (AOI) of the component during the solder reflow process. It offers inductance values from 10 to 47 µH and provides current handling up to 5,3 A and very low AC + DC power losses for greater efficiency.
XTL7030 inductors measure just 7,1 mm square, with a maximum height of 3,2 mm. They feature RoHS compliant tin-silver over copper terminations and are halogen free. They are also qualified to AEC-Q200 Grade 1 standards (-40°C to +125°C ambient), making them suitable for automotive and other harsh-environment applications.
The XAR7030 series marks the first time raised inductors are available as standard, off-the-shelf products. They measure 8,5 mm square, with terminals that elevate the inductor body 1,5 mm from the printed circuit board surface. The unique off-the-board construction allows standard power management IC packages (e.g., QFN/VQFN) to be mounted beneath the inductor in a 3D packaging arrangement, reducing overall board space.
The XAR7030 is available with inductance values ranging from 0,16 to 10 µH, and offers DCR as low as 1,26 m. It features RoHS-compliant matte tin over nickel over phosphor bronze terminations and is also halogen free.
The composite construction of both products results in soft saturation characteristics, allowing them to withstand high current spikes. They exhibit no thermal ageing issues, and their construction also minimises audible buzzing.
For more information contact Andrew Hutton, RF Design, +27 (0)21 555 8400, andrew@rfdesign.co.za, www.rfdesign.co.za
Credit(s)
Further reading:
Bluetooth module for advanced applications
28 October 2020, RF Design , Telecoms, Datacoms, Wireless, IoT
u-blox announced the NORA-B1 Bluetooth module, the newest member of its short-range radio portfolio. Based on Nordic Semiconductor's latest nRF5340 Bluetooth low energy chipset – the first to host a powerful 
...
Read more...
---
Scalable end-to-end security platform for LPWA IoT
28 October 2020, RF Design , Telecoms, Datacoms, Wireless, IoT
u-blox has announced the commercial launch of its IoT Security-as-a-Service offering. Available on both the u-blox SARA-R4 and SARA-R5 series of LTE-M cellular IoT modules, this innovative solution makes 
...
Read more...
---
V2X transceiver modules
30 September 2020, RF Design , Telecoms, Datacoms, Wireless, IoT
The VERA-P3 Series from u-blox are automotive grade 802.11p V2X (vehicle-to-everything) transceiver modules that operate in the 5,9 GHz frequency band. These automotive-grade modules are based on the 
...
Read more...
---
Capacitors for fast-switching semiconductors
30 September 2020, TRX Electronics , Passive Components
KEMET's KC-LINK surface mount capacitors are designed to meet the growing demand for fast switching wide bandgap (WBG) semiconductors that operate at higher voltages, temperatures, and frequencies. These 
...
Read more...
---
High-reliability screening for PPI's capacitors
30 September 2020, RFiber Solutions , Passive Components
As typical electrical tests may not detect internal flaws such as voids, cracks, delaminations and electrode discontinuities, which can lead to latent and/or catastrophic failures in high-power applications, 
...
Read more...
---
Rugged three-phase AC filter capacitors
30 September 2020, Electrocomp , Passive Components
TDK introduced two new series of EPCOS power capacitors for AC filtering in three-phase delta connection applications. The B32375* series is designed for the low to medium power range and covers a capacitance 
...
Read more...
---
Permanent mounting MIMO antenna for Wi-Fi
30 September 2020, RF Design , Telecoms, Datacoms, Wireless, IoT
The Ultima MA530 MIMO antenna from Taoglas is a low-profile, heavy-duty, fully IP67 waterproof external M2M antenna for use in transportation and remote monitoring applications. It provides high efficiency 
...
Read more...
---
Applications for RF electromechanical relay switches
30 September 2020, RF Design , Telecoms, Datacoms, Wireless, IoT
RF electromechanical switches are a key active device in many signal chains, including time-domain duplex communications and pulsed radar applications. Such switches can be as simple as a 3-port toggle 
...
Read more...
---
Diplexer for GNSS L1 and L2
31 August 2020, RF Design , Telecoms, Datacoms, Wireless, IoT
The Taoglas DXP.01.A is a diplexer for GNSS L1 and L2. This advanced compact SAW diplexer is for use in any navigation system application using the GPS/GALILEO L1, GLONASS L2 and BeiDou B2 bands. The 
...
Read more...
---
Miniature SMT noise sources
31 August 2020, RF Design , Test & Measurement
Pasternack has released a new series of miniature SMT packaged noise sources that are ideal for built-in test equipment, dithering for increased dynamic range of A/D converters and as a source for bit 
...
Read more...
---