Cam (CamBeta) from Vision Engineering is a new digital inspection magnifier for portable inspection and documentation. This handheld inspection device is suitable for a wide range of applications. It provides magnification up to 20x, stores up to 20 000 images and uses grids and cursors for X and Y dimensioning.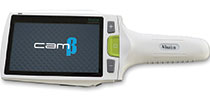 With a high-resolution colour display, easy button operation and image capture/download capability, Cam is ideal for roaming inspection tasks, documenting faults and inspecting large or immobile subjects. It has been equipped with dual LED illumination, with four settings; high contrast imaging and 30 frames video capture capabilities. A live-view video output via micro HDMI allows for the display of images on a larger screen, suitable for training purposes.
The magnifier is well suited in production environments where company policy disallows the use of mobile phones, and is easier to handle than a smartphone.
For more information contact Zetech, +27 (0)11 609 1244, zorlianski@zetech.co.za, www.zetech.co.za