Initiated by Seemahale Telecoms and CZ Electronics (in which Seemahale has signed a memorandum of understanding to acquire a 51% stake), this project is aimed at bringing mobile Internet accessibility to the masses in both South Africa and the rest of the continent. "Most smartphones and tablet computers are affordable only to the affluent consumer, with those people in rural areas and with lower incomes not able to afford this 'luxury'," said Pillay.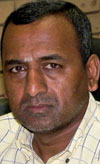 Sagran Pillay
He explained that the technology is being jointly designed by a team of 20 engineers at CZ Electronics and an engineering team in Taiwan. "For the interim we will be supplied with semi knockdown kits by the same Taiwanese company. We will then assemble all the components at our facilities in Boksburg, Gauteng. Full training will be provided by the Taiwanese team for a period of approximately three months to ensure our employees are fully up to speed."
Once the local team is completely familiarised with the placement of components onto the printed circuit boards, the kits will then be supplied in a complete knockdown form. "We anticipate that this will take place after approximately six months," Pillay clarified. "Depending on demand, we will be in a position to increase our current employee capacity of 180 to a targeted 280. Our initial goal is to produce 100 000 units per annum, so with our current capability of placing 200 000 components per hour, we are presently able to meet demand.
"However, we are confident that the demand for both the tablet and the smartphone will be such that we would need to add to the current equipment that we have available in our facilities. As needed, we will also increase our local team and provide in-house training for them," added Pillay.
He pointed out that the beta versions of the products are currently undergoing testing by ICASA and, once approvals are supplied, they will be ready to enter the production stage. "We will be officially launching a demonstration version of the technology at the Africom show in Cape Town in mid-November to allow consumers to look at and 'test drive' the products. Once we go into full production of the completed products early next year, we will use the South African market as a barometer for introducing the technology into other African countries," Pillay said.
Initially, the company will produce a 10,1" tablet and a 5" smartphone, both running on Android without overlays and with the ability to run on Wi-Fi, 2G or 3G. Both devices have a 5 megapixel rear camera and a 2 megapixel front-facing camera. Because the devices run on Android, consumers will be able to visit the Android App Store to download the apps they require. The devices will include a number of standard apps such as Facebook, Google and Twitter at launch.
The tablet employs a quad-core Cortex A7 1,2 GHz core processor with 1 GB of RAM and between 4 and 16 GB of internal memory. It also includes a mini HDMI port and a SIM slot. Weighing in at approximately 580 grams, the device is powered by an 8600 mAh battery for competitive uptime. "The expected selling price is approximately R3500, which will allow an increasing number of consumers to acquire a device," said Pillay.
Similarly, the phone will enter the market at approximately R2500 and will feature a 960x540 pixel LCD capacitive touchscreen, 4 GB of Flash-based storage and a 1,5 GHz processor. "The beauty of the phone is that it comes standard with dual SIM cards, making it a great option for prepaid phone users," enthused Pillay.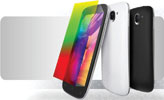 The issue of power in remote areas has been considered: "We are aware that in some of the more outlying areas, charging the devices could be problematic given the intermittent and even absent suitable infrastructure available. We will therefore be looking at solar energy and other alternative energy sources to ensure that connectivity is not interrupted," Pillay explained.
He believes that the biggest challenge the company will face is changing the mindset of the South African public in terms of resistance to locally manufactured technology. "South Africa has pioneered many technological advancements over the years and CZ Electronics Manufacturing has been involved in a number of joint ventures with local and international companies to bring high-tech products to market. One of these is the ISDN units manufactured under licence to third parties for Telkom. We are certainly in a position to produce quality technology that will allow affordable connectivity and access to the Internet.
"Our intention with the introduction of these two devices is therefore twofold: Firstly, we want to make the advantages of information and communication technology available to as many people as possible. Secondly, through the creation of jobs, we would like to increase the development of skills in an increasing number of people to ensure a sustainable future through social investment," Pillay concluded.
For more information contact Sagran Pillay, CZ Electronics Manufacturing, +27 (0)11 914 5240, info@czelectronics.co.za, www.czelectronics.co.za