Many believe that industrialisation is one solution to the recession we find ourselves in, and that with more focus on manufacturing, burning issues such as unemployment can be addressed.
The Manufacturing Indaba was held at Emperors Palace on the East Rand of Johannesburg from 26-28 June 2017. arei (the Association of Representatives for the Electronics Industry) represented its 42 members at the exhibition spread over two days of the Indaba. Exhibitors characterised a broad spectrum of the manufacturing sector in South Africa, in addition to government and academic institutions.
The attendance was reasonable but, like most recent exhibitions in South Africa, lacked the number of feet that one would expect to see, especially at such an important gathering. Attending some of the world class presentations that were held over the three days, it was further evident by the poor attendance that general apathy towards manufacturing as a whole may be setting in. Listening to an international speaker quoting statistics that the manufacturing sector employs less than 20% of the world's population, and that global manufacturing had declined over the past 2-3 years, were not facts one would want to hear about a possible lifeline to our woes.
Fortunately, general sentiment of most who did attend was positive, and many echoed that they believed that through collaboration in the manufacturing sector we would be able to save our economy. The increased profile of government at the event was comforting and their initiatives seemed to be aligned with a more industrialised economy.
One of the strategies we have focused on at arei for 2017/2018 has been to increase our membership in order to represent the electro-technical sector as a whole. Although most of the legacy companies represented have been in distribution of components, membership of the companies representing the manufacturing sector has grown to over 20% of our total membership this year. Further focus is envisaged on creating collaborative relationships with similar associations to arei in order to create value for our members and realise our fundamental strategy to grow the electro-technical sector in South Africa.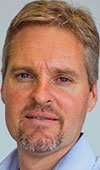 arei will be hosting a business breakfast on 31 August 2017, with guest speaker Pavlo Phitidis. The presentation will cover entrepreneurship in the technology and electronic sectors, focusing on building a business into an asset of value.
We encourage stakeholders in the electro-technical sector to attend our breakfast and consider joining our association.
As we build momentum with our strategy, we believe that we offer our members substantial value for their annual fees. Should you be interested, please contact Jenny Gooding on +27 (0)11 462 3256 or email info@arei.co.za
Warren Muir
Chairman, arei