printer friendly version
Local manufacturers look forward to a brighter future
21 March 2018 Editor's Choice News Manufacturing / Production Technology, Hardware & Services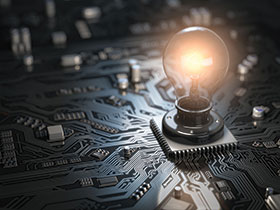 The handing over of the reins of the South African presidency, from Jacob Zuma to Cyril Ramaphosa, has come at a pivotal time for the country's engineering, mining and other related industries. While Ramaphosa's reshuffle of the cabinet received mixed reviews, a positive uptick in business sentiment is reflecting a general sense of renewed hope.
Dataweek interviewed three South African electronics contract manufacturers to find out what they've been up to lately, and what their outlook is. The respondents were Jannie van Toorn, financial manager at Leratadima Tellumat Manufacturing; Pieter de Nysschen, general manager: partner and business development at Omnigo; and James Loggie, general manager at Specialised Manufacturing Technologies (SM Tech).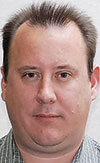 Jannie van Toorn.
What are some of the latest developments at your company?
Jannie van Toorn: We have expanded our workforce over the last six months. While there has been no major spend on equipment in the last year, we did purchase new equipment in the prior 12-month period. We are currently reviewing the need to improve our surface mount technology (SMT) capacity as well as increasing production automation and ancillary processes. This is considered necessary to (a) increase throughput, (b) meet increasing quality and reliability needs, (c) satisfy a mix of low- to-high-volume production needs, and (d) satisfy delivery expectations.
Pieter de Nysschen: 2015 marked an exciting period of time for Omnigo, with numerous exciting developments in the company. We were acquired by Reutech, which is a part of the Reunert group, towards the end of 2015. We are proud to be associated with this prestigious and venerable group that has contributed to the South African Economy in many ways since 1888.

Pieter de Nysschen.
We made significant investments in capital expenditure to upgrade our plant and machinery. This has increased our capacity by upwards of 30% and has contributed to us retaining our reputation for delivering superior quality manufacturing services.
James Loggie: Having moved to new premises at the end of 2015, we embarked on an upgrade of our equipment mix, culminating in the installation of a new Yamaha YS line during the course of 2017. This line consists of a YS24/YS88 combination linked to a GKG printer and Heller oven. This upgrade has significantly increased our production capacity, moving us from a strictly small capacity prototype/small-run facility to a medium-run operation which still has a significant focus on prototyping.
Do you feel the local electronics manufacturing industry is thriving, struggling or stagnant?
Jannie van Toorn: We feel the industry is currently stagnant, but that the future environment is looking positive with good growth prospects, largely dependent on local content imperatives imposed on government procurement. Having stated this and noting that South Africa has a small electronics contract manufacturing (ECM) sector, any ECM will soon become extinct if it cannot deliver on its promise and the customer expectations created by this promise, i.e., it must be able to attract business based on performance.
Pieter de Nysschen: The electronics manufacturing industry is, in my view, still a growing and fairly young industry. I am always amazed when I discover some new small business that has developed a new product and approached us to manufacture for them. This happens quite frequently, and we are only one of several contract manufactures in South Africa.
South Africans have a lot of ingenuity and this directly impacts the electronics manufacturing industry. Omnigo's performance has exceeded our highest expectations these past three years, so certainly for us the industry is alive and well and thriving. There has been significant investment in electronics contract manufacturers by various entities – this would not be the case if this was a struggling or stagnant industry.
James Loggie: I think we are slightly more buoyant as an industry than we were last year, with current indications pointing towards a positive future. We're all watching president Cyril Ramaphosa, public enterprises minister Pravin Gordhan and finance minister Nhlanhla Nene very carefully.
Are you optimistic that the improvement in business sentiment will be good for the industry, and for your business in particular?
Jannie van Toorn: Yes, we are very optimistic. However, this now depends on how the new leadership approaches the need to support and develop the local manufacturing sector. This focus, mentioned by president Ramaphosa in his state of the nation (SONA) address is encouraging, but only government action will determine to what extent the current optimism will be realised. Support for South African innovation is vital to maintain local ECM viability.
Pieter de Nysschen: The improvement in investor confidence will definitely help local industries. Some of the initial decisions have been very positive, for example the re-appointment of Nhlanhla Nene as finance minister. For a net exporter like ourselves this does have some impact in terms of the rate of exchange in the short term. However, we remain cautiously optimistic that South Africa, the local electronics industry, as well as Omnigo, will benefit with South Africa under new management.
James Loggie: We are a lot more positive, and the general mood amongst customers is positive and projections about the future are good. But let us not get ahead of ourselves. Cyril Ramaphosa has taken some very promising steps with the reappointment of Pravin Gordhan and Nhlanhla Nene. Markets are showing signs of confidence but it's what happens in the long term that will really affect our future. We need sustainable long-term growth in the economy.
Does the improved value of the Rand in relation to the Dollar help or hurt your business?
Jannie van Toorn: For us as a contract manufacturer, it's neutral as any changes in input costs, positive and negative, are passed on to our customers. The ECM customer who sells locally will benefit from a stronger Rand-Dollar exchange rate.
Pieter de Nysschen: In the short term there will be some pain for exporters, however the long-term benefits should outweigh short-term setbacks due to the strengthening Rand. Hopefully in the eyes of the rest of the world, South Africa will have gained some credibility again. Domestically improving economic conditions should have longer-term positive results, provided the momentum can be maintained, and this should stimulate growth in this industry as well as in others.
The Rand is still considerably weaker than the Dollar which should ultimately weigh in our favour for exports. If the domestic interest rate can stay fairly constant – which it has over the past 10 years – South Africa should still be an attractive investment destination for foreign investors.
The fact that the Rand has gained traction signifies greater demand for the Rand internationally. A weak Rand pushes up inflation which negates any benefit an investor can derive from the weaker exchange rate. On the other hand a strong Rand coupled with a consistent domestic interest rate and a stable political situation will stimulate international investment. Hopefully South Africa now has good balance of all these elements with a more business orientated government.
James Loggie: For us I think it balances out. In the volumes of the market segment we represent (small to medium runs), SA-based manufacturing is still very competitive and 'comfortable' for our customers. We are aware that very often we are competing against quotes from Japan but are also aware that it is not always an easy decision for customers to make. We have both lost and gained customers back in this scenario. The value that relationships bring to the party still counts as an important decision-making factor for many of our customers.
Are there any new trends in terms of what customers are expecting from an ECM?
Jannie van Toorn: Yes, a small percentage of customers' designs (those who export their products) are using the latest-technology components, causing electronics contract manufacturing to invest in new equipment to handle that technology. As such, we are having to adapt to a changing landscape.
Customers expect, as a basic part of the service, a product of high quality and reliability, which is delivered on time. The challenge has always been the on-time delivery of material, specifically electronic components, for manufacturing products – this has the highest impact on delivery and cost. The nature of electronics contract manufacturing is to be flexible and continuously adapt to meet differing customer needs and, as a minimum, to remain abreast of technological progress. Not doing so will drive an electronics contract manufacturer out of business.
Pieter de Nysschen: There are a number of new trends which are going to impact electronics contract manufacturers in the foreseeable future.
Smart electronic devices will have a tremendous impact, especially on the consumer electronics industry. The newer generation of users will more and more desire or even demand smart technology interfaces for consumer electronics.
This trend is already making an impact on the industrial market where manufacturing, mining and industrial machine manufacturers move toward smart user interfaces to remain competitive and efficient. We have seen the effect of this on our clients who have to stay innovative to compete, especially in the global market. As technology advances, smart electronic capabilities will become the norm rather than the exception.
The demand for environmentally 'green' technology also has an impact, although not as rapidly for the industries we mainly serve. This, however, still remains a considerable factor that has to be catered for and addressed, especially for certain niche markets.
For Omnigo's customers, as in most industries, the factor of costs versus lead-time is one of the major challenges we face. Our customers are experiencing pressure on pricing, and subsequently this is passed down to us. On the other hand, demand for electronic components in the European and Asian markets has created a significant supply backlog where we are seeing lead-times of 25 weeks plus. The demand for automation to contain and reduce costs and lead-times, although always a factor, is currently a major factor to consider and mitigate in any ECM operation.
James Loggie: Quality remains key. Our philosophy is to keep the customer happy and, through the strength of that relationship, anticipate what they may need in the future. Placement of 0201-sized components and flexible printed circuit board placement enquiries are on the up.
We are very fortunate to have a strong relationship with Microtronix. This results in us being able to assist customers with time sensitive prototype/small runs, whilst Microtronix is able to assist with high-volume runs. It also means that we are able to tap into a wealth of industry expertise.
For more information contact Jannie van Toorn, Leratadima Tellumat Manufacturing, +27 (0)21 710 2400; Pieter de Nysschen, Omnigo, +27 (0)12 803 8218, pieterd@omnigo.co.za, www.omnigo.co.za; James Loggie, SM Tech, +27 (0)12 653 2330, james@smtech.co.za, www.smtech.co.za
Credit(s)
Further reading:
How do fusion splicers work?
26 February 2021, Lambda Test , Editor's Choice
Fibre-optic fusion splicers are highly accurate machines which are able to automatically align and join fibre-optic cores with sub-micron accuracy.
Read more...
---
The current state of GaN use for RF technology
26 February 2021, RF Design , Editor's Choice, Telecoms, Datacoms, Wireless, IoT
Challenges for predicting the growth and penetration of GaN technology in certain markets come from the extent of the research and development being invested in.
Read more...
---
Modern LIDAR systems promise sensing for every industry
26 February 2021, Altron Arrow , Editor's Choice, Opto-Electronics
As is always the case in human endeavours, it is impossible to know exactly what creative and useful ways people will come up with to use technology such as LIDAR.
Read more...
---
Personality profile: Bossie Coetzer
26 February 2021, Rugged Interconnect Technologies , Editor's Choice, News
"Understanding product knowledge is power. I started reading any magazine that was available with articles discussing embedded products, including microprocessor technologies and bus architectures."
Read more...
---
The benefits of outsourcing your product to an electronics manufacturing company
EMP 2021 Electronics Manufacturing & Production Handbook, Omnigo , Manufacturing / Production Technology, Hardware & Services
The electronics manufacturing industry has evolved quite a lot over the last half a century. Fifty years ago, most large-scale production runs were handled in-house. When surface mount technology was 
...
Read more...
---
What is device management and why should you care?
25 November 2020, Trinity IoT , Editor's Choice, Telecoms, Datacoms, Wireless, IoT
When device management is implemented alongside a centralised interface, companies can update firmware or software, without the need to manually perform each update in the field.
Read more...
---
The A to Z of A2B applications
25 November 2020, Altron Arrow , Editor's Choice, Telecoms, Datacoms, Wireless, IoT
An A
2
B device's support for up to 32 channels of downstream audio and upstream audio on the network facilitate the distribution of multiple channels of different audio content within a single system.
Read more...
---
What makes good connector design?
25 November 2020, IPD Electronics , Editor's Choice, Interconnection
It's important to remember that your connector may have physical design constraints like a minimum wire gauge or number of contacts, so it's vital to consult with your connector supplier early in the process.
Read more...
---
Personality profile: Dereck Styane
25 November 2020, Phoenix Contact , Editor's Choice, News
"We do try and develop people and promote them from within the company, so I savour people's personal growth that I've overseen."
Read more...
---
Products of the Year 2020
25 November 2020 , Editor's Choice, News
A selection of some of the best products to hit the South African electronic engineering market this year.
Read more...
---