printer friendly version
How a global parcel tracker was brought to life in just three years
30 January 2019 Editor's Choice Telecoms, Datacoms, Wireless, IoT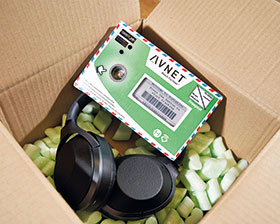 Every month, 13 million Euros' worth of packages go missing. Solving this thorny global logistical issue is a lucrative Internet of Things (IoT) opportunity – one that businesses and entrepreneurs around the world are scrambling to address.
Time is of the essence in this competitive space, as the number of large-scale IoT projects doubled in the year 2017 alone. So, London-based IoT innovator, Hanhaa, turned to Avnet to get its smart parcel solution, ParceLive, to market quickly.
A richer picture of your shipments
Hanhaa CEO, Azhar Hussain, had a small business with a big mission: to enable businesses to monitor their global shipments at massive scale – meaning, tens of thousands of parcels – and make detailed information more easily accessible. Where was the parcel? Was it within the allowable temperature range? Had it got wet? Had it been tipped, dropped or opened?
What's more, Hussain wanted to offer his product as a service to make it more operationally feasible for a broad range of customers. "By offering ParceLive as a tracking service, our customers can stay focused on using their IoT data to improve their business without worrying about the upfront logistics and expense," he said. "Customers won't need to buy the trackers, or charge them, or test them, or ship them around the world. We look after all of that while providing near real-time data about their parcels."
This startup founder's promising vision hinged on one small, yet surprisingly complex, piece of technology: the parcel tracking device itself.
Tackling technology complexity
At first glance, the ParceLive device sounded straightforward: it was based on individual pieces of proven technology, from GPS and other sensors to the wireless communication equipment.
"It was when we started combining these different capabilities that things quickly become more complex – especially the antennas. A small tweak to one part of the design had a big impact elsewhere," Hussain said. The product simply wasn't meeting the requirements, so he turned to Avnet for a solution.
There were three primary technical challenges that needed to be tackled. Firstly, the microcontroller (MCU) architecture was not performing at the required levels. The solution was to migrate to STMicroelectronics for significantly enhanced performance with full design support.
The second challenge was that the battery life was too short for international tracking. This was solved by leveraging VARTA's certified solution to increase battery life from seven days to more than 20 days.
Finally, the existing chip antenna would not allow ParceLive to track with the granularity required for the product to reach its full potential in the market. Avnet thus worked closely with TE Connectivity's engineers to upgrade the chip antenna to an embedded antenna that could offer a far greater granularity of data and a tracking performance that was previously unattainable.
As the team worked through Hussain's ideas to refine the engineering, components and supply chain requirements, they were able to identify and quickly fix a number of issues with the MCU architecture and battery life. Still, it became clear that Hanhaa's complex radio frequency (RF) requirements needed a specialist's attention. The Avnet team knew that TE Connectivity was the right partner to call.
Paul Jones, business development manager at Avnet Abacus, has worked with many startups at this same point in their product development process, when they're beginning to grasp how complex and challenging it is to recognise and mitigate design risks. "In IoT especially, a small mistake early in the design process can cost vast amounts of time and money further down the line," he said.
"Armed with its network of highly specialised engineers and production equipment, TE was uniquely positioned to help Hanhaa avoid that scenario with their antennas. As Azhar told us: "TE helped us climb a wall before we even realised it was a wall."
A sounding board for ideas
TE's engineers reviewed Hanhaa's designs and highlighted issues that could affect the tracker's performance or battery life, working in tandem with Avnet's experts to balance both the requirements of the overall device and those of global markets. Together, the team helped Hanhaa overcome its antenna development hurdles and save significant time and money.
"TE helped us refine the designs and tune the performance so that the tracker delivered the level of accuracy we needed," Hussain said. "Thanks to this close collaboration with Avnet and TE, ParceLive is able to offer capabilities like passive antenna arrays that enable GPS readings from inside a building, for example."
Because they leveraged Avnet's expertise to pull the most complex pieces of their path to market together, including TE Connectivity's specialised antenna resources, Hanhaa was ready for its commercial launch in less than three years. That means it took Avnet less than 1000 days to take its concept, prototype it, refine it and get the first 20 000 units manufactured – one fast path to market for a small business.
"Global product development is one of the most complex and resource-heavy endeavours you can take on – especially for IoT entrepreneurs," Jones said. "We're committed to helping startups succeed because nobody can do it alone. We'll use our global ecosystem to help you move faster than your competitors while still checking all the boxes for the long-term."
Further reading:
Products of the year 2023
Editor's Choice News
A summary of products and technologies from 2023 that are currently shaping the electronic engineering industry.
Read more...
---
The dream of Edge AI
Altron Arrow Editor's Choice AI & ML
AI technology carries a great promise – the idea that machines can make decisions based on the world around them, processing information like a human might. But the promise of AI is currently only being fulfilled by big machines.
Read more...
---
Save space and improve efficiency with a 4-switch buck-boost controller
Altron Arrow Editor's Choice Telecoms, Datacoms, Wireless, IoT
A new generation of 4-switch buck-boost controllers enables power system design with very high efficiency and high power density by using inductor DC resistance (DCR) current-sensing techniques.
Read more...
---
Matter 1.2 adds new capabilities
NuVision Electronics Editor's Choice Telecoms, Datacoms, Wireless, IoT
This update introduces new device types and expands the reach of Matter into new markets, while also bringing other improvements that enhance interoperability and user experience.
Read more...
---
Personality Profile: Paul Eveleigh
Hiconnex Editor's Choice
With a strong and experienced team behind him, he can put into practice what he has learned during his career and ultimately grow the company towards its strategic objectives.
Read more...
---
FPGAs speed up intelligent edge designs
ASIC Design Services Editor's Choice DSP, Micros & Memory
Microchip Technology has added nine new technology- and application-specific solution stacks to its growing collection of mid-range FPGA and SoC support.
Read more...
---
Raspberry Pi 5 announced
RS Components SA Editor's Choice DSP, Micros & Memory
The R-Pi 5 comes with new features and is over twice as fast as its predecessor, the R-Pi 4, thanks to an upgrade to the main processor.
Read more...
---
Dead-reckoning GNSS module
Altron Arrow Editor's Choice Telecoms, Datacoms, Wireless, IoT
STMicroelectronics' Teseo-VIC3D module is an easy-to-use dead-reckoning global navigation satellite system (GNSS) standalone module, embedding TeseoIII single-die standalone positioning receiver IC.
Read more...
---
Quantum leap in battery technology
Editor's Choice Power Electronics / Power Management
A German start-up has developed a solid-state battery ready for series production with outstanding properties: no cobalt, ten times longer service life, and non-flammable electrolyte.
Read more...
---
Simplify your USB-C PD design using a standalone controller
Altron Arrow Editor's Choice
USB PD poses new power requirement challenges because of the variety of voltage and current combinations available to supply the wide range of power the USB PD standard must provide.
Read more...
---