The European Union has enacted legislation known as the Restriction of certain Hazardous Substances (RoHS) and Waste Electrical and Electronic Equipment (WEEE) Directives.
The EU has set June 2006 as the deadline for electronic equipment suppliers to eliminate most uses of Pb from their products.
With respect to factors such as solderability, ease of manufacture and compatibility with existing assembly methods, pure tin plating is seen by the industry as a potentially simple and cost effective alternative.
However, there is another critical problem out there, and that is - 'tin (Sn) whiskers'.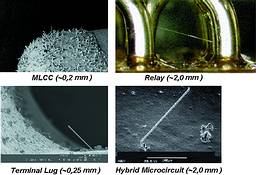 Examples of tin wiskers
What are tin whiskers?
Tin whiskers are electrically conductive, 'hair-like' crystalline structures of tin that may grow from mostly pure tin finished-surfaces. Tin whiskers have been observed to grow to lengths of several millimeters and in rare instances, to lengths of up to 10 mm. Under some electrical/atmospheric conditions, whisker shorts may vaporise into a conductive plasma of metal ions. An arc forms through the plasma that is capable of carrying hundreds of amps with resulting catastrophic damage. Numerous electronic system failures have been attributed to short circuits caused by tin whiskers that bridge closely-spaced circuit elements maintained at different electrical potentials.
Typical characteristics of tin whiskers: growth rate 0,03 to 9 mm/yr; incubation period from days to years; whisker length typically <1 mm and diameter 0,006 µm to 10 µm; electric conductivity in atmosphere, 75 mA max (with whisker dia. 4 µm); in a vacuum whiskers may vaporise into conductive plasma that can carry hundreds of amps; growth mechanism(s) - unknown.
Hi-Q Electronics, local representative for Taiwan Semiconductor, has a presentation available that describes the issue of tin whiskers. Interested readers may contact Stephen Delport, stephen@hi-q.co.za or 021 595 1307.