printer friendly version
CMOS Schmitt-trigger photo detector for encoding and sensing
7 May 2003 Opto-Electronics Industrial (Industry)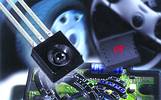 Vishay Intertechnology offers a highly sensitive photo detector that combines the efficiency enabled by CMOS technology with the high performance of Vishay's Photo-Schmitt-Trigger standard.
Packaged in a miniature plastic package (5 x 5 mm with a height of 2,65 mm) the TEKS6400 photo detector features a spherical side-view lens with a ±30° angle of half-sensitivity. The device's very high photosensitivity provides high EMI suppression and an integrated daylight filter that is spectrum-matched to IR emitters with a wavelength of 950 nm. The threshold irradiance is 40 mW/cm2. It features a low supply current of just 45 mA, and a supply voltage range of 2,5 to 5,5 V. Maximum output current is 20 mA and maximum power dissipation is 50 mW.
Further reading:
LED driver expansion board for STM32 Nucleo
Altron Arrow Opto-Electronics
STMicroelectronics' X-NUCLEO-LED12A1 LED driver expansion board for STM32 Nucleo features four LED1202 devices that can drive up to 48 LEDs. The LED1202 is a 12-channel, low quiescent current LED driver 
...
Read more...
---
Securing smart devices in OT environments
Cyber Security Security Services & Risk Management Industrial (Industry)
The Industrial Internet of Things (IIoT) gives devices a link to the Internet so that users can interact with them in realtime, draw and analyse data for statistical or predictive analysis.
Read more...
---
Paying for experience, not assets
IT infrastructure Security Services & Risk Management Industrial (Industry)
Infrastructure as a Service (IaaS) has emerged as a feasible option that maintains crucial infrastructure such as IT, power consumption and business continuity while organisations focus on their core business.
Read more...
---
VCSEL modules for 3D gesture recognition
Future Electronics Opto-Electronics
ams Osram has expanded its 3D sensing portfolio with four new VCSEL modules. The number of applications which utilise 3D sensing technology continues to increase, from the detection of the surroundings 
...
Read more...
---
ToF ranging sensor board eases integration
Altron Arrow Opto-Electronics
The VL53L5CX-SATEL breakout boards from STMicroelectronics can be used for easy integration into customer devices. The PCB section supporting the VL53L5CX time-of-flight (ToF), multizone ranging sensor 
...
Read more...
---
UV-A light detection for wearable and mobile devices
Future Electronics Opto-Electronics
Monitoring vital signs such as pulse or oxygen saturation in the blood via smartphones and smartwatches has been available for several years. The corresponding UV channel of the TSL2585 from ams Osram 
...
Read more...
---
Cybersecurity for operational technology: Part 3
Cyber Security Industrial (Industry)
According to a recent World Economic Report, the Covid-19 pandemic has increased our reliance on the global supply chain, while the Internet has accelerated the digitisation of business processes.
Read more...
---
Ambient light and proximity sensor
TRX Electronics Opto-Electronics
Mouser Electronics is now stocking the TMD2712 ambient light and proximity sensor from ams. The sensor incorporates an infrared (IR) VCSEL (vertical cavity surface emitting laser) and factory-calibrated 
...
Read more...
---
Time-of-flight multi-zone ranging sensor
EBV Electrolink Opto-Electronics
STMicroelectronics has announced the first multi-zone FlightSense time-of-flight sensor to be offered for general-purpose applications, bringing sophisticated distance sensing to the full spectrum of 
...
Read more...
---
New laser sensor technology detects difficult targets
Omron Electronics Opto-Electronics
Omron has launched a new E3AS-HL CMOS Laser Sensor with sensing technology that significantly improves detection capability using an industry-first Laser Class 1 CMOS laser sensor equipped with an FPGA. 
...
Read more...
---