printer friendly version
Violeds technology achieves 99,9% COVID-19 sterilisation in 30 seconds
25 March 2020
Opto-Electronics
Seoul Viosys and Sensor Electronic Technology, innovators of compound semiconductor products and technology, announced that they had been successful in achieving 99,9% sterilisation of coronavirus (COVID-19) in 30 seconds. Tests were conducted with the research group of Korea University, Korea's top ranked university, by using light (photon) Violeds technology that is being mass-produced.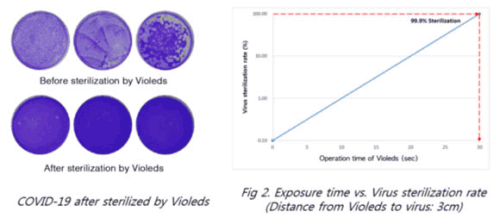 Violeds, compound semiconductor technology, is the brand name of technology that utilises UV LED for sterilisation and deodorisation functions. This technology has been developed by Seoul Viosys with SETi since 2005 to prevent germ proliferation through the use of a light source (photon) without the need of chemicals that could be harmful to humans.
Violeds technology, which has been recognised for its excellent sterilisation and stability, has also been used to clean environments for astronauts at NASA's space station in the United States. Until now, general commercial applications have been limited, as their lifetime was too short for prolonged use. However, since 2019, new patented technology has extended the previous life span by 50 000 hours, making it now an optimal solution for air purification and water sterilisation products.
CEO Chung Hoon Lee, who is the son of a farmer himself, said when Jimmy Carter, also the son of a farmer, became the president of the United States, it was a turning point in history. "I hope this success story will be a small but heart-warming story for small and medium-sized manufacturing companies and young start-ups who are dreaming of manufacturing."
Credit(s)
Further reading:
32-bit MCU for IoT edge applications
NuVision Electronics DSP, Micros & Memory
Silicon Labs launched the EFM32PG22 (PG22) 32-bit microcontroller (MCU), a low-cost, high-performance solution with an optimised combination of energy efficiency, performance and security. With easy-to-use, 
...
Read more...
---
High-side current sense amplifier with adjustable gain
NuVision Electronics Power Electronics / Power Management
The MPQ8112A is a low-cost, unipolar, high-side current sense amplifier that operates from a 2,7 V to 60 V supply and typically consumes a 300 μA current. The Monolithic Power Systems part is ideal for 
...
Read more...
---
VCSEL modules for 3D gesture recognition
Future Electronics Opto-Electronics
ams Osram has expanded its 3D sensing portfolio with four new VCSEL modules. The number of applications which utilise 3D sensing technology continues to increase, from the detection of the surroundings 
...
Read more...
---
ToF ranging sensor board eases integration
Altron Arrow Opto-Electronics
The VL53L5CX-SATEL breakout boards from STMicroelectronics can be used for easy integration into customer devices. The PCB section supporting the VL53L5CX time-of-flight (ToF), multizone ranging sensor 
...
Read more...
---
Integrated buck power module with configurable settings
NuVision Electronics Power Electronics / Power Management
The MP5479 is a complete power management solution that integrates four high-efficiency step-down (buck) DC/DC converters, five low-dropout (LDO) regulators and a flexible I2C interface. Constant-on-time 
...
Read more...
---
UV-A light detection for wearable and mobile devices
Future Electronics Opto-Electronics
Monitoring vital signs such as pulse or oxygen saturation in the blood via smartphones and smartwatches has been available for several years. The corresponding UV channel of the TSL2585 from ams Osram 
...
Read more...
---
Lithium battery charger IC for one to six cells
NuVision Electronics Power Electronics / Power Management
The MP2759A is a highly integrated switching charger designed for applications with 1-cell to 6-cell series Li-ion or Li-polymer battery packs. The device supports several battery chemistry types with 
...
Read more...
---
Ambient light and proximity sensor
TRX Electronics Opto-Electronics
Mouser Electronics is now stocking the TMD2712 ambient light and proximity sensor from ams. The sensor incorporates an infrared (IR) VCSEL (vertical cavity surface emitting laser) and factory-calibrated 
...
Read more...
---
Time-of-flight multi-zone ranging sensor
EBV Electrolink Opto-Electronics
STMicroelectronics has announced the first multi-zone FlightSense time-of-flight sensor to be offered for general-purpose applications, bringing sophisticated distance sensing to the full spectrum of 
...
Read more...
---
Highly secure sub-GHz SoCs
NuVision Electronics Telecoms, Datacoms, Wireless, IoT
Delivering what it claims as the world's first sub-GHz wireless solutions to combine long-range RF and energy efficiency with certified Arm PSA Level 3 security, Silicon Labs has unveiled a lineup of 
...
Read more...
---