printer friendly version
Violeds technology achieves 99,9% COVID-19 sterilisation in 30 seconds
25 March 2020
Opto-Electronics
Seoul Viosys and Sensor Electronic Technology, innovators of compound semiconductor products and technology, announced that they had been successful in achieving 99,9% sterilisation of coronavirus (COVID-19) in 30 seconds. Tests were conducted with the research group of Korea University, Korea's top ranked university, by using light (photon) Violeds technology that is being mass-produced.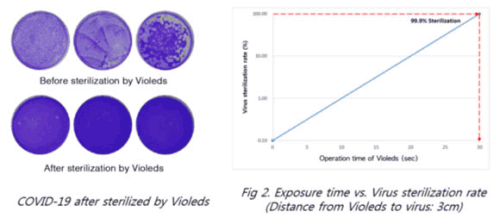 Violeds, compound semiconductor technology, is the brand name of technology that utilises UV LED for sterilisation and deodorisation functions. This technology has been developed by Seoul Viosys with SETi since 2005 to prevent germ proliferation through the use of a light source (photon) without the need of chemicals that could be harmful to humans.
Violeds technology, which has been recognised for its excellent sterilisation and stability, has also been used to clean environments for astronauts at NASA's space station in the United States. Until now, general commercial applications have been limited, as their lifetime was too short for prolonged use. However, since 2019, new patented technology has extended the previous life span by 50 000 hours, making it now an optimal solution for air purification and water sterilisation products.
CEO Chung Hoon Lee, who is the son of a farmer himself, said when Jimmy Carter, also the son of a farmer, became the president of the United States, it was a turning point in history. "I hope this success story will be a small but heart-warming story for small and medium-sized manufacturing companies and young start-ups who are dreaming of manufacturing."
Credit(s)
Further reading:
Digital dimming LED driver
28 April 2021, Current Automation , Opto-Electronics
As the DALI Association keeps adding new lighting control functions under the IEC 62386 international regulation to DALI 2.0 digital lighting control products, the lighting control systems can achieve 
...
Read more...
---
Low-current SMD LEDs
28 April 2021, TRX Electronics , Opto-Electronics
Kingbright offers a selection of SMD LEDs designed to meet the specifications of many applications. They are most commonly used for portable devices, company consumer electronics, industrial handheld 
...
Read more...
---
32-bit MCU for IoT edge applications
28 April 2021, NuVision Electronics , DSP, Micros & Memory
Silicon Labs announced the launch of the EFM32PG22 (PG22) 32-bit microcontroller (MCU), a low-cost, high-performance solution with an optimised combination of energy efficiency, performance and security. 
...
Read more...
---
IR emitters for industrial mass market 2D/3D sensing
26 February 2021, Future Electronics , Opto-Electronics
ams has introduced a family of infrared VCSEL (Vertical-Cavity Surface-Emitting Laser) flood illuminators which help industrial manufacturers to develop new and innovative applications for robots, cobots, 
...
Read more...
---
High-brightness 7-inch IPS display
26 February 2021, iCorp Technologies , Opto-Electronics
The RFF700A9-AWH-DNN is a 7-inch, IPS TFT-LCD display featuring high brightness and wide temperature ranges. This module's IPS screen allows users to see the display clearly at wider angles, and also 
...
Read more...
---
300 W digital DC/DC power module
31 March 2021, NuVision Electronics , Power Electronics / Power Management
The MPC1100A-54-0000 from Monolithic Power Systems (MPS) is a high-efficiency, non-isolated LLC-DCX power card module with a fixed 10:1 transformer turns ratio. The device operates from a 40 V to 60 V d.c. 
...
Read more...
---
Smart home webinars on demand
26 February 2021, NuVision Electronics , Events
Silicon Labs has made recordings available of the sessions from a virtual conference it held recently for those interested in smart home automation. With presenters from Silicon Labs' ecosystem of partners 
...
Read more...
---
18 GHz DFB laser diode
25 November 2020, Conical Technologies , Opto-Electronics
The Model-1742, 18 GHz, 1550 nm microwave distributed feedback (DFB) laser provides exceptional performance for linear fibre-optic communications in very wide bandwidth applications. EMCORE's linear 
...
Read more...
---
Two-in-one proximity sensor and IR emitter
25 November 2020, Altron Arrow , Opto-Electronics
The VL6180 is the latest product based on STMicroelectronics' patented FlightSense technology. This is a ground-breaking technology allowing absolute distance to be measured independent of target reflectance. 
...
Read more...
---
Charger IC for lithium batteries
25 November 2020, NuVision Electronics , Power Electronics / Power Management
The MP2667 from Monolithic Power Systems is a highly integrated, single-cell, Li-ion/Li-polymer battery charger with system power path management for space-limited portable applications. The MP2667 takes 
...
Read more...
---