printer friendly version
ASIL-D certified embedded safety controller
25 March 2020
DSP, Micros & Memory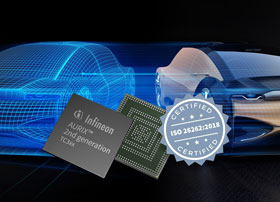 Electro-mobility, advanced driver assistance systems, connected driving – the demand for functionally safe electrical and electronic systems in cars is increasing. Infineon Technologies has now reached a significant milestone: its second generation AURIX (TC3xx) microcontrollers are the first embedded safety controllers worldwide to be certified for the highest automotive safety integrity level (ASIL D) according to the latest version of the ISO 26262 standard. This standard describes a globally binding procedure for the development and production of safety-critical systems in cars.
Leading computing platforms for automated driving rely on AURIX as their safety host controller. This includes, for example, the Qualcomm Snapdragon Ride platform from Qualcomm Technologies, which was introduced at the Consumer Electronics Show in Las Vegas earlier this year. Furthermore, the microcontrollers are used in radar systems for processing sensor data, in engine and transmission control, brake, airbag and steering systems, central gateways, domain control units, hybrid and electric cars and many other applications.
In addition to the automotive sector, the product family is also increasingly used for other safety-critical applications, for example in commercial vehicles and robotics. Therefore, in the next step Infineon is planning certification according to IEC 61508. This is a cross-industry basic functional safety standard that serves as the foundation for application-specific standards.
AURIX TC3xx devices have up to six processor cores with 300 MHz clock frequency each. Up to four of them have an additional Lockstep core. With around 3000 DMIPS, AURIX sets the bar for functionally safe computing power supporting ASIL D among safety microcontrollers.
Other features include safe internal communication buses and a distributed memory protection system. Furthermore, AURIX allows the integration of software with different safety levels from different sources. This allows multiple operating systems and applications, such as steering, braking, airbag and driver assistance systems, to be hosted on a common platform.
Infineon has now launched sales of the AURIX TC3xx family for a broad customer and application base in the distribution market. To ease implementation for customers, the company offers extensive hardware and software support. In addition to starter kits and evaluation boards, a range of application kits are available. Infineon offers a free toolkit for software development and testing called AURIX Development Studio. In the AURIX forum, developers can discuss their questions with each other.
Credit(s)
Further reading:
Discovery kit for IoT nodes using STM32U5 MCU
Altron Arrow DSP, Micros & Memory
The B-U585I-IOT02A Discovery kit provides a complete demonstration and development platform for STMicroelectronics' STM32U585AI microcontroller, featuring an Arm Cortex-M33 core with Arm TrustZone and 
...
Read more...
---
Signal chain implementation for condition monitoring systems
Altron Arrow Editor's Choice Analogue, Mixed Signal, LSI
Like all system designs, there are many choices to be made when it comes to designing a condition monitoring system, each of which comes with various trade-offs and can drastically alter the DAQ signal chain design.
Read more...
---
USB charger solution with high power density
Altron Arrow Power Electronics / Power Management
Diodes Incorporated has launched a three-chip solution for enhancing the performance of ultra-high-power-density USB Type-C power delivery (PD) systems. These products can be used in a wide variety of 
...
Read more...
---
200 MHz MCUs backed by TrustZone security
Hi-Q Electronics DSP, Micros & Memory
Renesas Electronics now offers a 200 MHz RA6E1 microcontroller (MCU) which uses a high-performance Arm Cortex M33 core and TrustZone. The device is built on a highly efficient 40 nm process and supported 
...
Read more...
---
32-bit MCU for IoT edge applications
NuVision Electronics DSP, Micros & Memory
Silicon Labs launched the EFM32PG22 (PG22) 32-bit microcontroller (MCU), a low-cost, high-performance solution with an optimised combination of energy efficiency, performance and security. With easy-to-use, 
...
Read more...
---
Crossover MCU with 3D camera
EBV Electrolink DSP, Micros & Memory
NXP Semiconductors has announced the expansion of its NXP EdgeReady solution portfolio, adding a solution for secure face recognition that leverages a high-performance 3D structured light module (SLM) 
...
Read more...
---
Demo of new TouchGFX video widget
Altron Arrow Multimedia, Videos
The latest release (version 4.18) of STMicroelectronics' TouchGFX software for user-interface development with STM32 microcontrollers (MCUs) added support for video playback, enhanced tools for multi-developer 
...
Read more...
---
Configurable dual IO-Link and SIO transceiver
Altron Arrow Telecoms, Datacoms, Wireless, IoT
STMicroelectronics is bringing extra flexibility to IO-Link connections with the L6364 transceiver, which features dual communication channels that allow configurable output doubling for extra drive strength, 
...
Read more...
---
Updates add video to ST's TouchGFX suite
Altron Arrow Computer/Embedded Technology
STMicroelectronics has released TouchGFX Version 4.18 for user-interface development with STM32 microcontrollers (MCUs), adding video playback, enhanced tools for multi-developer collaboration and support 
...
Read more...
---
Super-junction 800 V MOSFETs
Altron Arrow Power Electronics / Power Management
The new super-junction STPOWER MDmesh K6 series from STMicroelectronics enhances several key parameters to minimise system-power losses. It is especially suited to lighting applications based on flyback 
...
Read more...
---