printer friendly version
Ethernet tap for IO Ninja
25 March 2020
Test & Measurement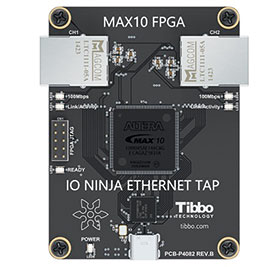 Monitoring network communications of your PC can be accomplished without any specialised hardware – just use the Pcap Sniffer plugin of IO Ninja. The task of tapping into the Ethernet traffic of a non-PC device, however, is significantly more complex.
One popular method is a PC-in-the-middle approach, where a PC is equipped with two Ethernet ports and is placed between the monitored device and the Ethernet switch. This works (after quite a bit of configuring), but the approach is cumbersome. Also, the PC inevitably injects its own network traffic into the stream, thus distorting the communications picture.
Other existing methods include using old-style 'analog' Ethernet hubs that copy all traffic to all ports, Ethernet switches equipped with a special monitoring port, and other variations on the hub/switch-in-the-middle theme. All these approaches are far from ideal as they require quite a bit of setup and preparation.
Enter Tibbo's Ethernet Tap – this FPGA-based board transparently passes the Ethernet traffic between its two Ethernet ports. The Ethernet traffic flowing in both directions is captured and sent via the USB connection to the IO Ninja software for logging and analysis. The Ethernet Tap is compact, USB-powered, requires no configuration and is completely 'silent,' meaning it introduces no unwanted Ethernet traffic of its own.
Credit(s)
Further reading:
Approval for industry-first 3GPP Release 16 protocol conformance test
Coral-i Solutions Test & Measurement
The Conformance Agreement Group (CAG) operated by the Global Certification Forum (GCF) approved the industry's first Release 16 Protocol Conformance tests for 5G New Radio (NR) at the CAG#68 meetings 
...
Read more...
---
ExpressLink modules for secure connectivity to AWS Cloud
RF Design Telecoms, Datacoms, Wireless, IoT
u-blox has announced two new modules designed to enable Amazon Web Services (AWS) cloud services for device and fleet management out of the box: the NORA-W2 AWS IoT ExpressLink Wi-Fi module and the SARA-R5 
...
Read more...
---
Passive MMIC diplexer
RF Design Telecoms, Datacoms, Wireless, IoT
The MDPX-0710 from Marki Microwave is a passive MMIC diplexer with passbands from DC to 7 GHz (low band) and 10 to 26,5 GHz (high band). It has an insertion loss of less than 0,9 dB within its passbands 
...
Read more...
---
Embedded GNSS antenna with integrated LNA
RF Design Telecoms, Datacoms, Wireless, IoT
The HC990EXF from Tallysman is an extended-filter embedded GNSS helical antenna. This RHCP (right-hand circular polarised) antenna provides a peak gain of 3 dBi at full bandwidth and has an axial ratio 
...
Read more...
---
Tiny Bluetooth module fit for industrial applications
RF Design Telecoms, Datacoms, Wireless, IoT
The newly released ANNA-B4 is u-blox' smallest Bluetooth module to date, packed with features tailored to the needs of industrial applications. This comes at a time when smart factories have matured from 
...
Read more...
---
Modular, portable 5G RF spectrum analyser
Test & Measurement
EXFO recently introduced the 5GPro spectrum analyser, representing what it claims is the only modular, field-focused RF testing solution providing accurate visibility into 4G/LTE and 5G NR environments 
...
Read more...
---
Multiprotocol, dual-processor wireless SoC
RF Design Telecoms, Datacoms, Wireless, IoT
Nordic Semiconductor's nRF5340 high-end multiprotocol system-on-chip (SoC) became the first member of its next generation of nRF5 Series SoCs. The nRF5340 builds on Nordic's proven and globally adopted 
...
Read more...
---
Warehouse staging area capacity solution
RF Design Telecoms, Datacoms, Wireless, IoT
Taoglas, better known for its antennas, has furthered its drive to be an enabler of digital transformation through IoT with its new Taoglas EDGE Vision technology, which aims to streamline processes for 
...
Read more...
---
RF receiver for spectrum regulators
Measuretest Test & Measurement
CRFS announced the launch of a new high-performance RF receiver, the RFeye Node 40-8, specifically designed to meet the needs of communications regulators. With a 40 MHz instantaneous bandwidth and 9 kHz 
...
Read more...
---
Accessible machine learning for cellular IoT solutions
RF Design Telecoms, Datacoms, Wireless, IoT
Together with design partner Edge Impulse, Nordic Semiconductor has introduced TinyML support for both the nRF9160 DK (development kit) and the Nordic Thingy:91 multi-sensor cellular IoT prototyping platform. 
...
Read more...
---