printer friendly version
Passive components and subsystems for demanding applications
29 April 2020
Passive Components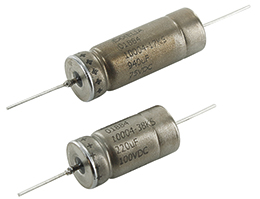 Represented locally by Actum Group, Exxelia is a specialised manufacturer of high-quality Hi-Rel passive components and precision subsystems. Exxelia products meet complex specifications and cater for critical functions, such as MIL and ESA. Its products are commonly used in power electronics, power generation, energy storage and signal filtering.
Exxelia multi-layer ceramic capacitors offer high temperature resistance, as well as high volume/capacitance ratio. This includes NPO, BX, 2C1, X7R, C4xx and –2200 ppm/°C dielectrics. Its variety of properties make it ideal for many demanding applications, such as aircraft flight controls, 
switch-mode power supply, charge/discharge applications, medical implants, drilling tools and satellite platforms. The Exxelia capacitor range includes film, silvered Mica, tantalum, aluminium electrolytic, ceramic, high-voltage and RF.
Exxelia has developed custom search functionality on its website that enables you to select criteria and find the right capacitor for your application. Visit www.exxelia.com to get started.
For more information contact Actum Group, +27 11 608 3001, sales@actum.co.za, www.actum.co.za
Credit(s)
Further reading:
CeraCharge now available in a small packing unit
30 June 2020, Electrocomp , Passive Components
TDK is presenting a new packing unit for CeraCharge, the world's first SMD technology solid-state rechargeable battery, in the compact size EIA 1812 (4,4 x 3,0 x 1,1 mm). The packing unit (B73180A0101M199) 
...
Read more...
---
Contactless ESD testing and access control unit
30 June 2020, Actum Group , Test & Measurement
In the electronics manufacturing industry, an electrostatic discharge (ESD) can cause irreparable damage to electronic components. This micro-lightning bolt can burn holes through insulating layers and 
...
Read more...
---
Thermal monitor for fever screening
30 June 2020, Actum Group , Test & Measurement
The TCSF256 thermal monitor from Actum Group is a fully automated, plug-and-play fever screening unit. It adopts an infrared radiation measurement technique that can measure body temperature by non-contact 
...
Read more...
---
Surface mount resistors and terminations
30 June 2020, RF Design , Passive Components
Smiths Interconnect announced the release of its extended CXH series of surface mount chip resistors and terminations. The CXH series uses a patented layout to provide improved power handling over conventional 
...
Read more...
---
Broadband capacitors and their significance
30 June 2020, TRX Electronics , Passive Components
There are a number of circuits that require coupling RF signals or bypassing them to ground while blocking DC over extraordinarily large RF bandwidths. The applications for which they are intended typically 
...
Read more...
---
Thick-film chip resistors
29 April 2020, Electrocomp , Passive Components
Bourns announced the introduction of its new Model CR01005 series thick-film chip resistor. This extra small – 01005 inch (0402 metric) – CR01005 series broadens the general purpose thick-film chip resistor 
...
Read more...
---
Automotive-grade MLCCs
29 April 2020, TRX Electronics , Passive Components
Yageo's automotive grade MLCC (multilayer chip capacitor) AC/AS series is AEC-Q200 qualified as well as MIL-STD-020D tested to ensure its reliability under various temperatures (from -55°C to +150°C) 
...
Read more...
---
Chip resistors in automotive grade
29 May 2020, Altron Arrow , Passive Components
Vishay has enhanced its MC AT precision series of automotive grade thin film chip resistors with a wider range of resistance values from 47 Ω to 10 MΩ in the 1206 case size. The MCA 1206 AT is the industry's 
...
Read more...
---
Advanced EMI shielding solutions
29 May 2020, Actum Group , Circuit & System Protection
All electronic devices generate electromagnetic radiation that can be transmitted through the air from one electronic device to another. This is known as electromagnetic interference (EMI). In certain 
...
Read more...
---
Robust glass and plastic laminated displays
29 May 2020, Actum Group , Opto-Electronics
Instrument Plastics specialises in glass and plastic optical-grade contrast enhancement filters for electronic displays. These filters improve display readability by enhancing contrast and reducing reflections, 
...
Read more...
---