printer friendly version
Open-frame configurable power supplies
29 April 2020
Power Electronics / Power Management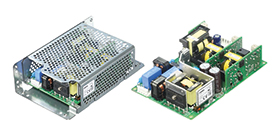 The RB series of configurable open-frame power supplies has been expanded. Based on a unique concept, the Cosel RB series offers three configurable isolated outputs, with one having a reinforced isolation to power IGBT or equivalent applications.
Certified to EN62477-1 Over Voltage Category (OVC) III, by reducing the need for an extra isolation transformer when connected to a distribution panel, the RBC200F model power supply simplifies the design process for systems architects while reducing costs. Reducing energy consumption, the RBC200F is fully digitally controlled on the input and output stages.
The unit accepts input voltages of 84 to 264 V a.c. and delivers an output power of 207 W. The product is designed for convection cooling and can be operated from -20°C to +70°C at an altitude up to 3000 metres (9000 metres in the case of storage). The RBC200F can be installed in any orientation and under standard mounting (horizontal orientation) derating starts from 50°C under convection cooling.
Designed to reduce complexity, the RBC200F features three independent outputs. The master output (Slot 1) can deliver 24 V adjustable from 22,8 to 26,4 V, or 48 V adjustable from 45,6 to 52,8 V with 144 W output power. The second output (Slot 2) can host configured modules of 3,3 V/5 A; 5 V/5 A; 12 V/2,5 A; 16,5 V/1,9 A; 24 V/1,3 A; 48 V/0,65 A; +/-12 V/0,7 A and +/-15 V/0,7 A with a power of 16,5 to 30 W depending on the output voltage. The third output (Slot 3) can host any of the single output voltage modules in the same power level.
For higher voltages, outputs can be connected in series. All output voltages are adjustable via a built-in potentiometer. To optimise efficiency, the master output DC-DC converter is based on an LLC resonant topology while the second and third outputs are using quasi-resonant-flyback topology.
The RBC200F has an input to output isolation of 3000 V a.c., and an input to ground isolation of 2000 V a.c. The isolation voltage between the three outputs has been optimised for robotic controller applications. Isolation between the master output and output two corresponds to a functional isolation of 500 V a.c. while the isolation between the master output, output two and the third output is reinforced to 3000 V a.c.
Certified to IEC/EN62477-1 OVC III and complying with EN61558-2-16, the RBC200F can be directly connected to the installation distribution panel, eliminating the need for an additional isolation transformer. The reinforced isolation of output three is suitable to supply voltages to IGBTs or IPMs, which reduces the number of power supplies required to power robotic controllers and high-power modules in factory automation.
By integrating a reinforced isolated output, the 'three in one' RBC200F has an equivalent footprint 40% smaller than conventional solutions. The RBC200F has built-in inrush current limitation, over-current, over-voltage, as well as thermal protection.
The RBC200F is certified in accordance to UL62368-1, C-UL (equivalent to CAN/CSA-C22.2 No.62368-1), EN62368-1, EN62477-1 (OVC III) and complies with EN61558-2-16 (OVC III).It has a built-in active input filter and conducted noise complies with FCC-B, VCCI-B, CISPR11-B, CISPR32-B, EN55011-B, EN55032-B and harmonic current emission to IEC61000-3-2 (class A). In accordance with IEC62368-1, Cosel's RBC200F has a leakage current of 0,40 to 0,75 mA maximum, though for applications requiring lower levels, the option 'G' offers a leakage current of 0,15 mA maximum.
The RBC200F measures 101 x 38,3 x 152 mm, or including a terminal block this becomes 101 x 38,3 x 164 mm (W x  H x D) and has a weight of 450 grams. An optional chassis with cover is available on request, as well as a vertical mounting terminal block. In the case of harsh or corrosive environments, a conformal coating option is available (Option C).
For more information contact Vepac Electronics, +27 11 454 8053, sales@vepac.co.za, www.vepac.co.za
Credit(s)
Further reading:
Catalogue: Vepac Electronics
30 June 2020, Vepac Electronics , Technical Literature
Vepac Electronics has released a new and revised catalogue. Vepac is a leading provider of power solutions and ancillary devices used in the manufacture, integration and service of customer products and 
...
Read more...
---
USB Type-C power delivery controller
30 June 2020, CST Electronics , Power Electronics / Power Management
The MAX77958 from Maxim Integrated is a robust solution for USB Type-C CC detection and power delivery (PD) protocol implementation. It detects connected accessories or devices by using Type-C CC detection 
...
Read more...
---
Backplanes for various computing architectures
30 June 2020, Vepac Electronics , Computer/Embedded Technology
Verotec designs, supplies and integrates bus-based products and systems. Its extensive standard range consists of open-architecture backplanes and extender boards for VME, VME64x, VXI, VPX, VXS, CompactPCI, 
...
Read more...
---
Lead-acid batteries: quality versus cost
30 June 2020, Forbatt SA , Power Electronics / Power Management
While many battery technologies have come to the forefront, lead-acid has remained the most well-known and cost-effective chemistry. Gel and AGM technologies have revolutionised this technology even further. 
...
Read more...
---
Fanless 600 W power supplies
30 June 2020, Vepac Electronics , Power Electronics / Power Management
XP Power has released a new series of convection cooled, 600 W AC-DC power supplies. The ultra-compact power supplies deliver full load power under a wide range of conditions without additional cooling. 
...
Read more...
---
IGBT for 1500 V PV string inverters
30 June 2020, Altron Arrow , Power Electronics / Power Management
The solar power market is undergoing a trend towards 1500 V solutions, which allow for more series connections, less cable, fewer generator connection boxes and fewer inverters. The new EasyPACK 3B 
...
Read more...
---
DIN-rail mounting DC-DC converters
30 June 2020, Avnet South Africa , Power Electronics / Power Management
Shortly after unveiling the brand-new DIN-rail mounting DC-DC converter family, the DDR-15/30/60/120/240 series, Mean Well has announced the DDR-480 series (480 W) to enable integration into higher-power 
...
Read more...
---
The revolution of LTO battery technology
30 June 2020 , Power Electronics / Power Management
Potential applications of LTO technology include solar and alternative energy storage, heavy motor vehicle and industrial applications, as well as power sources for remote communication systems.
Read more...
---
iCoupler technology benefits GaN transistors in AC-DC designs
30 June 2020, Altron Arrow , Power Electronics / Power Management
Highly efficient AC-DC power supplies are key to the evolution of the telecom and datacom infrastructure, as power consumption grows rapidly due to hyperscale data centres, enterprise servers, or telecom 
...
Read more...
---
DC-DC converters with 10-year warranty
29 May 2020, Vepac Electronics , Power Electronics / Power Management
Addressing a large range of demanding applications, the MGxx40 series is available in three input voltage ranges: 4,5 V to 13 V, 9 V to 36 V and 18 V to 76 V. A single-output version (MGFS40) is available 
...
Read more...
---