printer friendly version
Cryptographic MCU protects against malware
29 April 2020
DSP, Micros & Memory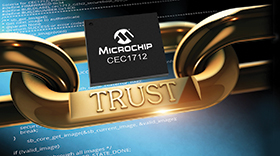 With the rapid growth of 5G including new cellular infrastructure, growing networks and data centres supporting expanding cloud computing, developers are seeking new ways to ensure operating systems remain secure and uncompromised. Microchip Technology recently announced a new cryptography-enabled microcontroller (MCU), the CEC1712, with Soteria-G2 custom firmware – designed to stop malicious malware such as rootkit and bootkit for systems that boot from external Serial Peripheral Interface (SPI) Flash memory.
Microchip's Soteria-G2 custom firmware on its full-featured CEC1712 Arm Cortex-M4-based microcontroller provides secure boot with hardware root of trust protection in a pre-boot mode for those operating systems booting from external SPI Flash memory. In addition, the CEC1712 provides key revocation and code rollback protection during operating life, enabling in-field security updates.
Complying with NIST 800-193 guidelines, the CEC1712 protects, detects and recovers from corruption for total system platform firmware resiliency. The secure boot with hardware root of trust is critical in protecting the system against threats before they can load into the system and only allows the system to boot using software trusted by the manufacturer.
The Soteria-G2 firmware is designed to be used in conjunction with the CEC1712 to allow designers to speed adoption and implementation of a secure boot, by simplifying the code development and reducing risk. Soteria-G2 uses the CEC1712 immutable secure bootloader, implemented in read-only memory (ROM), as the system root of trust.
The CEC1712 secure bootloader loads, decrypts and authenticates the firmware to run on the CEC1712 from the external SPI Flash. The validated CEC1712 code subsequently authenticates the firmware stored in SPI Flash for the first application processor. Up to two application processors are supported with two Flash components supported for each.
Pre-provisioning of customer-specific data is an option provided by Microchip or Arrow Electronics. Pre-provisioning is a secure manufacturing solution to help prevent overbuilding and counterfeiting. In addition to saving up to several months of development time, the solution significantly simplifies provisioning logistics, making it easy for customers to secure and manage devices without the overhead cost of third-party provisioning services or certificate authorities.
In addition to preventing malicious malware during pre-boot in 5G and data centre operating systems, Microchip's CEC1712 and Soteria-G2 combination is a security enabler for connected autonomous vehicle operating systems, automotive advanced driver assisted systems (ADAS) and other systems that boot out of external SPI Flash.
For more information contact Dirk Venter, Altron Arrow, +27 11 923 9600, dventer@arrow.altech.co.za, www.arrow.altech.co.za
Credit(s)
Further reading:
How a 16-bit output module can be controlled with full isolation from the MCU
25 November 2020, Altron Arrow , Analogue, Mixed Signal, LSI
Whether in buildings or on production floors, programmable controllers are needed everywhere today to regulate various processes, machines, and systems. This involves programmable logic controllers (PLCs) 
...
Read more...
---
Active GNSS patch antenna
25 November 2020, Altron Arrow , Telecoms, Datacoms, Wireless, IoT
The Taoglas ASGGB184.A is a single-band, active GNSS patch antenna covering GPS, GLONASS, BeiDou and Galileo. With hidden active circuitry embedded between the ceramic patch and PCB base, it has been 
...
Read more...
---
SiC SBDs for automotive applications
25 November 2020, Altron Arrow , Power Electronics / Power Management
As vehicle electrification continues rapid growth worldwide, innovative power technologies such as silicon carbide (SiC) are required for high-voltage automotive systems ranging from motors to on-board 
...
Read more...
---
Out-of-the-box global MTC connectivity
25 November 2020, Altron Arrow , Telecoms, Datacoms, Wireless, IoT
The Thales Cinterion EGX81 Efficient IoT Gateway raises the bar on IoT simplicity, delivering highly efficient global Machine Type Communications (MTC) connectivity straight out of the box. The EGX81 
...
Read more...
---
Littelfuse launches DC disconnect switch product line
25 November 2020, Altron Arrow , Circuit & System Protection
Littelfuse has expanded its solar product line of fuses, relays, surge protection devices, and more with its new DC disconnect switch. Trusted with over 25 million installations, Littelfuse understands 
...
Read more...
---
Altron appoints new company secretary
25 November 2020, Altron Arrow , News
Nicole Morgan has been appointed as company secretary of Altron with effect from 1 January 2021. An admitted attorney of the High Court with 11 years of corporate law and company secretarial experience, 
...
Read more...
---
MCU module for Bluetooth 5.2 low energy applications
25 November 2020, Altron Arrow , Telecoms, Datacoms, Wireless, IoT
The certified WB2072-00 module from Jorjin is a wireless MCU (microcontroller) module targeting Bluetooth 5.2 low energy applications. It is based on the STMicroelectronics BlueNRG-355AC wireless MCU 
...
Read more...
---
RTLS tag module for real-time positioning
25 November 2020, Altron Arrow , Telecoms, Datacoms, Wireless, IoT
Inpixon announced the launch of its newest smart tag module, the swarm bee LE V3, supporting a range of indoor and outdoor location applications including real-time location systems (RTLS). This is 
...
Read more...
---
MCUs with advanced analog peripherals
25 November 2020, Avnet Silica , DSP, Micros & Memory
Microchip Technology's new PIC18-Q41 and AVR DB microcontroller (MCU) families are the first to combine advanced analog peripherals and multi-voltage operation with inter-peripheral connections for increased 
...
Read more...
---
The A to Z of A2B applications
25 November 2020, Altron Arrow , Editor's Choice, Telecoms, Datacoms, Wireless, IoT
An A
2
B device's support for up to 32 channels of downstream audio and upstream audio on the network facilitate the distribution of multiple channels of different audio content within a single system.
Read more...
---