printer friendly version
Automotive-grade MLCCs
29 April 2020
Passive Components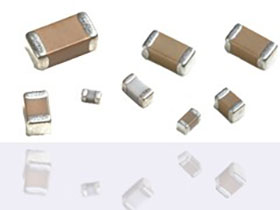 Yageo's automotive grade MLCC (multilayer chip capacitor) AC/AS series is AEC-Q200 qualified as well as MIL-STD-020D tested to ensure its reliability under various temperatures (from -55°C to +150°C) and humidity (1000 hours, 85°C/85% RH) conditions and still possess long endurance.
These capacitors consist of a rectangular block of ceramic dielectric in which a number of interleaved metal electrodes are contained. The inner electrodes are connected to the two end terminations and covered with a layer of plated tin.
Applications include entertainment, comfort and security, information and all general-purpose applications.
For more information contact TRX Electronics, +27 12 997 0509, info@trxe.com, www.trxe.com
Credit(s)
Further reading:
CeraCharge now available in a small packing unit
30 June 2020, Electrocomp , Passive Components
TDK is presenting a new packing unit for CeraCharge, the world's first SMD technology solid-state rechargeable battery, in the compact size EIA 1812 (4,4 x 3,0 x 1,1 mm). The packing unit (B73180A0101M199) 
...
Read more...
---
Versatile micro switches
30 June 2020, TRX Electronics , Switches, Relays & Keypads
The V19, Honeywell's unsealed micro switch family, provides a cost-conscious switch solution to assist in hitting overall system-level cost and design goals in high-volume applications. Suitable applications 
...
Read more...
---
Surface mount resistors and terminations
30 June 2020, RF Design , Passive Components
Smiths Interconnect announced the release of its extended CXH series of surface mount chip resistors and terminations. The CXH series uses a patented layout to provide improved power handling over conventional 
...
Read more...
---
Circular connectors for power, signals and data
30 June 2020, TRX Electronics , Interconnection
Standardised circular connectors have become the industry standard across a wide range of applications. Customers can find the right option for their most innovative designs with Phoenix Contact's PLUSCON 
...
Read more...
---
Rugged fibre connectors
29 July 2020, TRX Electronics , Interconnection
TE Connectivity's ruggedised fibre optics bring the benefits of optical technology to challenging environments, providing more bandwidth, more distance and more performance. TE's offering includes 
...
Read more...
---
Broadband capacitors and their significance
30 June 2020, TRX Electronics , Passive Components
There are a number of circuits that require coupling RF signals or bypassing them to ground while blocking DC over extraordinarily large RF bandwidths. The applications for which they are intended typically 
...
Read more...
---
Thick-film chip resistors
29 April 2020, Electrocomp , Passive Components
Bourns announced the introduction of its new Model CR01005 series thick-film chip resistor. This extra small – 01005 inch (0402 metric) – CR01005 series broadens the general purpose thick-film chip resistor 
...
Read more...
---
Chip resistors in automotive grade
29 May 2020, Altron Arrow , Passive Components
Vishay has enhanced its MC AT precision series of automotive grade thin film chip resistors with a wider range of resistance values from 47 Ω to 10 MΩ in the 1206 case size. The MCA 1206 AT is the industry's 
...
Read more...
---
Board-mount pressure sensors
29 May 2020, TRX Electronics , Analogue, Mixed Signal, LSI
The ABP series of board-mount pressure sensors from Honeywell are fully calibrated and temperature compensated for sensor offset, sensitivity, temperature effects and accuracy errors (which include non-linearity, 
...
Read more...
---
Storage choke against harmonic distortion
29 April 2020, Würth Elektronik eiSos , Passive Components
The WE-LHMD is an SMT-mountable storage choke from Würth Elektronik optimised for filter topologies in Class-D amplifiers. Thanks to their iron powder cores, the high-current inductors for audio applications 
...
Read more...
---