printer friendly version
Board-mount pressure sensors
29 May 2020
Analogue, Mixed Signal, LSI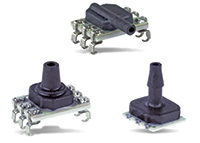 The ABP series of board-mount pressure sensors from Honeywell are fully calibrated and temperature compensated for sensor offset, sensitivity, temperature effects and accuracy errors (which include non-linearity, repeatability and hysteresis) using an on-board application-specific integrated circuit (ASIC). Calibrated output values for pressure are updated at approximately 1 kHz for analog and 2 kHz for digital.
The ABP series is calibrated over the temperature range of 0°C to 50°C. The sensor is characterised for operation from a single power supply of either 3,3 V d.c. or 5,0 V d.c. These sensors measure gauge and differential pressures.
The basic amplified pressure sensors are intended for use with non-corrosive, non-ionic gases, such as air and other dry gases. The following options extend the performance of these sensors to non-corrosive liquids:
No silicone gel coating: The input port is limited to non-corrosive, non-ionic media such as dry air and gases and should not be exposed to condensation. The gases are limited to media that are compatible with high-temperature polyamide, silicone, alumina ceramic, silicon, gold and glass.
Silicone gel coating: Uses the same materials in the wetted media path but is protected from condensation by a silicone-based gel coating; allows use in applications where condensation may occur.
For more information contact TRX Electronics, +27 12 997 0509, info@trxe.com, www.trxe.com
Credit(s)
Further reading:
MLCCs rated for automotive environments
28 April 2021, TRX Electronics , Passive Components
Syfer/Knowles AEC-Q200 qualified FlexiCap MLCCs (multi-layer chip capacitors) are suitable for harsh automotive environments. These FlexiCap components range up to 1 kV voltage rating for the requirements 
...
Read more...
---
Compact bias tees with up to 35 GHz bandwidth
31 March 2021, RF Design , Analogue, Mixed Signal, LSI
Designers can save design time and time-to-market by using a proven bias solution from the high-frequency specialist company, Marki Microwave. Its new line of surface mount bias tees, featuring up to 
...
Read more...
---
Right-angle SMA connectors and assemblies
28 April 2021, TRX Electronics , Interconnection
Amphenol SV Microwave's right-angle SMA connectors and cable assemblies offer true broadband 40 GHz performance and a space saving design. The design reduces stress on solder joints and accommodates .047 
...
Read more...
---
Low-current SMD LEDs
28 April 2021, TRX Electronics , Opto-Electronics
Kingbright offers a selection of SMD LEDs designed to meet the specifications of many applications. They are most commonly used for portable devices, company consumer electronics, industrial handheld 
...
Read more...
---
Bidirectional logic-level voltage translators
31 March 2021, Altron Arrow , Analogue, Mixed Signal, LSI
The 74LVC2T45 and 74LVCH2T45 from Diodes Incorporated provide logic-level voltage translation between devices that operate from different supply rails. The devices have dual power supplies and support 
...
Read more...
---
Evaluate 3D magnetic sensors in under ten minutes
31 March 2021, Altron Arrow , Analogue, Mixed Signal, LSI
You probably think that it's not possible to evaluate a 3D magnetic sensor in less than ten minutes? Think again! Anything is possible with Infineon's 2GO kits. Its 3D magnetic sensor 2GO kit is a budget-priced 
...
Read more...
---
How best to calculate DAC signal chain error budget
26 February 2021 , Analogue, Mixed Signal, LSI
Electrical signal chains can be found in various forms. They can consist of different electrical components, including sensors, actuators, amplifiers, analog-to-digital converters (ADCs), digital-to-analog 
...
Read more...
---
Inline industrial temperature sensor
26 February 2021, TRX Electronics , Analogue, Mixed Signal, LSI
Amphenol Advanced Sensors offers an inline flow-through temperature sensor that monitors the temperature of a fluid that passes through it. A system control module receives this temperature reading 
...
Read more...
---
Multi-parameter vital signs monitoring is easier than ever before
31 March 2021, Altron Arrow , Analogue, Mixed Signal, LSI
There is rapid expansion and adoption of digital healthcare fuelled by the continuous advancement in electronics and breakthroughs in cloud computing, AI, and communication technologies.
Read more...
---
Closed-loop MEMS accelerometer
26 February 2021, Electrocomp , Analogue, Mixed Signal, LSI
TDK announced the release of Tronics AXO315, a miniature, 1-axis closed-loop MEMS accelerometer with a 24-bit digital SPI interface and SMD package that reaches quartz sensor performance, outperforms 
...
Read more...
---