printer friendly version
Board-mount pressure sensors
29 May 2020
Analogue, Mixed Signal, LSI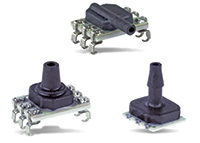 The ABP series of board-mount pressure sensors from Honeywell are fully calibrated and temperature compensated for sensor offset, sensitivity, temperature effects and accuracy errors (which include non-linearity, repeatability and hysteresis) using an on-board application-specific integrated circuit (ASIC). Calibrated output values for pressure are updated at approximately 1 kHz for analog and 2 kHz for digital.
The ABP series is calibrated over the temperature range of 0°C to 50°C. The sensor is characterised for operation from a single power supply of either 3,3 V d.c. or 5,0 V d.c. These sensors measure gauge and differential pressures.
The basic amplified pressure sensors are intended for use with non-corrosive, non-ionic gases, such as air and other dry gases. The following options extend the performance of these sensors to non-corrosive liquids:
No silicone gel coating: The input port is limited to non-corrosive, non-ionic media such as dry air and gases and should not be exposed to condensation. The gases are limited to media that are compatible with high-temperature polyamide, silicone, alumina ceramic, silicon, gold and glass.
Silicone gel coating: Uses the same materials in the wetted media path but is protected from condensation by a silicone-based gel coating; allows use in applications where condensation may occur.
For more information contact TRX Electronics, +27 12 997 0509, info@trxe.com, www.trxe.com
Credit(s)
Further reading:
Robust temperature sensor for E-mobility
30 June 2020, Electrocomp , Analogue, Mixed Signal, LSI
The new B58703M1103A* temperature sensor is specially developed for demanding E-mobility applications, which call for high long-term stability. The NTC sensor is designed for a temperature range of -40°C 
...
Read more...
---
Versatile micro switches
30 June 2020, TRX Electronics , Switches, Relays & Keypads
The V19, Honeywell's unsealed micro switch family, provides a cost-conscious switch solution to assist in hitting overall system-level cost and design goals in high-volume applications. Suitable applications 
...
Read more...
---
Circular connectors for power, signals and data
30 June 2020, TRX Electronics , Interconnection
Standardised circular connectors have become the industry standard across a wide range of applications. Customers can find the right option for their most innovative designs with Phoenix Contact's PLUSCON 
...
Read more...
---
Rugged fibre connectors
29 July 2020, TRX Electronics , Interconnection
TE Connectivity's ruggedised fibre optics bring the benefits of optical technology to challenging environments, providing more bandwidth, more distance and more performance. TE's offering includes 
...
Read more...
---
Sensor signal conditioning IC
30 June 2020, Hi-Q Electronics , Analogue, Mixed Signal, LSI
New from Renesas Electronics is the ZSSC3240 sensor signal conditioner (SSC) – the newest member of its leading-edge SSC portfolio. The ZSSC3240 delivers high accuracy, sensitivity and flexibility for 
...
Read more...
---
Broadband capacitors and their significance
30 June 2020, TRX Electronics , Passive Components
There are a number of circuits that require coupling RF signals or bypassing them to ground while blocking DC over extraordinarily large RF bandwidths. The applications for which they are intended typically 
...
Read more...
---
Highly accurate 1-wire temperature sensor
29 April 2020, CST Electronics , Analogue, Mixed Signal, LSI
The MAX31825 temperature sensor from Maxim Integrated provides 8-bit to 12-bit Celsius temperature measurements with better than ±1°C accuracy from 0°C to +70°C and ±1,75°C from -45°C to +145°C. The 
...
Read more...
---
Automotive-grade MLCCs
29 April 2020, TRX Electronics , Passive Components
Yageo's automotive grade MLCC (multilayer chip capacitor) AC/AS series is AEC-Q200 qualified as well as MIL-STD-020D tested to ensure its reliability under various temperatures (from -55°C to +150°C) 
...
Read more...
---
HDMI 2.1 active switch
29 May 2020, Altron Arrow , Analogue, Mixed Signal, LSI
Diodes Incorporated announced the PI3HDX12221, an HDMI 2.1 active switch with linear ReDriver that enables manufacturers of TVs, PCs, gaming consoles and set-top boxes to adopt the latest 12 Gbps HDMI 
...
Read more...
---
The top benefits of MEMS timing
29 May 2020, Avnet South Africa , Analogue, Mixed Signal, LSI
MEMS (micro electromechanical systems), designed to resonate and generate clocks signals, may not dominate the world of timing applications right now, but the technology's popularity is growing. Competing 
...
Read more...
---