printer friendly version
Phase noise analyser for precision oscillator characterisation
29 April 2020
Test & Measurement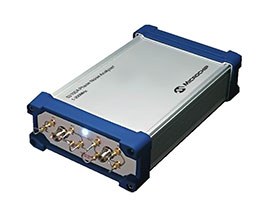 To help research and manufacturing engineers make precise and accurate measurement of frequency signals, including those generated by atomic clocks and other high-performance frequency reference modules and subsystems, Microchip Technology announced the availability of the new 53100A phase noise analyser.
The instrument is designed for engineers and scientists who rely on precise and accurate measurement of frequency signals generated for 5G networks, data centres, commercial and military aircraft systems, space vehicles, communication satellites and metrology applications.
Capable of measuring radio frequency (RF) signals up to 200 MHz, the new test instrument rapidly acquires frequency signals and characterises the phase noise, jitter, Allan deviation (ADEV) and time deviation (TDEV) quickly and precisely. All attributes of a frequency reference can be completely characterised with a single instrument within minutes.
The 53100A enables a variety of configurations by allowing up to three separate devices to be tested simultaneously using a single reference, enabling higher capacity for stability measurements. At 344 x 215 x 91 mm, it is small enough for integration into manufacturing automated test equipment (ATE) systems, yet powerful enough for laboratory-grade metrology. Its interface provides backward compatibility with Microchip's 51xxA test sets' command and data stream, reducing the need to redesign existing ATE infrastructure.
The analyser provides flexibility by allowing an input reference device to be connected through the front panel at a different nominal frequency than the device under test – allowing a single reference to characterise a variety of oscillator products. Rubidium frequency standards such as Microchip's 8040C-LN or a quartz oscillator such as Microchip's 1000C ovenised crystal oscillator (OCXO) could be used as a reference, as well as other manufacturers' precise oscillators.
For more information contact Dirk Venter, Altron Arrow, +27 11 923 9600, dventer@arrow.altech.co.za, www.arrow.altech.co.za
Credit(s)
Further reading:
New range of Tektronix DSOs
30 June 2020, Comtest , Test & Measurement
Comtest has released Tektronix's new TBS2000B series of digital storage oscilloscopes (DSOs) that was developed to meet the performance, usability and affordability needs of both engineers and educators. 
...
Read more...
---
Contactless ESD testing and access control unit
30 June 2020, Actum Group , Test & Measurement
In the electronics manufacturing industry, an electrostatic discharge (ESD) can cause irreparable damage to electronic components. This micro-lightning bolt can burn holes through insulating layers and 
...
Read more...
---
How are IR cameras calibrated and how does ambient temperature affect readings?
30 June 2020, Instrotech , Test & Measurement
Infrared thermometers are calibrated with the help of reference radiation sources, so-called 'black bodies'. These radiant sources are able to produce different temperatures with a high stability.  
...
Read more...
---
Thermal monitor for fever screening
30 June 2020, Actum Group , Test & Measurement
The TCSF256 thermal monitor from Actum Group is a fully automated, plug-and-play fever screening unit. It adopts an infrared radiation measurement technique that can measure body temperature by non-contact 
...
Read more...
---
Video Reel: Microchip's SAM L11
30 June 2020, Altron Arrow , Multimedia, Videos
This video (
www.dataweek.co.za/*jun20-sam
) provides a brief overview of Microchip Technology's SAM L11 comprehensive security solution framework and demos to make implementation of security simple. Microchip's 
...
Read more...
---
Dual-core wireless MCU
30 June 2020, Altron Arrow , Telecoms, Datacoms, Wireless, IoT
The STM32WBx0 is a dual-core wireless MCU based on an Arm Cortex-M4 core running at 64 MHz (application processor) and an Arm Cortex-M0+ core at 32 MHz (network processor). The STM32WBx0 Value Line 
...
Read more...
---
Driver for low-current LED strips
30 June 2020, Altron Arrow , Opto-Electronics
Infineon Technologies' new BCR431U is a constant-current linear LED driver IC providing low voltage drop performance for regulating LED current. It is the second device released in the new-generation 
...
Read more...
---
IGBT for 1500 V PV string inverters
30 June 2020, Altron Arrow , Power Electronics / Power Management
The solar power market is undergoing a trend towards 1500 V solutions, which allow for more series connections, less cable, fewer generator connection boxes and fewer inverters. The new EasyPACK 3B 
...
Read more...
---
Uncover EMI issues early with simple pre-compliance tests
30 June 2020, Concilium Technologies , Test & Measurement
An effective pre-compliance testing methodology will reduce test cycle times, which ultimately impacts a company's bottom line.
Read more...
---
The promise of 5G wireless communications
30 June 2020, Lambda Test , Test & Measurement
The deployment of 5G services worldwide is driving a massive increase in fibre densification for the required fronthaul and backhaul links interconnecting radio base stations and web-scale core packet networks.
Read more...
---