printer friendly version
From the editor's desk: Making and sending things to space
29 May 2020
News
In this issue, one of the topics we are featuring is the aerospace and military/defence sector. The feature includes an analysis of what it takes to successfully design and manufacture products in this highly challenging target market, written by Kreon Technology's Louis Le Roux and Omnigo's Pieter de Nysschen. It also includes an article by Avnet Silica's Paul Leys about why the new generation of space satellites demand a new approach to electronic component selection.
The aerospace event catching all the headlines at the moment, and giving people an uplift (both literal and figurative) during these difficult times, is the recent successful launch of SpaceX's shuttle carrying two astronauts to the International Space Station (ISS). It marks the first time a commercial company has ever put humans into space, and the first time the USA has done so in nearly a decade – a feat Donald Trump predictably took credit for as if he did it all himself, distracting from the fact that his country is burning, and has suffered by far the most COVID-19 infections and deaths in the world.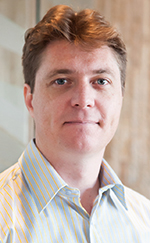 Brett van den Bosch.
Most of the media coverage of this accomplishment has been US-centric, which I suppose is fair enough since NASA played a pivotal role, but what's truly exciting is the commercial aspect, which effectively demonstrates that it's viable for private companies to enter the space race. Such a venture would require plenty of financial investment and jumping through legal/regulatory hoops, of course, but in theory a kid who watched video of the flight (which was live-streamed from on-board cameras, right from launch up until docking with the ISS) can dream of becoming an astronaut and one day going to space themselves – whether they're from Mongolia, Zimbabwe, or anywhere else, not just the USA.
Quite frankly, with the way things are currently going on Earth, I think a lot of us could do with a few months of peace and quiet on a space station.
Credit(s)
Further reading:
From the editor's desk: Are electromagnetic waves culpable in making us sick?
30 June 2020, Technews Publishing , News
When I started writing my column for this issue, I was determined to come up with a topic and a way to avoid mentioning the 'C' word. I came close – you will only find 'COVID-19' mentioned once or twice 
...
Read more...
---
To fake or not to fake
30 June 2020 , News
Prof. Johan Meyer explores the complex and controversial topic of the potential link between the global rollout of 5G networks and the COVID-19 pandemic.
Read more...
---
Clearing the Static: Curb the spread of COVID-19 with stringent floor hygiene
30 June 2020, Actum Electronics , News
According to the World Health Organisation (WHO), COVID-19 is primarily transmitted from person to person through respiratory droplets that emerge from the nose and mouth when an infected person speaks, 
...
Read more...
---
Personality profile: Warren Mande
30 June 2020, Altron Arrow , News
"It is said that "culture eats strategy for breakfast". Look to join companies whose culture fits your personal belief system."
Read more...
---
Not the end, but a journey
30 June 2020, ExecuKit , News
ExecuKit's Renita Fleischer and Elizna Classen offer local companies a route to help them navigate their way through what has become the 'new normal.'
Read more...
---
Elmatica CEO to vice chair IPC cybersecurity task group
30 June 2020, Elmatica , News
Didrik Bech, CEO of printed circuit broker Elmatica, has been appointed to serve as vice chair for IPC's new cybersecurity task group. The 2-12c Task Group leadership is a representation of IPC as an 
...
Read more...
---
Electronics news digest
29 May 2020, Technews Publishing , News
South Africa
• Acting minister of communications and digital technologies, Jackson Mthembu, joined the world in observing World Telecommunication and Information Society Day (WTISD). Proclaimed by the 
...
Read more...
---
Events
29 April 2020, Technews Publishing , Events
Unsurprisingly, most electronics industry events around the world have either been postponed, cancelled outright, or changed to a virtual model due to the ongoing COVID-19 crisis. Given the continued 
...
Read more...
---
Personality profile: David Power
29 May 2020, Cadshop , News
"Aspire to work for a company that you admire, and for a boss that you want to serve, that shares your passion and motivation."
Read more...
---
Designing for military and defence applications
29 May 2020, Omnigo, Kreon Technology , News
No business can stand on its own without strong partnerships and stakeholder relationships. In this regard the military and defence industry is no exception.
Read more...
---