printer friendly version
3D printing helps the fight against COVID-19
29 May 2020
News
Over recent years we have seen 3D printing becoming more accessible than ever and now this technology which seemed reserved for high-tech conglomerates and spy movies is proving its worth in the fight against the coronavirus.
With the COVID-19 outbreak snowballing its way across the globe, medical supplies such as face masks, respirators and ventilators have become scarce and this shortage has prompted action by the 3D printing community and aficionados. From specialised masks to various breathing apparatus, 3D printing is helping people to think 'out of the box' and share their designs for free in the hope that it will help lower the infection rate.
Brian Andrew, managing director for RS Components in sub-Saharan Africa, said that there has been a significant increase in interest in 3D printers over recent years. "When commercial 3D printing first made its way on the scene, it was expensive and only a few individuals saw the potential of owning a 3D printer. With advances in the design of these devices, 3D printers have become far more affordable, making this technology highly accessible. The 3D printing phenomenon has infiltrated almost every industry, assisting in conceptualising, prototyping as well as small batch production of parts and components," he said.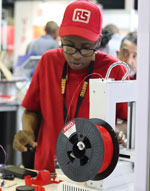 Skinny Shugo Kgwedi using an RS Pro 3D printer.
He also added that in the medical industry specifically, 3D printing is continuously being used to better the lives of patients as well as revolutionise surgeries for doctors globally. "If we look at the innovation that 3D printing has brought into the medical industry, we just have to look at last year's pioneering surgical procedure using 3D-printed middle ear bones, developed by Professor Mashudu Tshifularo and his team at the University of Pretoria (UP) in South Africa, which made headlines globally. The 3D printing community which is growing has proved that this technology is here to stay and that anyone with an idea can literally see their idea come to life," he said.
As the coronavirus outbreak spreads across the globe, we see countries implementing strict travel restrictions, work-from-home policies and social distancing measures. Even more developed countries are seeing their healthcare systems overloaded and fatigued by COVID-19. In more severe cases, infected patients may require specialist ventilators to take over the role of the lungs. These ventilators are in short supply along with masks and other preventative and safety gear. This shortage of essential equipment has united design engineers and makers in the 3D printing community who have already responded to the global crisis by volunteering their respective skills to ease the pressure on manufacturers, healthcare providers and governments.
Free 3D printing resources:
1. Hands-free door opener: bit.ly/HandsFreeDoorOpener
2. Protective face shield: https://www.prusaprinters.org/prints/25857-prusa-protective-face-shield-rc2
3. Makers mask: https://www.geekwire.com/2020/maker-mask-launches-seattle-using-3d-printing-technology-produce-protective-gear/
4. Valve for Ventilators: https://www.3dprintingmedia.network/covid-19-3d-printed-valve-for-reanimation-device/
For more information on 3D printers and resources, visit https://bit.ly/RSdesignspark or https://bit.ly/RSCOMPONENTS3DPRINTERS
Credit(s)
Further reading:
From the editor's desk: Are electromagnetic waves culpable in making us sick?
30 June 2020, Technews Publishing , News
When I started writing my column for this issue, I was determined to come up with a topic and a way to avoid mentioning the 'C' word. I came close – you will only find 'COVID-19' mentioned once or twice 
...
Read more...
---
To fake or not to fake
30 June 2020 , News
Prof. Johan Meyer explores the complex and controversial topic of the potential link between the global rollout of 5G networks and the COVID-19 pandemic.
Read more...
---
Clearing the Static: Curb the spread of COVID-19 with stringent floor hygiene
30 June 2020, Actum Electronics , News
According to the World Health Organisation (WHO), COVID-19 is primarily transmitted from person to person through respiratory droplets that emerge from the nose and mouth when an infected person speaks, 
...
Read more...
---
Personality profile: Warren Mande
30 June 2020, Altron Arrow , News
"It is said that "culture eats strategy for breakfast". Look to join companies whose culture fits your personal belief system."
Read more...
---
Not the end, but a journey
30 June 2020, ExecuKit , News
ExecuKit's Renita Fleischer and Elizna Classen offer local companies a route to help them navigate their way through what has become the 'new normal.'
Read more...
---
Elmatica CEO to vice chair IPC cybersecurity task group
30 June 2020, Elmatica , News
Didrik Bech, CEO of printed circuit broker Elmatica, has been appointed to serve as vice chair for IPC's new cybersecurity task group. The 2-12c Task Group leadership is a representation of IPC as an 
...
Read more...
---
From the editor's desk: Making and sending things to space
29 May 2020, Technews Publishing , News
In this issue, one of the topics we are featuring is the aerospace and military/defence sector. The feature includes an analysis of what it takes to successfully design and manufacture products in this 
...
Read more...
---
Electronics news digest
29 May 2020, Technews Publishing , News
South Africa
• Acting minister of communications and digital technologies, Jackson Mthembu, joined the world in observing World Telecommunication and Information Society Day (WTISD). Proclaimed by the 
...
Read more...
---
Personality profile: David Power
29 May 2020, Cadshop , News
"Aspire to work for a company that you admire, and for a boss that you want to serve, that shares your passion and motivation."
Read more...
---
Designing for military and defence applications
29 May 2020, Omnigo, Kreon Technology , News
No business can stand on its own without strong partnerships and stakeholder relationships. In this regard the military and defence industry is no exception.
Read more...
---